If you have ever seen Charlie Brown and heard the teacher talk, that is a good example of how I felt the first few days in la clase de español. (Yes the bad grammar in the post title is illustrative of my ability)
I got the gist of everything but understood nothing. She asked me questions and I smiled and "sí'd" my way through the conversations. This is something I really want. It isn't just a goal, but a mission to be able to converse in Spanish. Languages don't come easy to me, but I am determined to learn it this time!
Part of the problem is my stubbornness and pride. I hate more than anything that lost feeling where you have no idea what is going on around you. I would rather pretend I understand, than ask someone to slow down enough for me to listen and comprehend. I hesitate to talk until I know exactly what is going to come out of my mouth.
Learning Spanish is a humbling experience. Learning any new language is a reality check into how important it is to be able to communicate. You also realize how many expectations and assumptions have an effect on our communication.
For example, I am sitting in a café at a table with 1 or 2 extra chairs and someone walks over to me, points at the chair and says a few words. I don't even need to listen to what they say, and can assume that they are asking if I am using the chair and if they may take it from me. There's a high chance I'll be right. Social cues are huge in how we communicate.
While social cues do help us communicate, I also think they hinder us in learning new languages. Instead of listening we (I) assume the context of the situation and guess what they might be saying.
In a grocery store, you stand in line to check out. The first question you will hear from most large grocery chains is "are you a member" or "do you have a membership card". Next, they may ask if you are paying with cash or credit and finally if you want paper or plastic bags. You can very easily get through a line in the grocery store without ever listening to what they are saying but always replying back correctly by assumptions alone.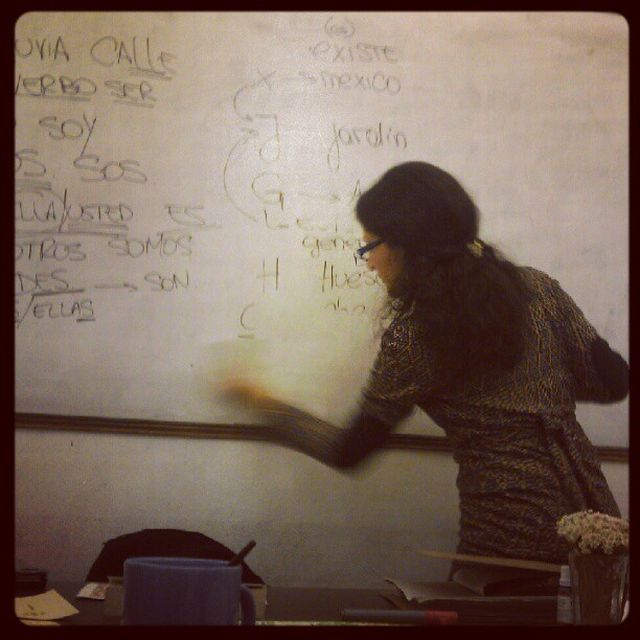 My goal this week isn't only to learn Spanish, but to slow down and shut up. Instead of assuming what people are saying and responding how I think I should, I am practicing listening. I want to stop smiling and sí-ing all the time, and to admit when I am lost in translation. The admitting is the hard part for me. Acknowledging that I am not good at something and accepting the beginner class back at square one isn't fun for me, but a necessity.
I have 3.5 more months in South America to hablar as mucho español as I can con as many personas as posible!