Everyone has their own interests and priorities when they travel so I'm not interested in hearing why I should have given this tour a better chance. My opinions are my own…and I hated it.
We had left Etosha National Park early that morning on our self-drive safari through Botswana and Namibia. After setting up camp in Khorixas we drove to what seemed like the only thing that people came to the area to see, The Petrified Forest and Twyfelfontein Valley.
Let me remind you that I don't do a lot of planning prior to my travels so a lot of my plans and expectations are grey. I knew there was one thing that I couldn't wait to see in Namibia, I had no idea what it was called but I knew it looked like this: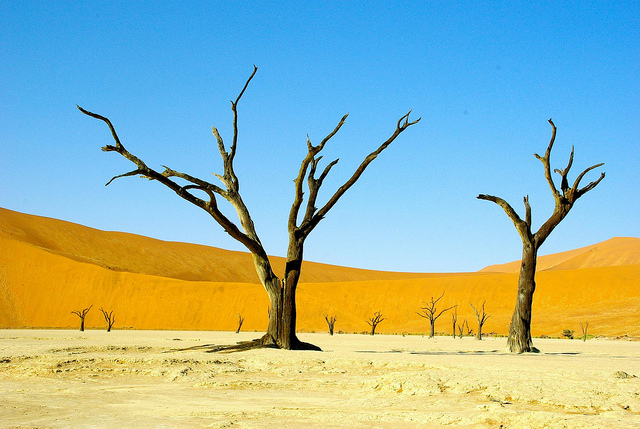 So after arriving in Khorixis and hearing everyone talk about the Petrified Forest I figured that is where I had to go. These photos appeared to be petrified trees. Again at this point I had no idea what a petrified tree looked like or meant, but how many famous trees parks could there be in Namibia?
Josh and I drove 88 km out of our way on one of the worst gravel roads we had ever been on, in search of the Petrified Forest. We arrived and were given a mandatory tour guide, which is the last thing we want. Then we found plenty of trees. These trees had been buried under the ground for 200 million years and had become rocks.
Here is us sitting on a petrified tree rock:
As you can tell the photo of what I wanted to see and what I actually saw are drastically different. We paid $10 a person to walk around and look at rocks that looked like wood…I felt like this was some huge practical joke and someone was going to jump out and say JUST KIDDING at the end of the tour.
I realize that during our 30 minute walk there was a lot of history in the plants, land and trees that we got to see. Also, I am sure a lot of people are fascinated by 200 million year old trees. I'm not. I am also not good at hiding my disinterest. Josh did a great job of engaging our guide, asking questions and even touching the tree to see what it felt like! (Thanks Josh!)
Lesson Learned: If you don't do your research before, you have to be prepared to see rocks.
In case you are wondering the first photo is from Deadvlei, which we later discovered is located in Sesrium, Namibia. It was one of our favorite memories from Namibia and would recommend everyone going!
What was the worst tour you have ever been on… and what made it so bad?