One Trail.
We hiked for 8 hours in the middle of a 4,300 mile long mountain range on one trail, not even scratching the tip of the iceberg as to what the Andes offer.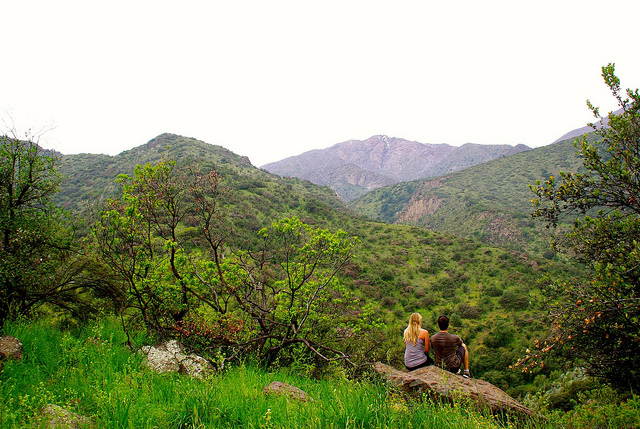 I really wanted to get out on a glacier but the season and current weather promised closed roads which would prevent us from getting to the trails. So I trusted Eco Chile and went with them in search of a waterfall in Parque Aguas de San Ramón.
EcoChile Travel met us in Santiago and drove our group to the start of the trail. The personal trainer in me was glad to spend the first 15 minutes stretching. I appreciate when the company is careful to take care of our bodies before putting us through 8 hours of hiking uphill.
After getting a quick route overview we began our hike up Cerro San Ramón. This wasn't a leisurely stroll, it was an uphill, out of breath, calf-building hike, but our guides, Cristobal and Joaquin, did a great job of finding spots for us to catch our breath and take a quick water break. Every hill we climbed opened up more views of rolling hills and endless mountain ranges. It seemed never-ending and I loved feeling like there was so much to explore.
The flowers along the trail were what caught my eye the most. They were not only colorful, but diverse and all so interesting. The spring season was just starting so the flowers had not yet fully bloomed, but the ones that had were incredible. The cacti stood tall with threatening spines coming out in all directions.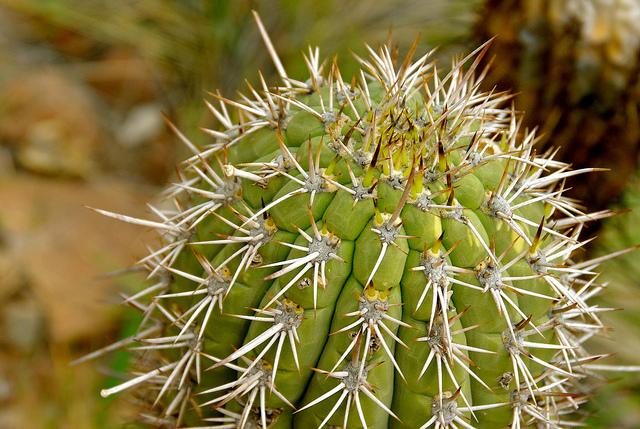 We crossed a suspension bridge which our guides suggested shouldn't hold more than 5 at a time (it was a bit wobbly)…
I was glad I wasn't traveling with this group who apparently disregarded the 5 people suggestion…
We did some rock climbing, It got pretty intense the higher we went!
Ok, just kidding—I am awful at rock climbing…this is as high as I got!
We kept moving at a consistent pace with an occasional refuel on fruit, nuts and water to keep our energy up. The guides brought extra water and snacks for when anyone needed some. They also had extra walking sticks in the case that you didn't bring the best hiking shoes for the day.
After 4 or 5 hours of hiking (we honestly lost track of the time) we finally saw the Cascada de los Andes, a 30m high waterfall. If it was warmer I would have loved to jump in and take a dip to cool off, but today the sun was hiding behind the clouds which kept us in our long sleeves. We ate lunch beneath it while we listened to some fellow hikers play music nearby.
Hiking downhill is never easy. While uphill leaves you out of breath and sweaty, downhill can be a slippery slope where every step matters, so be careful!
We were blown away by the beauty and peacefulness that we found among the mountains. We wish we had more time to explore but for now we are grateful to have hiked that one trail.
See the rest of our photos from the day on Flickr
Disclosure: We were sponsored guests of EcoChile Travel. As always, all opinions are our own.