Everyone has their own unique quirks or unwarranted dislikes of things like clowns, spiders or vegetables. I have an irrational fear of monkeys, and in order to add some legitimacy to it I am going to explain why.
Monkey Fact: Monkeys use vocalizations, facial expressions, and body movements to communicate.
The fact that monkeys are able to communicate in a very similar way to humans, freaks me out.
Monkey Fact: You must avoid eye contact with monkeys and move away from them in a calm manner.
If you know me you know I am big on eye contact. I don't like avoiding eye contact, especially because a monkey will become aggressive if my eyes agitate them. I'll avoid eye contact, but I don't like it.
Monkey Fact: Monkeys express affection and make peace with others by grooming each other.
If you watch monkeys long enough they will sit and groom each other, another very human-like gesture…sort of. I realize many animals do this with each other, but watching monkeys with their nimble hands and little human looking feet pick bugs off each other freaks me out.
Monkey Fact: Monkeys peel their bananas and do not eat the skins.
How do they know to not eat the skin? I sometimes peel my cucumbers even though I know I can eat the skin and be fine. How do the monkeys know to peel them? Also, they have the smarts to find the end and peel the banana one bit at a time. It freaks me out.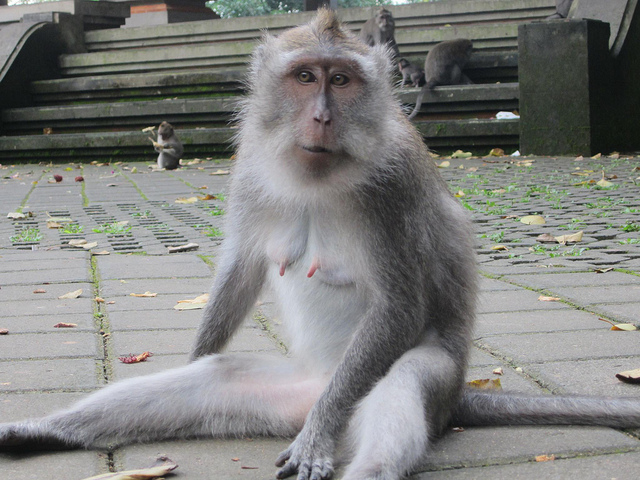 I've seen monkeys find zippers on bags and un-zip them, I have watched their feet and hands pick things up and walk in an entirely too human-like way.
Monkey Fact: They sneak up behind you and pull your hair!
Ok, this was kind of cute…but it did hurt!! He was grooming me so I am assuming trying to make peace with me! I am working on diplomatic relations…
Monkeys might be cute and cuddly to you, but they freak me out!
What do you have an irrational fear of?
Sources: Monkey Facts, Wanttoknowit