A California surfer in Santiago, Chile…with a skateboarding dog?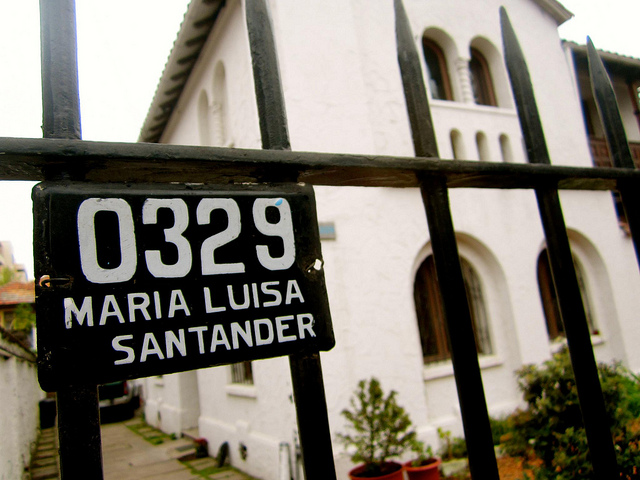 This has to be too good to be true. We arrive at Castillo Surfista knowing that it was rated #1 on Trip Advisor, but still skeptical since it only opened in January 2012.
Jonathan surpassed all our expectations. This was by far one of the most chill places we stayed at with the most comfortable beds. No joke, we actually looked forward to going to bed and dreaded having to get up – which doesn't happen a lot when you are sleeping in a different place every week. (and yes, we slept in separate beds—it was a small price to pay for the blissful sleep we got!)
The breakfast is complimentary and included rolls with jam, yogurt and fruit, always with a delicious sweet alongside our morning coffee.
The kitchen was clean and fully equipped. The artwork on the walls throughout the hostel send subliminal messages to keep your stuff clean. (Rumor has it in the next few months he is getting some new photos to cover the walls with some pretty amazing underwater shots.)
The TV room had a hard drive that was full of movies and surf documentaries to watch, which we took full advantage of. As with most hostels for those who don't want to go out on the town there is always someone to hang out on the couch and lay low for the evening watching a movie.
Be sure to bring your own towel, as you will need to pay to use the Castillo's towels.
We came in the beginning of spring so it was still a bit cold, but that didn't stop us from grabbing a glass of wine or eating our lunch out in the garden. After an hour of sitting outside we had 3 other of the guests joining us to talk travel.
Reading this you might think, of course every hostel has a kitchen, TV room and (hopefully) comfortable beds—but why are we wasting your time reading about this hostel, which we think is fabulous?
The atmosphere.
It was big enough that you could meet people to go out with, but small enough that you could have privacy and a good night's sleep. It was close enough to the nightlife, parks and attractions—but far enough away that you weren't in the middle of the city chaos. In the middle of a city this hostel is relaxing, inviting and still affordable! Jonathan has taken everything we like about hostels and combined it all into one cool place.
Most importantly I haven't introduced you to Duke yet.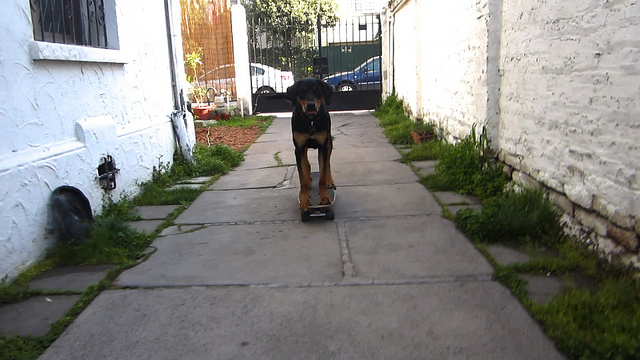 Jonathan has taught Duke, Castillo Surfista's rescured dog, to skateboard. Currently Duke can move in a straight line for a good distance on the board. Jonathan is currently working on teaching him to turn on the skateboard. Don't believe me? Visit Castillo Surfista yourself and be prepared to be amazed! Be sure to tell him Traveling 9 to 5 sent you.
Check out our Castillo Surfista photos on Flickr
What makes a hostel stand out to you?
Disclosure: We received a discount from Castillo Surfista. As always, our opinions are our own.