I love Vietnamese food. At least I love the Vietnamese food made at Hai Yen in Chicago, IL.
I realize the Pho I eat there isn't authentic, but it tastes delicious! So, in an attempt to make the most out of our month in Vietnam I borrowed a list of 100 of the most popular foods in Vietnam with the help of The Last Great Taste of Hoi An.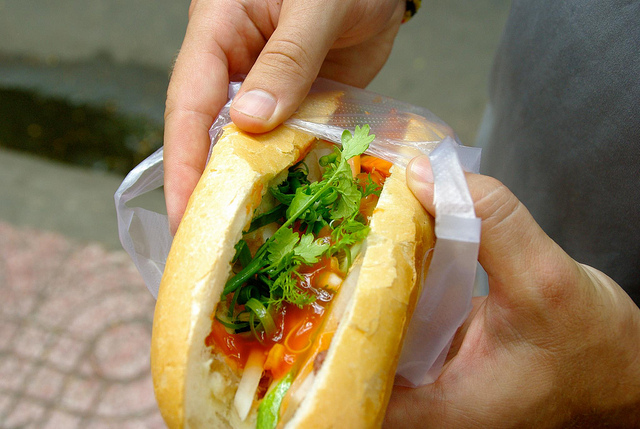 We took this list on a Scavenger Hunt through Hoi An, Dalat, Nha Trang, Hanoi and Saigon. If the menu had one of these items and I hadn't tried yet…I ordered it. My goal was to try as many items off this list as possible!
Did I succeed? Not at all, but it made eating at the different restaurants fun! I would go out of my way to ask locals where I could find certain foods and which food stands made the best types.
When you visit Vietnam, try finding as many of these popular dishes as you can. Let us know in the comments how many you got through! I personally recommend Xoi Thit Xiu (Sticky Rice with Pork)!
Banh Bao (Steamed Bun)
Banh Bao Banh Vac (White Rose – Small Shrimp Dumpling)
Banh Beo (Steamed Rice Flour Discs with Dried Shrimp Filling)
Banh Bot Loc (Dumplings with Pork and Shrimp)
Banh Cang (Mini Savory Pancakes)
Banh Chung (Square Sticky Rice Cakes with Green Bean jand Meat wrapped in Banana Leaf)
Banh Cuon (Rice Noodle Rolls)
Banh Da Lon (Skin of Pork Candy)
Banh Dap (Soft Rice Flour Crepes atop Crispy Rice Cracker eaten with Fish Sauce)
Banh Dau Xanh (Green Bean Cookie – Savoury or Sweet)
Banh Day (Round Rice Cake served with a Sweet Sesame Salt)
Banh Duc Man (Steamed Rice Cakes with Dried Scallops)
Banh Goi (Steamed Triangular Rice Dumplings with Meat Filling wrapped in Banana Leaf)
Banh It La Gai (Small Sweet Dark Jelly-like Dumplings wrapped in Banana Leaf Pyramid)
Banh It Tran (Round Rice Dumplings with Pork and Shrimp)
Banh Suse (Small Sweet Yellow Jelly-like Dumplings wrapped in Banana Leaf Pyramid)
Banh Khoai (Sizzling Savory Crepe of the North)
Banh Khot (Mini Savory Pancakes)
Banh Mi (Plain or Filled Baguette)
Banh Mi Kep Thit (Baguette containing Mayonnaise, Head Cheese Pâté, Pork, Vietnamese Sausage Meat, Pickled Daikon, Pickled Carrot and Cucumber)
Banh Mi Op La (Baguette with Sunnyside-Up Eggs cooked with Garlic and Soy Sauce)
Banh Nam (Steamed Flat Rice Dumplings with Pork and Shrimp)
Banh Ram (Vietnamese Jam Donut)
Banh Tet (Lunar New Year Sticky Rice Cake with Green Bean, Banana, Leaf)
Banh Xeo (Sizzling Savory Crepe of the South)
Banh xoai (Sticky Flour Cake filled with sugar peanut)
Bia Tuoi (Local Draught Beer)
Bo Nuong Sa Ot (Grilled Beef with Lemongrass and Chillies)
Bun Bo Hue (Hue-Style Beef Noodle Soup)
Bun Ca Thu Chay (Vegetarian Fish – Mackerel with Noodles)
Bun Thit Heo Nuong (Rice Vermicelli with Grilled Pork)
Ca Kho To (Caramelized Fish in a Clay pot)
Ca Nuong (Grilled Fish)
Ca Nuong la Chuoi (Grilled Fish in Banana Leaf)
Ca Phe Sua Da (Iced Drip Coffee with Condensed Milk and Ice)
Canh Bi (Winter Melon Soup)
Canh Chua Ca (Sour Fish Soup)
Canh Rau Muong Nau Hen (Morning Glory Soup with Tiny Clams)
Ca Ri Ga (Chicken Curry)
Cao Lau (Noodle Soup with Pork from Hoi An)
Cha Bo (Vietnamese Beef Sausage Meat wrapped in Banana Leaf)
Cha Ca Thang Long (Hanoi-Style Fish Cakes)
Cha Gio (Fried Spring Rolls served with Nuoc Cham Sauce)
Cha Heo (Vietnamese Pork Sausage Meat in Banana Leaf)
Chanh Muoi (Salty Preserved Lemon Drink)
Chao Chay (Vegetarian Congee/Rice Porridge)
Chao Gao Do (Red Rice Soup)
Chao Vit (Duck Congee)
Chao Tom (Grilled Shrimp Mince wrapped around Sugarcane)
Che (Sweet Bean Soups served as a Snack)
Che Bap (Corn and Tapioca Pudding with Coconut Milk)
Che Chuoi (Banana Tapioca Pudding)
Che Dau Hu (Tofu with Ginger Sauce)
Che Sam Bo Luong (Sweet Soup with Dried Dates, Dried Longans, Lotus Seeds, and Seaweed)
Che Troi Nuoc (Dough Balls in Ginger Syrup)
Chuoi Chien (Fried Bananas)
Com Ga (Chicken Rice)
Com Hen (Clam Rice)
Com Tam (Broken Rice)
Cua Rang Muoi Tieu (Salt and Pepper Crab)
Ech Xao Sa Ot (Frog with Lemongrass and Chillies)
Ga Nuong Xa (Grilled Chicken with Lemongrass)
Ga Xe Tron (Vegetarian Chicken Mix)
Gio Ham Dau Den (Pork with Black Beans)
Goi Ngo Sen (Lotus Root Salad with Shrimp, Pork or Chicken)
Goi Du Du Bo Kho (Green Papaya Salad with Beef)
Goi Xoai (Green Mango Salad with Shrimp)
Goi Cuon (Fresh Spring Rolls)
Hen Xao Banh Trang (Tiny Clams served with Crispy Rice Paper)
Heo Kho To (Caramelized Pork in Clay Pot)
Hoanh Thanh Chien (Fried Wontons with Salsa)
Kem Flan (Small Crème Caramel)
Mi Ga (Chicken Broth with Mi Noodles)
Mi Hoanh Thanh (Wonton Noodle Soup)
Mi Quang (Turmeric Noodles with Pork and Shrimp)
Muc Hap (Squid Grilled with Fish Sauce)
Muc Xao Sa Ot (Squid with Lemongrass and Chillies)
Muc Thon (Stuffed Squid)
Nem Nuong (Grilled Pork Patties)
Nuoc Chanh Day (Passion Fruit juice)
Nuoc Mia (Sugar-Cane Juice)
Oc (Sea Snails cooked with Lemongrass, Garlic and Ginger)
Ot Tuong (Hoi An Special Chilli Sauce)
Pho Bo (Beef Noodle Soup)
Rau Ma (Pennywort Juice)
Rau Muong Xao Toi (Water Spinach/Morning Glory Stir-fried with Garlic)
Soda Xi Muoi (Salty Preserved Plum Drink)
Sinh To Bo (Avocado Shake)
Sua Dau (Soy Milk)
Sup Ngheu Xa Ot Tuoi (Steamed Clams in Lemongrass and Fresh Chilli Soup)
Thit Nuong (Grilled Meat – usually Pork)
Tom Rang Muoi (Fried Shrimp with Salt and Onion)
Tom Sot Me (Grilled Shrimp with Tamarind Sauce)
Tom Sot Ot Toi (Shrimp with Chilies and Garlic)
Tra Atiso (Artichoke Tea)
Trung Vit Lon (Duck Eggs)
Xi Ma (Sweet Health Giving Water-Grass Soup )
Xoi Dua (Coconut Sticky Rice with Sesame and Peanuts)
Xoi Dau Den (Sticky Rice & Black Bean served with Peanuts, Salt, Sugar and Fried Onion)
Xoi Thit Xiu (Sticky Rice with Pork)
How many of the 100 have you tried? Any favorites? Let us know in the comments!