We've spent the year traveling through Southeast Asia, Southern Africa and South America. We hiked to Machu Picchu, cruised in the Galápagos Islands, driven ourselves through Botswana and Namibia, fought off mosquitos in the Amazon Jungle and learned to dive in Gili Air, Indonesia. It is only fair that you wonder after 365 days of awe-inspiring adventures why are we choosing to spend our last two weeks in Cancun.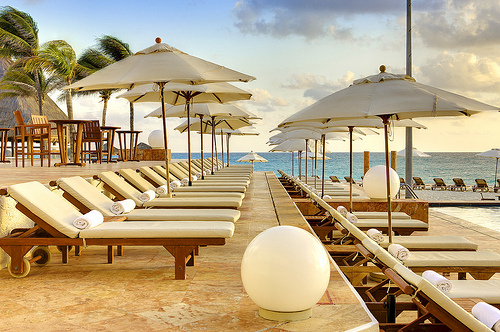 I don't want to do anything
Not only do I not want to do anything, I don't want to have the desire to do anything. I want to take a break from travel planning and logistics. I want to wake up when I want to wake up, eat when I want to eat and sit on a beach with a cocktail in my hand in the sunshine. These are the plans for the last two weeks of our trip – do nothing.
Cancun has a bad rep. I say it with a bit of shame as visions of drunken girls in bikinis trip down the beach and guys have beer chugging contests all being filmed by MTV Spring Break. Cancun outside of spring break is surprisingly a family destination. Yes, the entire city was built around tourism and yes, I am not expecting to find any unbeaten path during my two weeks. My expectations are set and they are simple: to sit on a beach and spoil myself at the Westin Cancun (points, points points!) before I head home for the holidays.
Every destination has its purpose. We visited Cusco to hike to Machu Picchu, we flew into Iquitos to explore the Amazon, we rented an apartment in Buenos Aires to get some work done and we are scheduled for 2 weeks in Cancun to sit and relax.
Expectations always play a key role in how you travel. Knowing the purpose of your trip allows you to go in with the correct expectations and not feel travel guilt when you aren't being the most adventurous traveler, ever. For example, I won't feel bad when I don't explore miles of white sand beaches outside of Cancun, or when people say to me I can't believe you didn't visit "______" while in Mexico. It's a short flight, and I'm almost certain we'll be back for more.
Simple, relaxing and much needed after our year, especially the past month of whirlwind travel!
Are we lazy travelers, or do we just need a break? 🙂