This is our second time staying at the Grand Hyatt Kauai.
Our second time being pampered by their stand out service and getting lost for 3 days at their unbelievable pool. 4 years ago I was still working for Hyatt and Josh and I spent 10 days island hopping between Oahu, Maui and Kauai staying with Hyatt. We had big plans of exploring the island of Kauai, but instead got stuck swimming in their lazy river, challenging children to races down the slide and relaxing in their salt water lagoon.
It happened again.
Like a scene from the Hangover, we woke up after spending 72 hours at the Grand Hyatt with Meg and Tony from LandingStanding wondering What Just Happened? We had done so much and had such a memorable time in only 3 days, luckily we had the photos to prove it.
When you first walk into the reception area you feel as if you are walking into a living post card.
We went straight to Seaview Terrace and grabbed some coffee as we sat and watched the whales swim past. You can barely see the whales breach, they are so far off in the ocean, but for some reason I still get so excited sitting staring at the water waiting to see my next whale peek above the surface!
Although the rooms are fully equipped with ocean views, heated toilet seats and balconies to watch the sun set, we spent most of our time poolside, at one of my favorite pools in the U.S.
Here we are at the adult pool in one of the many cabanas you can rent for the day (behaving ourselves)…
and here we are at the kid's pool, (dominating the slide).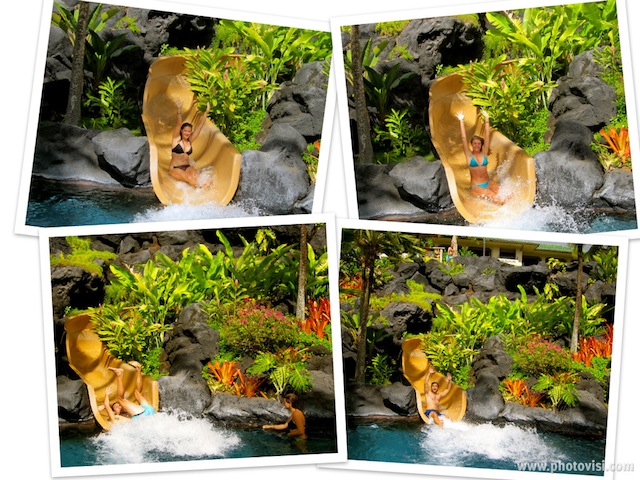 Thanks to a recommendation we ordered the kalua pork nachos from the poolside restaurant, The Dock. They were a great recommendation that we hope to pass on to the next Grand Hyatt guest – we split them 4 ways and were all happily full!
After two days spent sunning, sliding and swimming we went in early to clean up for the Hyatt's luau. We saved up our appetites because after reading reviews and tasting the kalua pork on our nachos, we were excited for the all-you-can-eat buffet.
What's on my plate? Lomi Lomi, Kalua Pork, Taro Roll, Sweet Potato and an eaten teriyaki chicken leg (I was really hungry, and couldn't wait to take the photo!)
Below are some videos from our Hyatt Luau Experience. The first one is what hula is supposed to look like, the second one is Josh's interpretation of the Hawaiian Luau.
http://www.youtube.com/watch?v=mHANmGu6SYc
Needless to say we wish we could have stayed longer at the Hyatt, but we are already excited for our next trip back to Kauai. You know where you can find us.
Check out more photos from our stay with the Hyatt
Thanks to the Grand Hyatt Kauai for inviting us to stay with them in Kauai.