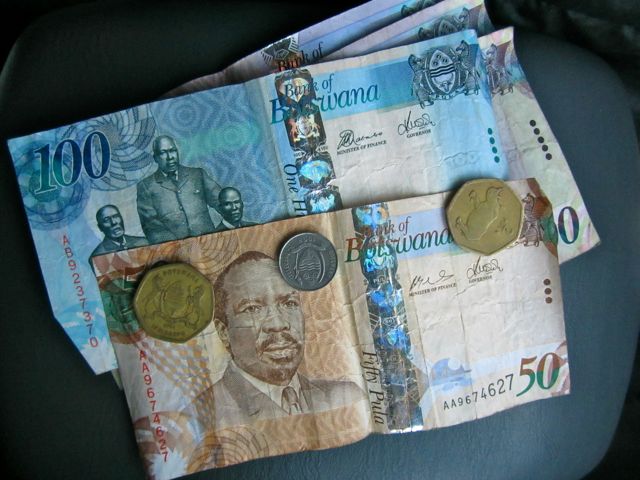 If you've been following the RTW budget updates so far, you're probably thinking, "Wow, this RTW travel stuff is pretty affordable!" At the end of our almost 6 months in Southeast Asia, we were so far under budget it was funny.
We had only spent about $6,000 traveling through 7 countries. Based on our planned budget of $75 per day, we were almost $5,000 under budget. It's good that we saved so much from January to June, because Africa was about to flip that in the other direction.
In 22 days, we spent $5,500…
…and I would jump on a plane tomorrow and do it again.
When planning our trip, I knew that the self-drive safari would be our biggest expense. Our concentrated saving in the 6 months prior to the trip was mainly to ensure we could afford to do big adventures like this.
It was worth every penny.
This trip took us through three countries: South Africa, Botswana and Namibia with three different currencies: the Rand, the Pula and the Namibian Dollar. In Namibia, the dollar was pegged to the Rand and Rand was also accepted.
Exchange rates:
8.31 RND = $1 USD (June 2012)
7.70 BWP = $1 USD (June 2012)
8.31 NAD = $1 USD (June 2012)
Outside of big cities, ATMs are hard to come by, and in most towns there will be a Bureau de Change (money changer) that you can change money. This was one of the few times in our trip that our Charles Schwab card couldn't help us and we had to make sure we brought enough cash to change once we got over the border.
Below, you can see a breakdown for 22 days on safari by category:
| CATEGORY | USD ($) |
| --- | --- |
| Lodging | $802.08 |
| Food | $341.03 |
| Misc. | $173.99 |
| Transportation* | $2,519.85 |
| Gas | $1,007.81 |
| Activities | $590.23 |
| Internet | $3.41 |
| Visa (Zimbabwe x 2) | $60.00 |
| Total Daily Spending | $5,498.40 |
Budget Notes:
(All numbers are only daily spending for two people, items like visas, fees, activities and food can be split in half to get a per person amount. The numbers don't include airfare or other transportation to the country.)
We camped all 22 nights of the safari. The truck had a tent mounted on top and we carried our own supplies that we rented from Bushtrackers. Campsites ranged from $18-$100 per night and our average was about $36 per night/per person. We were surprised by the high cost of camping along the trip, but we think it is worth it to stay in the National Parks.
We cooked our own food for nearly every meal. Occasionally we'd stop at a gas station or restaurant for a quick meal when we were in a larger city with nowhere to start a fire or light up our propane burner. Groceries were fairly expensive in all three countries, but you could find plenty of things to eat, and lots of meat to cook over the fire!
Transportation includes the 4×4 truck rental from Bushtrackers (Toyota Hilux), the necessary paperwork to drive through the surrounding countries, insurance, camping supplies and gas. We also paid for transfer to and from Johannesburg airport. Gas was quite expensive (about $5/gallon) and we drove A LOT!
Activities includes game reserve entrance fees ($212), Victoria Falls ($202), Guided game drive ($77), Chobe river boat ($68), Sossusvlei dune entrance fee ($20), and Petrified Forest (aka. the worst tour ever) $10. Besides the Sossusvlei and game reserve fees, these were all optional activities that we chose to do.
Miscellaneous included firewood ($36), vehicle entry fees for Botswana and Namibia ($46), Internet cafés ($3), repairs ($20), extra warm clothing ($44) and a souvenir ($5). If you see yourself buying a lot of souvenirs, you'll need to budget more for this category.
We had Internet for only one or two days of the whole trip and had to pay for it each time. Not a big deal, as the only thing we needed it for was to tell everyone we were still alive.
The only visa needed for the trip was for Zimbabwe so we could get to Victoria Falls. It was $30 per person for US citizens.
We considered the entire trip an "adventure" so there isn't a separate breakdown of adventure expenses. For our own tracking purposes, we tracked the truck, gas, and larger expenses as adventure expenses, and took the rest of the expenses out of the daily spending budget.
BUDGET SUMMARY
USD ($)
Total Spending
$5,498.40
Daily Average
$250.15
A self-drive safari through Africa is the trip of a lifetime. We could have skipped everything else we did this entire year (but why would we!?) and only done the safari and it would have been an amazing trip. As part of a longer trip, it will hit your budget hard, but if you plan for this trip in advance and save, it's fairly affordable for the experience you get.
Self-Drive Safari Budget Travel Tips
Transportation and gas are far and away the most expensive part of the trip. I wouldn't recommend skimping on your car, or covering less distance to save gas, but if you can share those costs with more people, another couple or some friends, it will lower the cost significantly. Plus someone else will be there to watch as you are mauled by a lion or trampled by an elephant.
You can save a lot by camping outside of the game reserves. I would argue that the price is worth it to be in the reserve before sunrise and be able to get out looking for game before everyone else.
Don't buy groceries, specifically meat, right before you're about to cross a border. It will get confiscated by the border control or veterinary control stop.
Don't forget to budget for gas, we were over budget because I forgot to factor it in.
*We received a 25% discount on the 4×4 vehicle rental.
I apologize for the lapse in budget posts, we got so busy traveling and then coming home that I haven't had time to get all the budget data in order. I'll get us caught up with at least one new budget post each week so we can release our overall budget for the whole trip, which I know everyone is desperately waiting for!