Fact: Last year we spent $25,000 on rent alone. In one year of traveling around the world we spent $33,500.
One of the main questions we get is: "How can you afford to travel the world for an entire year?" We are still working on releasing (making pretty) our RTW budget from the full year of travel, but here are some of the basics that we have adopted that allowed us to travel the world for a full year.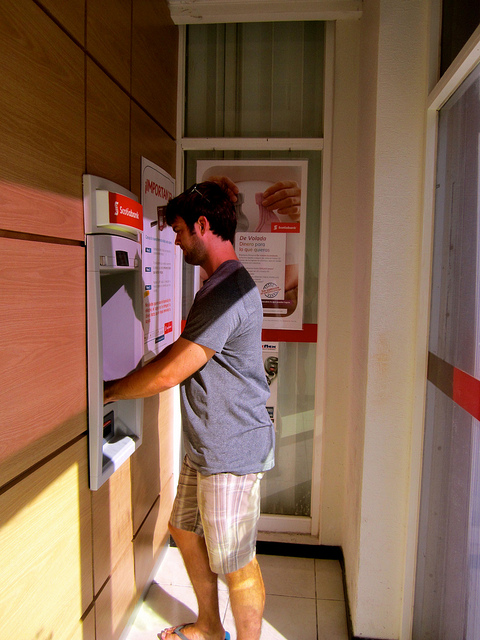 Set a Budget
Don't go into an entire year of traveling on a whim. Plan out the countries you are visiting and research an average spend. We did this for our RTW trip in 2012 and came out with an average of $75 a day for the entire year. This was with spending over $85 – $100 in some countries like Brazil and Argentina (and our African Safari) and budgeting $46 – $50 for cheaper countries like Thailand and Laos.
A budget is made to be broken. Some countries will turn out cheaper than expected, and some will end up more expensive. The idea of a budget is that throughout the year you have an idea of how much money you are spending and are able to save accordingly. If you find yourself repeatedly exceeding your budget, reassess your travel style and find ways to tweak your routine to spend less.
Choose Your Itinerary Carefully
You can travel around the world on all different types of budgets, and a lot of it plays into where you travel to. For example, we spent about the same amount of money in 5 months of traveling in Southeast Asia that we did in 1 month of driving and camping through Botswana and Namibia. Both experiences were incredible but hit our budget in very different ways.
When you are planning your trip and you want to stick to a very tight budget realize that you can absolutely travel for the entire year for under $10,000 if you stick to the cheaper countries and travel slow. The more you move during your trip, the more expensive it is. Keeping your transportation to a minimum not only lowers transport costs themselves but all the related costs: food at the airport, taxis, ferries, fees, visas etc.
Get Rid of Debt
Debt is a stressful topic. It can chase you for years while you try to pay off mortgages, school loans or car payments. Do what you can to get rid of the debt before you leave so you can travel with no strings attached. Hannah at Further Bound got rid of £15,000 in 9 months with a focused approach to paying off her debt in the name of travel.
If you can't get rid of the debt make sure you factor this into your budget. Save enough money in an account that is set to automatically pay your monthly bills and you don't need to worry about it while you travel. Nomadic Matt is a great example of someone able to travel while still paying off student loan debt.
Save Every Penny and Cut out Unnecessary Expenses
Ask yourself if that $50 dress is worth one less day in Thailand. Before you buy anything consider how it contributes to your future goals. Once you make the big decision to travel for an entire year, your priorities should change. You don't want to accumulate things before leaving that then have to be stored. Each Starbucks coffee you buy is equal to an entire meal in most other countries.
When you attach a goal to your spending, you start paying attention to where your money goes. Saving money is surprisingly easy when you know exactly what you are saving for, and you're not just saving for "the future."
Big Pay Outs and Other Sources of Income
If you are leaving to travel long-term you are most likely quitting your current 9 – 5 job. Pay attention to dates, especially when your accrued vacation rolls over. We had already saved up enough money, but received a payout on PTO last December that covered nearly out entire Adventure budget.
You can also lighten your storage load and augment your budget by selling some of your stuff. Craigslist and eBay are your friends. We sold all our furniture except our bed and a bunch of other things that we can't even remember because we didn't need them in the first place!
Travel Light
We carried backpacks that fit in the overhead bin. We saved money by not checking our bags on over 30 flights. This also meant we had no room to purchase any new things, which kept us from spending money on souvenirs. We've only brought home a few things besides the 23,000 photos we took. If we did buy anything new, like clothing, we usually had to get rid of something else to make room for it.
Set your Travel Expectations Pre-Departure
We were prepared to avoid fancy resorts for the year, skip out on white tablecloth restaurants and wear the same 7 pairs of underwear repeatedly for 365 days. We kept track of every dollar we spent on water bottles, personal items and food. We ate delicious (sometimes questionable) food on the streets and we slept in small 5 room guesthouses.
We told ourselves we can't be disapointed in what we don't do, because we are so grateful for every opportunity we were able to do this year! Because of our budget we skipped Iguazú Falls in Argentina, but we were able to experience Victoria Falls in Zimbabwae only a month earlier. We also skipped Patagonia due to the weather and cost, but we will definitely make it back, it just wasn't a possibility this year.
It is Always More Expensive to Return to a Country
While I would love to go back to Easter Island every year, I realize that this year's trip is probably the only time we visit Easter Island. The island is really expensive, but while we there we did everything we wanted to do. We didn't skip anything to save money because we both knew it would be our only opportunity.
It would be way more expensive to return to Easter Island if we later regretted turning something down in a pursuit to save money. Even though you travel with a budget, you also have to consider how much the place means to you and how
What other strategies do you use to save money or budget for long-term travel?