Why do we love Chicago?
We are biased, it's the first city we lived in together after we were married, and have an endless amount of happy memories in this city! Chicago is what I think of as a clean New York. The streets are clean, the parks are manicured and the people will stop to help you with directions.
You can get any type of cuisine you want, the public transportation system is one of the best and the night life is happening. It's a much cheaper cost of living than Washington D.C or San Fransisco, and the city is full of history (have you read The Devil in the White City – great book!)
My favorite neighborhood: Old Town
Best way to get around the city?
CTA – Josh and I sold our car 5 years ago and have been relying on the CTA and the 'El' (Chicago's elevated train system) to get around ever since. According to WalkScore, Chicago has the sixth best public transportation system in the country, with 620.5 million riders in 2011 and 24 hour service, I can definitely agree!
Walk – I have always said, the best form of transportation is on foot. Exploring the different neighborhoods by walking is my personal favorite way to get around.
Taxi – These cars are everywhere in the city. At any hour you will most likely be able to throw your arm into the street and have 2 – 3 of these fight over your business within a few minutes.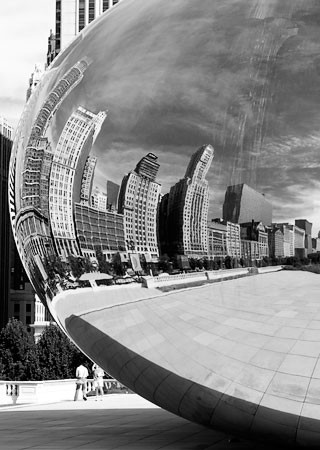 What to do?
A tourist stop – The bean (cloud gate) in Millenium Park
This sculpture was chosen during a design competition and now is the centerpiece of Millenium Park. The surface of the Cloud Gate, nicknamed The Bean, reflects the skyline and distorts it, making for fun photos.
In the summertime – The Architecture Boat Tour
Since 1971, the Chicago Architecture Foundation has offered volunteer-led tours down the Chicago River. From April – November you can learn about the modern and historic architecture styles, along with stories about the people who built them all while cruising down the river.
To laugh A LOT – The Second City
Dan Aykroyd, John Belushi, Gilda Radner, Steve Carrell, Tina Fey…shall I go on? So many famous and hilarious comedians have come out of Second City and I love checking out the new shows as they are released. This is a must for anyone who is visiting Chicago!
To spend money – Michigan Avenue or State Street
Bring your credit cards and walking shoes – there is a lot of shopping along these streets.
For a great city view – The Sears (Willis) Tower Sky Deck
On the 103rd floor, 1253 feet up, a glass box extends 4 feet out from this towering sky scraper. If you dare walk out on the ledge you will get unbelievable views of Chicago!
For some exercise – The Lakefront/North Avenue Beach
Once the temperature hits over 65 in the spring, all of Chicago heads for the lakefront. Hundreds of people who have been in hibernation for the winter months are suddenly biking, running, walking. Hang out at North Avenue Beach or rent a bike and tackle the 18 mile trail.
To do some learning – The Museum of Science and Industry
My favorite museum in Chicago, in addition to the largest science center in the Western Hemisphere. Hands-on and educational, this museum is for children and adults alike.
To catch 9 innings – Wrigley Field
Iconic and even if you don't love baseball, attending a Chicago Cubs game at Wrigley Field is an event for everyone.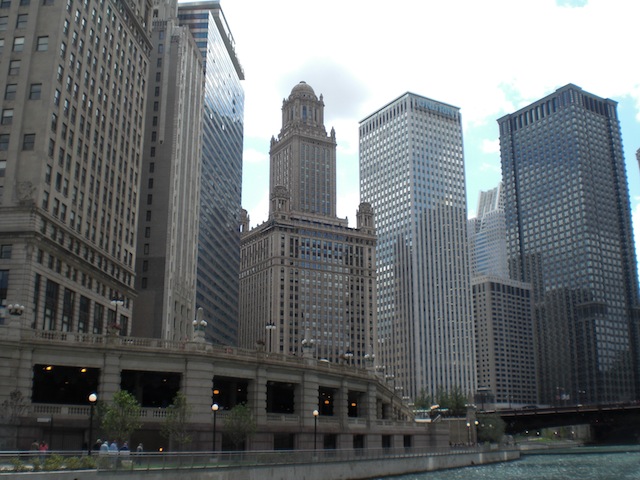 Where to eat?
Brunch – Toast
Start your morning spicy with their wasabi bloody mary, or go sweet with their pancake orgy – either way you will love this small brunch spot. Show up early the restaurant only holds a few tables and almost always expect a wait.
Second Brunch – Yolk – With 3 locations now in Chicago, Yolk has emerged as a creative breakfast spot, always designing new delicious eats to start your morning. Don't miss out on their own private label premium coffee.
Something for everyone – Nookies
A neighborhood diner, located in Old Town where everything on the menu is worth a taste! We have eaten here numerous times and continually order new items and have yet to leave disappointed.
Pizza – Lou Malnati's Pizza
Chicago's well known deep dish pie on the famous Buttercrust is the perfect equation for a full stomach. Go hungry because this is not a light meal, usually one slice is enough!
Alternative Pizza – Chicago Pizza and Oven Grinder Co.
While everyone is chowing down on the famous Chicago deep dish pizza, I love to take guests to this historic Chicago Pizza and Oven Grinder Co. The main even here are their pizza pot-pies and oven-baked grinders. The Mediterranean Bread alone makes this a delicious trip. Last time I visited it was a cash only meal, so stop by the ATM on the way over.
Wine Bar – La Madia
Unique pizzas paired with wine and a great atmosphere for a night in the city. This was our go-to for visitors in the city. The atmosphere was just right in addition to not having an over-priced menu for Chicago standards since we all end up sharing pizzas and wine. I highly suggest the Pizza Bread appetizer to start your meal out.
Splurge – Girl & the Goat
Top Chef Stephanie Izard has created a rustic, laid-back atmosphere where I suggest making reservation for. Somehow while eating here I ate wood oven-roasted pig face and loved every bite! Cocktails are delicious as well as all of the options on the menu!
More splurging – Xoco/Frontera Grill/Topolobampo
Rick Bayless won Top Chef Masters. This is some of the best mexican food and overall experience I have ever had. All three are adjacent to each other on the same block. Xoco isn't a splurge, but a nice intro to Bayless' food with delicious tortas and churros. Frontera Grill and the fancy Topolobampo are on the high-end with an interesting gourmet twist on Mexican food. Make reservations well in advance.
Snack – Garrett's Popcorn
Cheesy, caramel and buttery goodness! Expect a 30 – 45 minute line for your bag of popcorn, this shop is almost always packed, especially on the weekends! Good things are always worth the wait.
Where to drink?
During a Cubs game – Cubby Bear or Vines
What's more fun than going to a Cubs Game? Drinking across the street from a Cubs game. The famous Cubby Bear, or my favorite Vines across the street from Wrigley Field are 2 of the many bars packed on game day.
To dance – The Hangge Uppe
This is a sweaty bar. Squeeze through the crowds as they jump up and down to Sweet Caroline, but you are almost guaranteed to have a good time! It is one of my favorite 5 AM bars. Downstairs you can sing your heart out to 80's beats, while upstairs they are grinding to the latest hits.
For Happy Hour – Bull and Bear
When you clock out from your 9 – 5, head straight to Bull and Bear. This is a much more corporate crowd, being near the Merchandise Mart in River North. If you are planning for a big night, call ahead and rent a booth in the back. The booths have their own taps attached so you can serve yourself all night.
To impress someone – Signature Room
Floor to ceiling windows on the 95th floor of the John Hancock building. It's fancy, it's classy, and if you're neither of those things, you can still go up and have a drink to save on the observatory fee.
Where to sleep?
To be in the center of everything – Hyatt Regency Chicago
The biggest hotel in the city with two towers and 2,000 hotel rooms. You can find a lot of conventions hosting big groups in this hotel but at the corner of Michigan and Wacker, this is prime location on the river.
To splurge – The Peninsula
It's luxury at its finest, it's going to cost you some pretty pennies, I can't say much about it…I'm a blogger…I can't afford this type of luxury 🙂 … but I've heard amazing recommendations!
In a historic and famous hotel – The Drake
Since its 1920's opening, The Drake became the official hotel for the British Royal Family. Over the years additional famous guests such as Winston Churchill and Marilyn Monroe have stayed there and it's been featured in famous movies such as Risky Business and The Blues Brothers. If you're not staying there, you can still head over for afternoon tea.
To feel at home – Airbnb
There are always apartments up for rent in the city. If you have yet to try AirBnB or Roomorama I would suggest taking a look. If you are staying for a week or more renting an apartment allows you to have a kitchen and feel more at home than staying in a hotel.
These are all my favorites in the city – so get out to Chicago and enjoy!
What would you add to the list?