We do a majority of our exploring independent of tour groups.
We love the adventure of taking wrong turns and figuring out the details as we go. But every now and then we hear about outstanding tour companies and we opt to pass over the drivers seat and spend a day in their world, seeing a place through their eyes.
We do get questioned as to why we don't just do the tour ourself…our answer is easy!
This Guy –↓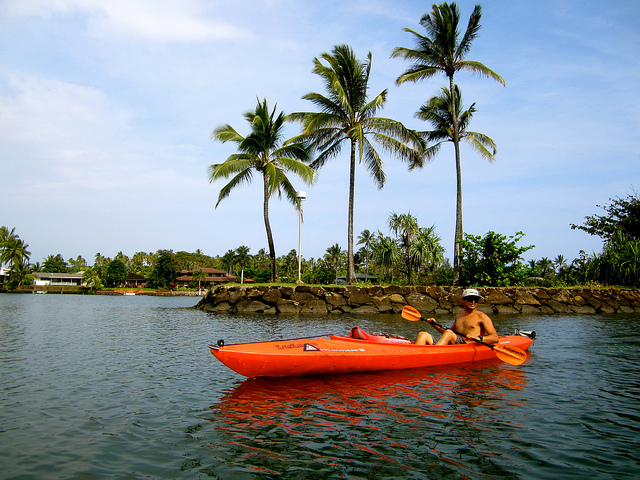 If we are always doing tours ourselves we don't get the opportunity to meet and learn from the local guides. I strongly believe a guide can make or break your tour, and the knowledge you can gain from a good guide is indispensable…and boy do we love when we meet the really good guides! Our tour guide with Kayak Kauai, Koa, was a perfect mix of engaging and knowledgable. I loved seeing his passion for the island, and hearing his childhood stories of growing up in the area.
We pulled the kayaks into the river and were off on a 1.5 – 2 hour kayak to the trail head to get to Sacred Falls. 1.5 hours is not a walk in the park, our arms were definitely burning on the trip there! The entire time you are surrounded by rich greenery and if you are lucky you will have a strong rower behind you so you can take photos of the beautiful scenery along the way. 🙂
We docked the kayaks and started our 45 minute hike to the falls. We were tired and hungry, but knew we had lunch and a refreshing swim at the end of the hike. Koa was doing the 45 minute hike barefoot which of course made our men think they could do it too. Hawaiians are used to going barefoot, so they have calluses on their feet…Josh and Tony not so much! Watch out for the roots, rocks and slippery boulders along the trail, I personally enjoyed watching them take on the hike sans shoes.
After finishing up our turkey sandwiches and perfectly soft and sweet cookies from Paradise Bakery, we jumped in. Imagine diving into a pool of ice water. Our bodies were instantly shocked by cold water, but it felt so good on our muscles that we couldn't bring ourselves to get out. The waterfall was so strong it was like standing under a pressure washer. We continually swam around to stay warm, but there was no escaping the icy mountain water running off the fall.
We got lucky, in our small group of four we were able to hike faster and make it to the waterfall a few minutes before the other groups. We were able to spend time swimming around with just us beneath the waterfall!
Overall it was a fantastic day. The scenery was beautiful, the kayaking and hiking was a great workout and our guide Koa kept us laughing and interested all day. Kayak Kauai was recommended to us and for good reason. The company has been in business for over 20 years and knows how to pass on the aloha spirit through their guides! Hopefully on our next trip to Kauai we can get do some sea kayaking along the NaPali Coast!
Tips for the Tour
Eat a snack before the tour. The afternoon tour starts at 12:15 and you don't eat lunch until you reach the falls, usually sometimes around 3 pm. We were hungry by the time we arrived.
Wear good shoes. We hiked barefoot or in flip flops, probably not the best plan of attack. It can definitely be done, but having shoes with more support and better traction would have helped. (In Kayak Kauai's defense they did insist on good hiking shoes, we just aren't good listeners.)
Swim under the waterfall! The water is freezing, but it is a great way to cool down and give your muscles a quick ice break from all the exercise.
Kayak Kauai provides a dry bag for you to put all of your personal items in. Make sure to bring a bathing suit, towel and sunscreen.
Check out more photos from our day with Kayak Kauai
Thanks to Kayak Kauai for sponsoring us on their Sacred Falls Kayak Adventure Tour.