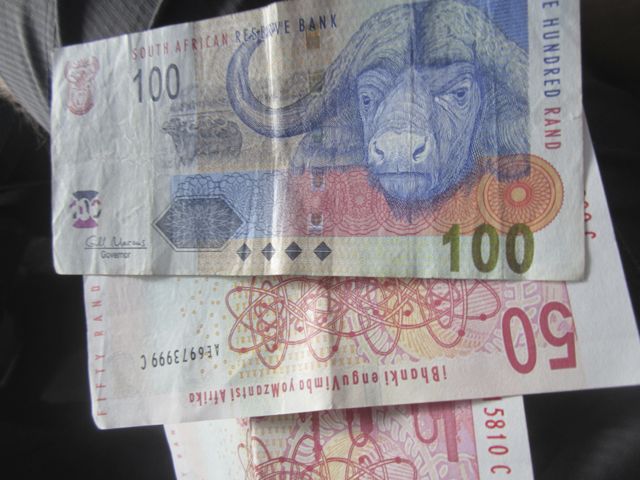 After 3 weeks of driving through 3 countries on our self-drive safari, it was time for some rest, relaxation, and…more driving?
That's right, after driving 3,300 miles on the safari, we decided to drive another 1,000 along the famed Garden Route in South Africa. The Garden Route stretches from Cape Town to Port Elizabeth, through wine country, Cape Agulhas, and beautiful mountains and coastline.
We spent 19 days in South Africa, 8 in Cape Town and 11 along the Garden Route. Our budget was set at $70 per day for two people. Almost twice as much as our average budget in Southeast Asia. Our daily expenses (excluding flights) ended up right at $68 a day. While being more expensive when compared to Asia, we absolutely fell in love with South Africa and can't wait to return.
Exchange rate: 8.31 ZAR = $1 USD (July 2012)
Below, you can see a breakdown of our 19 days in South Africa by category:
| CATEGORY | USD ($) |
| --- | --- |
| Lodging | $341.58 |
| Food | $413.08 |
| Misc. | $9.63 |
| Transportation | $278.38 |
| Gas | $165.32 |
| Activities | $81.83 |
| Internet | $4.81 |
| Visa (not needed) | $0.00 |
| Total Daily Spending | $1,614.73 |
Budget Notes:
(All numbers are only daily spending for two people, items like visas, fees, activities and food can be split in half to get a per person amount. The numbers don't include airfare or other transportation to get to the country.)
Normally, I would say you should expect to spend between $40 for a cheap hostel and $95 for a decent lodge or hotel room. Our budget was a little out of the ordinary. After our 3 week self-drive safari, we needed some rest and relaxation and spent the first 5 days in the executive suite at the Westin Cape Town on my SPG points. Along our Garden Route drive, we had 3 sponsored stays, which kept our lodging costs very low.
Food was more expensive in South Africa than any place we had traveled to yet. Due to the expensive food, many of the hostels have kitchens full of guests cooking for every meal. This was the first country on our trip where it was cheaper to buy groceries and cook ourselves. We also enjoyed some nice meals, including our dinners at Laird's Lodge, which increased our food budget.
Transportation includes a round-trip flight from Johannesburg to Cape Town, taxis to and from the airports, and a rental car for 11 days. We rented the cheapest car we could find, a Hyundai i10 for $19 a day. Gas for the 11 days cost us $165.32.
Activities includes shark diving with Great White Shark Tours, which we received a discount on, and admission to Tsitsikamma National Park.
We paid for two days worth of Internet at our Cape Town hostel, and the front desk felt bad and gave us a code that lasted for the rest of our stay.
Miscellaneous was $10 for laundry. About 3x more expensive than it was in Southeast Asia!
BUDGET SUMMARY
USD ($)
Daily Spending
$1,614.73
Flights
$320.10
Total Spending
$1,934.83
Daily Average
$68
Daily Average (All Included)
$86

Cape Town and Garden Route Budget Travel Tips
You don't need a fancy or rugged car to drive the Garden Route. You'll be just fine with a cheap one. Also, it's pretty hard to get lost, so you don't need a GPS, just a map.
Cook your own food if you want to save money. Most hostels will have a shared kitchen for you to use. Look for places with breakfast included (South Africans know how to prepare breakfast) and you might be able to stretch it out to only eat one other meal that day.
You can enjoy the Garden Route without paying for many activities. Sure there's shark cage diving, game reserves, ostrich farms, wineries but the best part of the trip is the scenery and getting outside and enjoying nature.
* We were sponsored by Laird's Lodge, Kleinbosch Lodge and Moontide Guesthouse. We also received a discount on shark diving from Great White Shark Tours.