Josh and I just spent 4 jam packed days in San Francisco. We did the tourist thing walking 10+ miles all over the city, we spent one day with Josh's sister hanging out more like a local and the last day was spent meeting some of you in person that we had only met online!
While moving from neighborhood to neighborhood one thing was constant, we ate A LOT! And to make it even better, we only ate where you all told us to eat! We loved the recommendations from everyone especially for the coffee shops, pizza and one of our favorite burritos yet!
Here is a list of where we ate and where you all recommended but we didn't have enough room in our stomachs to get to (no worries, we'll be back).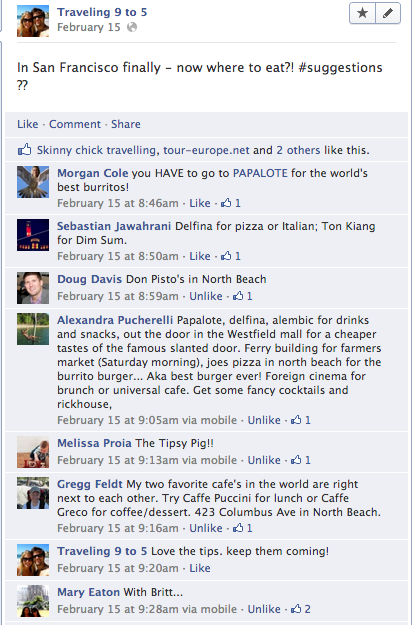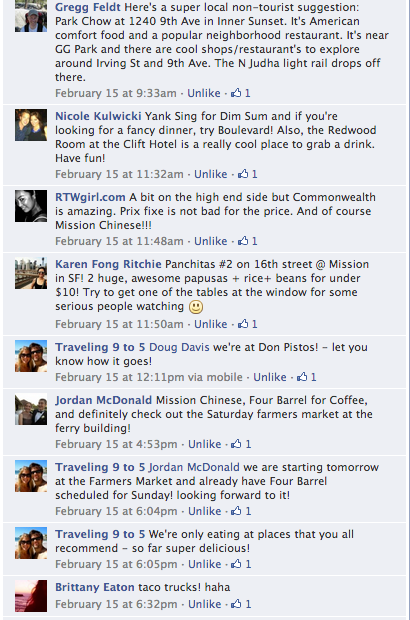 Where We Ate:
Don Pistos – Mexican food in North Beach
Papalote – Great burrito in Mission District
Delfina Pizzeria – Pizza in Mission District
Ferry Building – Full of restaurants/shops and home to the farmer's market in The Embarcadero
Blue Bottle Coffee – in the Ferry Building, waited 35 minutes in one of two long lines!
Four Barrel Coffee – cool coffee roaster in Mission District, with a "slow coffee" line where you choose your beans and can specify how you want it ground and brewed and then watch it happen in front of you
Where Wish We Ate But We Didn't Have Room in Our Stomachs:
Tipsy Pig
Redwood Room
Caffe Grecco
Yank Sing
Ton Kiang
Mission Chinese
Commonwealth
Taco Trucks
Panchitas #2
Park Chow
As you can see we have a lot left on our still need to eat list!
These are all restaurants recommended by you – keep them coming, this is our favorite way to eat in a city! Instead of searching Trip Advisor or Yelp, we can create our own list of your favorite restaurants in San Francisco that everyone can use as a reference.
Leave a comment with your must eat place in San Francisco!