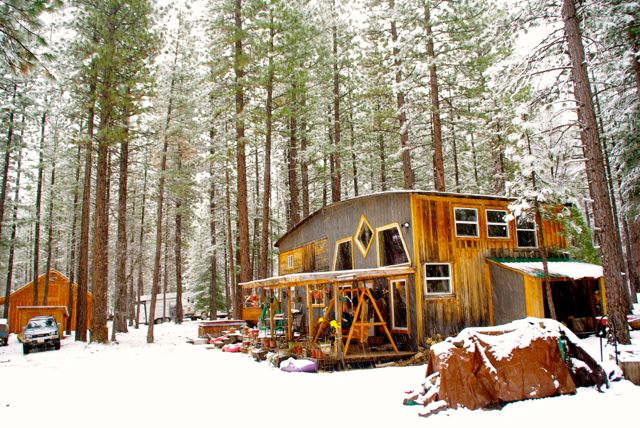 We are currently housesitting in California in the Sierra Nevada mountains. We have the great opportunity of watching over 2 horses, 2 cats and 4 dogs. Sound like a lot? The horses are easy, we feed them twice a day. The cats we rarely see (except when they are climbing all over Josh) just make sure their litter is clean and they are fed and the dogs are cuddlers. Two of the dogs travel with the couple most of the time, and we are left with two beautiful black labs. We have 20 acres of land to play on and explore.
The cabin is 5 hours northeast of San Francisco into the mountains. We wake up surrounded by snow capped mountains and endless trees. Did I mention how quiet it is? We came from SF where it was non-stop go go go…and here…it's unbelievably peaceful. We truly love it.
Will we get travel fever? Will we miss the movement and newness of travel? We are 3 hours from Sonoma and Napa, 5 from San Francisco, 2 from Tahoe and surrounded by National Parks. No, we will be kept busy for the next 3 months in beautiful northern California!
What is Housesitting?
Housesitting is when a home owner leaves their house for a period of time and hires someone to live in their house watching over their things and taking care of specific responsibilities while they are gone (mail, pets, plants etc.)
Benefits to the Home Owner
Most home owners that are interested in using housesitters are usually big travelers (where they leave for 1 – 6 months at a time), trying to sell their home and need someone to care for it in the meantime or have animals that need care.
We have found one of the main reasons home owners enlist housesitters is to avoid boarding their animals in a kennel. Their animals can stay at home in their own space and the home owners save money on expensive weekly rates at kennels.
The home owner can sleep soundly knowing that someone is watching the house to help avoid robberies that might happen if the house is left empty for a prolonged time.
Some homes come with a long list of responsibilities, while some opportunites simply want a body in the house to watch it. Most all come with animals. We've seen listings with rabbits, birds, turtles, horses, chickens and of course dogs and cats.
Benefits to the Housesitter
For 1 – 2 week housesits, you get to take a vacation without paying for accommodation. Of course you have to remember that with housesitting almost always comes responsibilities that don't allow you to leave the house all day and night.
For the longer housesitting opportunities (1 – 6+ months), you can live rent free and experience a new place.
For the homes that come with more responsibility, extra pet care or maintenance around the house, the owners will sometimes offer compensation, which is of course a perk to the house sitter.
One of our favorite benefits is you get to meet a lot of really interesting people and travel to places you may never consider going to.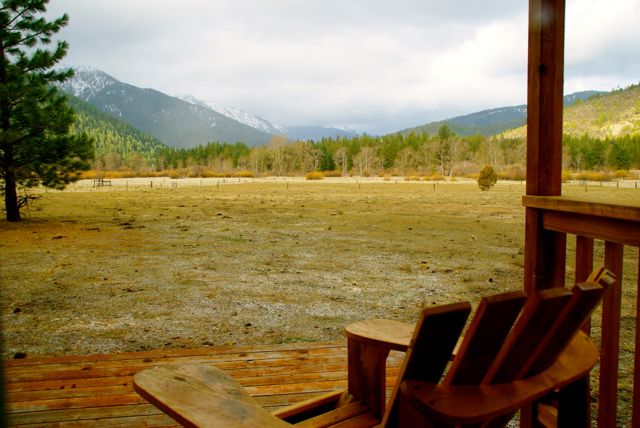 What to expect when housesitting
Housesitting isn't all about a free vacation or place to crash. You are in someone else's house and you are taking care of it while they're gone. If there are pets, expect to take the animals for walks a few times a day at least and feed them on a schedule. As a housesitter you aren't necessarily stuck at the house all day, but you can't disappear from sunrise to sunset. They are asking you to stay there for a reason.
Homeowners want to ensure they are able to trust you, so expect to have your profile filled out completely with references. Some owners might ask you for a police check and it is your choice to have this done depending how interested you are in the opportunity.
How to Find Your Own Housesitting Opportunity
We mainly use 3 companies to look for house sitting opportunities.
Trusted Housesitters – This is our favorite site for international opportunities. The company is out of the UK so you have a lot of UK opportunities as well as Australia and New Zealand homes available. This is one of the largest companies with a large database of opportunities.
HouseSitters America – When we want to stay in the U.S., HouseSitters America is the site we have had the most success with. We are currently spending 3 months in the Sierra Nevadas thanks to this site and have a few more opportunities open for later this year.
Premium Petsitter – This is a new site focused on those pet owners who don't just want someone to watch their home, they want someone to truly care for their pet. The petsitting requirements might be more intensive, special need pets or a higher number of pets to watch over. The benefit to this site is most of the pet owners love their animals so much they are willing to compensate their petsitters.
Have you ever considered housesitting?