Happiness is a firecracker sitting on my headboard
Happiness was never mine to hold
Careful child, light the fuse and get away
'Cause happiness throws a shower of sparks

Happiness is like the old man told me
Look for it, but you'll never find it all
Let it go, live your life and leave it
Then one day, wake up and she'll be home
-The Fray
I'm happy. Really happy. You would think that it is a great thing to be able to sit here and type about how unequivocally happy I am. I have traveled around the world having adventures I would have never dreamed of. I am finally following my entrepreneurial dream of starting my own company, and failure or not I am jumping in head first! Scary, but definitely happy.
"'cause happiness throws a shower of sparks"
I've chased after happiness, gone looking for it by following my dreams and taking bigger risks than I ever have before. Now I am confronted with the question of can you have your cake and eat it too? Is there a level of happiness that is unreachable? Are you able to have it all?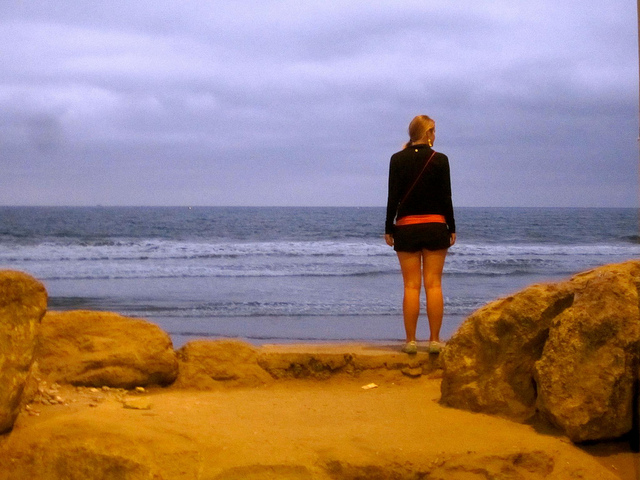 It's been a test. It has tested my relationship with everyone I have ever known and it has been intriguing as the reactions and support are found in surprising places and unseen elsewhere. I've tested my own strength and independence as I find myself in new locations and situations I would have never imagined I'd be. Josh and I have tested our marriage. We've seen each other hit the lows and highs together. We've been so insanely stressed out and at the same time uncontrollably happy.
I have to stop and ask myself – are long-term travelers really happy? When you are constantly traveling your relationships breeze by you depending on the city you are in. Your most-prized possessions are carried on your back and a hot shower can be the cure to a bad day. You avoid the drama that goes on among circles of friends back home, but you also miss some of the most important days of your friend's lives, weddings, babies and extremely exciting and then disappointing college basketball seasons.
"Let it go, live your life and leave it
Then one day, wake up and she'll be home"
Some people can't imagine the constant travel, the not-having plans past tomorrow and the always being pulled to a new and different location. Sleeping in a new bed every week and traveling with only 2 pairs of shoes (and some flip-flops) sounds like a nightmare. On the other hand, some can't imagine ever settling. Some feel suffocated with the idea of owning a home and a car. They feel most at home when they are on the move and life is clearer when they are planning for their next big trip.
I walk a fine line, on one side I would never trade my experiences, my daily routines, my adventures and the strangers I get to meet. On the other side, I miss going home to somewhere and having my bed waiting, my wine nights with the girls and my favorite food in the cupboard. I hate hearing about our friends getting together because I long to be there, but I can't stop spinning a globe to find out where I might end up next. I crave food from around the world (and not the kind you can get for take out down the street) but I want my own kitchen with my own space to cook in. I love the chaos of getting into a new city and not being able to speak the language, read the signs or find a map… but figuring it all out along the way.
Are long term travelers happy? Absolutely. You define your own happiness. You find the relationships you need on the road, and if you are lucky you hang on to the good ones. Your home isn't where your bed is, it's where your next adventure is, your next welcoming smile from a stranger or your next mind-blowing delicious meal. Your stability doesn't come from a paycheck, or a routine – it comes from your next reservation and an upcoming flight.
If you travel in search of finding all the answers, you most likely will be left lost. If you buy the house and car expecting a picture perfect life, you might quickly realize it's not what you wanted at all. Look for happiness in the middle of nowhere, with no one around. When you can be happy with yourself and proud of how far you've come, despite any and all outside factors, is when you realize it doesn't matter if you are in the home town you grew up in or across the globe. Your happiness isn't searching for anything or dependent on lifestyle…it just is.
Keep staring at "the firecracker sitting on your headboard… waiting for the next shower of sparks"