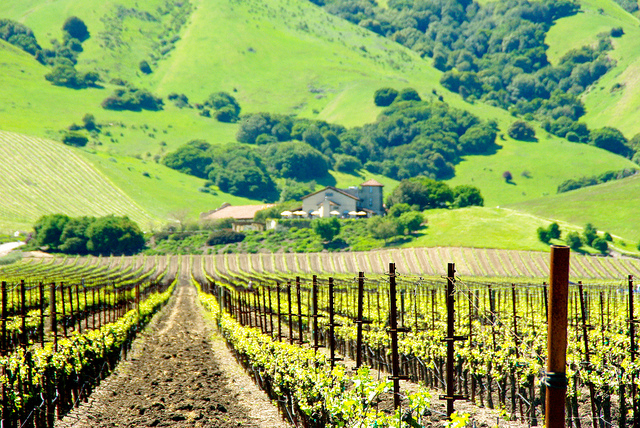 Josh and I have been living in the Sierra Nevada mountains since February and with the week off we were ready to spoil ourselves in the beautiful wine country of Sonoma, California.
We spent the weekend in total bliss being pampered in the spa, indulging in delicious wine, enjoying the hustle and bustle of the Sonoma Film Festival and wrapping ourselves in the The Cottage Inn and Spa's comfy white robes whenever possible.
Here are a few tips we picked up on how to spoil yourself in Sonoma:
Don't rush at the Wineries
We arrived in Sonoma with a list of 30 recommended wineries to see and only 2 days to explore. This is a clear example of poor planning. I think the most wineries you should attempt to visit in one day is 4. Many people will say that is way too many, but if you're reading this, you might be crazy like us. Each winery serves you 6+ different wines to taste and some of the sommeliers are very generous in the pours! After 4 wineries you're not tasting, you're just drinking. 🙂
Most of the wineries are beautiful and offer sitting areas with a variety of foods you can purchase. I suggest sitting down with your tasting, purchasing some cheese, enjoying the beautiful weather, and relaxing! Chat with the sommelier and you will be surprised at how much you can learn about the vineyard and the history of the wine you are drinking! If you are lucky you will get some really delicious upgrades to your tasting – we got to taste some extra special wine after hitting it off with the sommelier (thank you Benzinger!)
Don't swirl, smell, sip and run!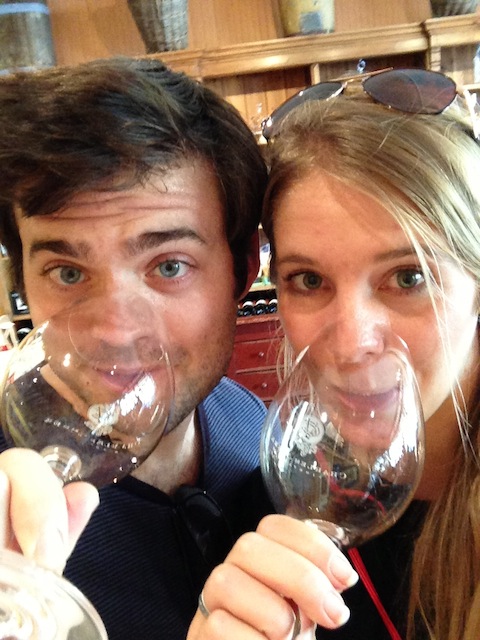 Spend the day at the spa
You are here to indulge in the luxuries Sonoma has to offer, so take a day to spoil yourself in the spa. Get a couple's massage and pamper your feet with a pedicure, ending the experience with peace and quiet and a refreshing glass of wine. Now, that's my idea of a vacation!
Josh and I had massages at Cottage Inn and Spa and their hands worked wonders! After an hour of the relaxing music and eucalyptus oil I melted into my bed and refused to get out of my robe the entire night.


Pick the Right Bed and Breakfast
I say bed and breakfast here and not hotel because Sonoma has some of the most personal B&B's, Guesthouses and Inn's that will truly enhance your experience.
The owner of our Inn, Faye, was one of our highlights of the trip. She has a true love for Sonoma and is excited to share her city with you. Talking with her brings a sense of calm over you and her positive outlook is refreshing. The Cottage Inn is an extension of Faye. Each room has a tranquil peace to it. 8 out of 9 of the rooms don't have TVs for the very purpose of shutting down. Turning off all the outside noise and being able to find your happy here in Sonoma.
We especially loved having our own kitchen. During the day we would purchase cheese and different foods from the wineries and it was nice to have a refrigerator to keep them in. We also enjoyed preparing a picnic (Cottage Inn provides you with a basket) to take with us for lunch at the wineries.
Each morning a basket was delivered with warm croissants, muffins and scones from a local bakery, Crisp Bake Shop. They are Faye's favorite bakery in Sonoma and we can see why – they are delicious! The coffee in the rooms is from the local Barking Dog Roasters – and these two coffee connoisseurs agree it is a great way to start the day!
Complimentary Wine Tasting Pass
Our favorite perk of Cottage Inn and Spa was the complimentary wine tasting pass. Each guest of the Inn gets one of these, and they are gold! The pass gets you a free tasting, and often a discount on purchases at 32 Sonoma-area wineries. If you know you want to hit a bunch of different places, the pass will definitely help out with your budget.
Wineries we visited:
Benzinger
Mayo
Chateau St Jean
Roche
Ravenswood
Gundlach Bundschu
VJB
Jacuzzi
Charles Creek
Viansa
Hire a Driver
Don't worry about driving while you are spoiling yourself in Sonoma. Yes, if you take it extremely slow, limit your tastings and make sure to eat between each tasting many tasters do drive themselves. I'm not promoting getting a driver and getting wasted, but getting a driver allows you to not worry about the logistics.
We typically love to do everything ourselves, and that usually ends up with us on two wheels, which is another great experience we can tell you about later. But for your purpose of spoiling yourself and spending a weekend of low stress I suggest passing over the keys and letting someone else take you around.
We have so much more to share about our weekend in Sonoma – we definitely fell in love with this city and didn't even have time to make it to Napa or any of the other surrounding wine areas. In Sonoma alone there are over 300 wineries. We could return to Sonoma/Napa yearly for the next 10 years and never have to go to the same winery twice.
What would you add to our list? How did you spoil yourself in wine country?
Thanks to Cottage Inn and Spa for inviting us to Sonoma and sponsoring our stay.