With a short break from the mountains to spend the weekend in Truckee, CA we were determined to fit in a trip to Lake Tahoe between working, eating BBQ, playing with dogs, and snowboarding in Squaw Valley. We left on an early morning drive going counter-clockwise around the lake from Truckee, hoping for a 3 hour trip (with maybe a stop at the Carson City Trader Joe's…).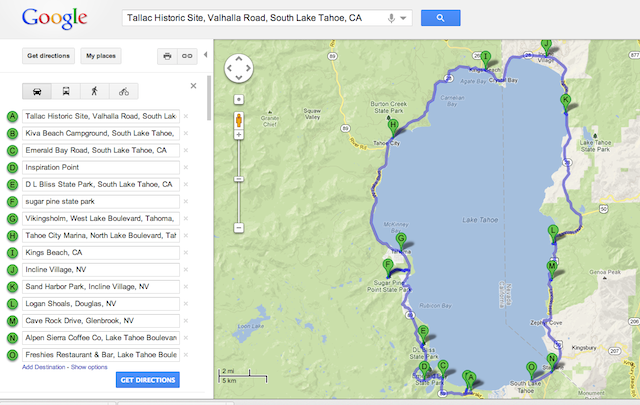 Where to Stop Around Lake Tahoe?
It's so beautiful, you can stop pretty much anywhere, but there are a few places you'll probably want to make time for:
Tallac Historic Site – Beautiful homes line the street. Take a few minutes to view the summer homes of the wealthy.
Kiva Beach Campground – If you brought your dog with you on the drive (we did!) I suggest stopping off at this beautiful dog park. Your pup will get to meet new friends and you will get a great view of the mountains surrounding the lake. Even if the gate is closed, doesn't mean you can't park outside and walk the mile to the beach. We found it full of dogs and owners once we got there.
Emerald Bay – This bay is a must stop when you are driving around Lake Tahoe. Get your camera ready for more great views of the lake!
Inspiration Point – Along Highway 89, this is one of the many pull-offs for an unbelievable viewpoint. You might feel like you are stopping a lot, but this is one you don't want to miss!
D.L. Bliss State Park – More hiking trails and great views at Bliss State Park. Make sure to see the highest-elevation lighthouse in the U.S. located in this state park, Rubicon Point Light.
Sugar Pine State Park – On the western shore of Lake Tahoe, Sugar Pine State Park is your chance to stretch your legs and explore the inland hiking trails. Check out some sugar pines as they are the most massive pine trees, with HUGE pine cones!
Vikingsholm at Emerald Bay – A great lookout, and if you want to see the castle, it's a mile hike down. Just remember you have to hike your way back up.
Kings Beach – If you need a break from driving, stop over at Kings beach and you will find much more than a sandy stop. There are shops and restaurants waiting so you can refuel on anything you need, including amazing views of the lake from the beach.
Incline Village – An adventure'rs playground. You can golf, ski, snowmobile, sail, play tennis and more at Incline Village. Plan some extra time here to really enjoy all that it has to offer!
Logan Shoals – North of Cave Rock is the Logan Shoals lookout. Get your camera ready for some of the best panoramic views of the lake! This was our favorite stop, Mountains + Lake = Beauty
Cave Rock Drive – This tunnel along the Lake Tahoe drive is considered sacred by the Washoe Indian Tribe. There are restricted activities around the tunnel such as rock climbing.
Freshie's Restaurant – We discovered this restaurant somewhere online during our Tahoe research. When you drive up it isn't much to look at, nestled in a small strip mall, but I urge you to go inside and try their fish tacos – they are delicious! In addition to the tacos they had Nando's Peri-Peri hot sauce – which is our favorite from South Africa!
The best part of the drive?
The photos! Check out a few of our favorites below:
It took us much longer than 3 hours, and we still had to skip a bunch of things to get home within 6 so plan for longer if you want to stop along the way. There's a ton to do out here, stay a week and really enjoy what Tahoe has to offer!
What are your favorite lakes?