If you travel long term you will realize you start to miss the simple things that used to be mundane and routine. In my case grocery shopping, specifically at Trader Joe's.
We met these really fun couples in the Galapagos, and over dinner Trader Joe's somehow became the topic of conversation.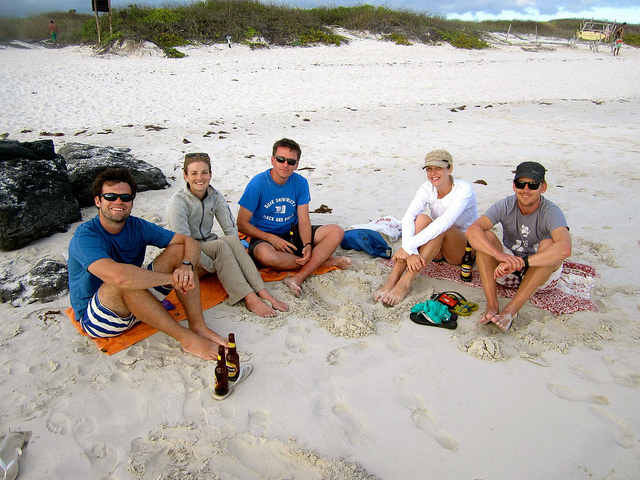 The question asked was what are your top 5 go-to Trader Joe's foods. If you are a Trader Joe's shopper, and you love the company as much as we do you will be able to rattle off at least 5 of your favorite Trader Joe's foods you can't live without.
Here are my top 5… err 10… OK I couldn't pick just 10. I listed out 12 foods that I suggest you add to your cart during your next grocery run!
1. Pretzel Roll – We've only found this in the midwest but check near the baguettes for an awesome $0.99 pretzel roll.
2. Trader Joe's Vintage Ale – Buy a case every holiday season ($4.99 each) and let them sit and age for up to a year. Then buy the next year's vintage while you drink last year's once a month for the next year.
3. Spicy Jalapeño Turkey Sausage – They have a variety of different turkey sausage flavors, jalapeño is by far the best. $3.99 for 5.
4. Frozen Turkey Meatballs – Combine with some Sweet Baby Ray's BBQ sauce and you will be hooked.
5. Jalapeño Hot Sauce – Josh and I love hot sauce…a lot. This doesn't compare to Valentina or Sriracha…but it might rank in our Top 3.
6. Mediterranean Hummus – The best store-bought hummus we've ever had. It's possible we've driven 2 hours to buy this… it's topped with olive oil and pine nuts and is $3.99.
7. Indian Fare Punjab Choley – A delicious chick pea dish in curry sauce, ignoring the fact that it comes in a packet that you boil on the stove, we love to put this on top of our salads for lunch and at $1.99 we pick up at least 4 boxes each time we go.
8. Trader Joe's Greek Yogurt – I love plain non-fat greek yogurt and Trader Joe's offers a cheaper option than Fage and Chobani in the stores. $4.99
9. 99% Fat Free Bean & Rice Burrito – Pick these up in the frozen section. 2 low calorie burritos around $2.99. Top them with some Valentina hot sauce and you've got a quick lunch.
10. Mini Peanut Butter Cups – Need I say more? $3.49
11. Joe's Dark Coffee – I'm also a fan of the dark French Roast and the Dark Sumatra, but their price increases in the last year led me to try the Joe's Dark for $4.99. If you make it with an Aeropress, you've got a pretty nice cup of coffee. One can will make about 25-28 cups.
12. Toscano Cheese with Black Pepper – Amazing. if you like to try different types of cheese and you like them sharp and strong pick this one up and pair it with a delicious glass of red wine. $8 per lb. (worth it)
What do you love at Trader Joe's? Leave your top 5 best Trader Joe's foods in the comments!