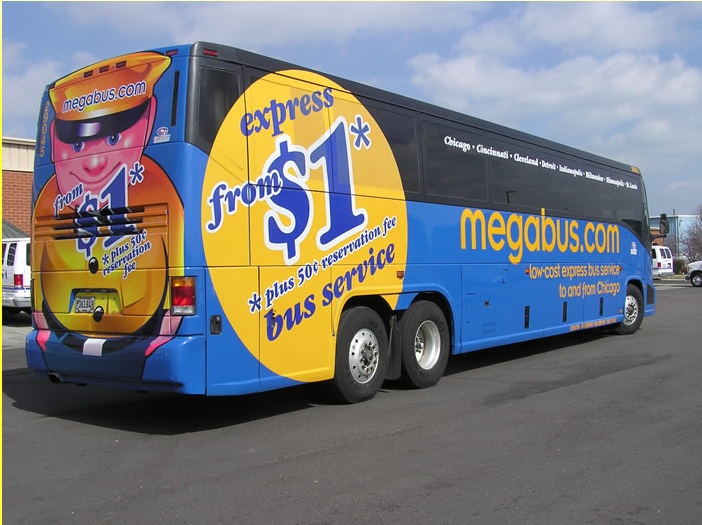 What is the Megabus?
The Megabus is a intercity double decker coach bus service that is low cost and in my opinion incredibly more comfortable than the alternative, Greyhound Bus. The bus offers free Wi-Fi (that usually doesn't work) and electric plugs at your seat. They stop in over 100 U.S cities, including routes through Canada.
Where does the Megabus travel to?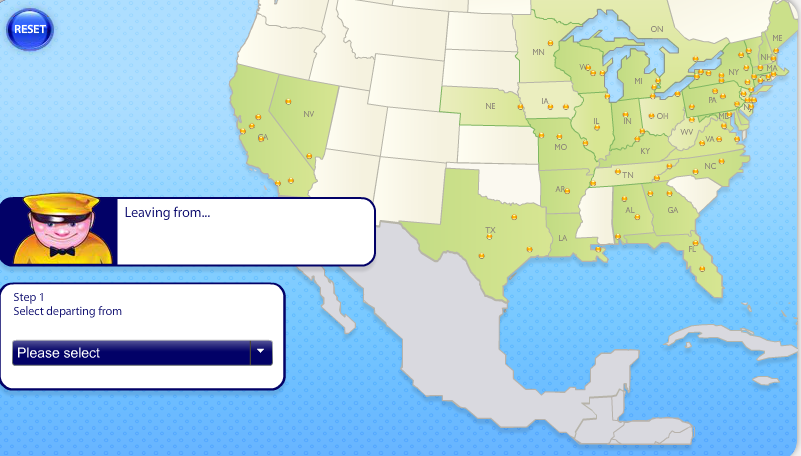 Check out the route map on the site to find out where the closest stop is to you.
Do I need a ticket for the Megabus?
Once you've selected your dates and times, entered your information and purchased your ticket, make sure to save it or print it out. You will need the ticket or at least the confirmation number to board. I usually send it to TripIt, or save it in a note on my phone. The driver is going to ask you to read the first 5 numbers/characters of the confirmation number, so make sure you have it accessible.
You can change your ticket for a $1 fee. (50 cent change fee and 50 cent new reservation fee)
How to get the best seat on the Megabus
Travel light and show up early. I suggest arriving 15 minutes early, we've never taken a megabus that doesn't leave at least 30 minutes late. When the bus first arrives, passengers with carry-on only bags rush to the bus door to await boarding. If you have luggage to load that doesn't fit in your lap, join the line in the back of the bus.
Each passenger is allowed one piece of luggage and one carry on. (I've never seen them be too strict on this but I'm sure it depends on how busy the bus is that day.)
If you are traveling with someone else, I suggest splitting up. Josh takes our big bags to put in the back of the bus, while I get in the front of the line to be one of the first to grab a seat. You do need your ticket to get on so when I board I show the driver my ticket for 2 people and explain my husband is putting his bag on. When Josh gets on he knows his ticket number and reiterates that to the driver. We've never had trouble with this and we've always gotten the seat we want. Make sure both of you have the ticket numbers because they do occasionally ask for it when putting your bag on also if you're carrying more than one bag.
There are two levels of seating on most Megabuses. Personally I prefer the bottom level, the seats seem to have much more space, the ceilings are higher and if you get carsick, the swaying is more forgiving on the bottom. You have the choice to have a table on the bottom or a regular seat. Be aware if you do pick the table you might end up playing footsie with your stranger-neighbor across from you. If you go too far back in the bus you are sitting near the bathroom and it could end up being a smelly trip. However, the far back left seats on the first level have the most leg room.
I suggest skipping the table seats and sitting 1 or 2 seats back, in between the bathroom and the table seats.
Why should I care what seat I get?
Before we started strategically boarding the Megabus we had AWFUL bus trips. Especially during the holidays these buses get incredibly crowded and if you are stuck upstairs it can get very … sweaty, stuffy and vomit-acious. We might sound crazy, but when you become a regular on the Chicago – Indianapolis Megabus route you begin to figure out how make the trip a positive experience.
Tips for Surviving the Megabus
Lower your expectations.
I never show up for a megabus expecting it to leave on time, the wi-fi to actually work or the person sitting in front of me to not talk loudly into their cell phone. There is always something that drives me nuts, but by lowering my expectations, I can handle the trip.
Come prepared for the weather
The megabus stops are outside and not usually accommodating to weather. We have stood outside in the pouring rain and below freezing temperatures waiting hours for the bus to arrive. If it might rain bring an umbrella or poncho, if it's winter wear extra layers. The worse the weather, the later the megabus is and waiting outside in the extremes doesn't make the next 3-5 hour bus trip ahead of you any more enjoyable.
Bring headphones or ear plugs
I've never understood why people feel it is their right to talk loudly in small enclosed places like buses. Every bus trip includes at least one long phone call with screaming involved, someone listening to their music loud enough for all to hear or a conversation on evolution between two strangers who are suddenly best friends. Come prepared with something to listen to or block out the noise you will thank me later.
Have your charger with you
The electrical plug at your seat is a huge plus for the Megabus. You can watch movies on your laptop and listen to music on your phone without fear of your battery dying.
Hopefully this tips will help you on your next Megabus trip. We've taken it so many times, we want to help you have a comfortable trip.
What tips do you have for riding Megabus?