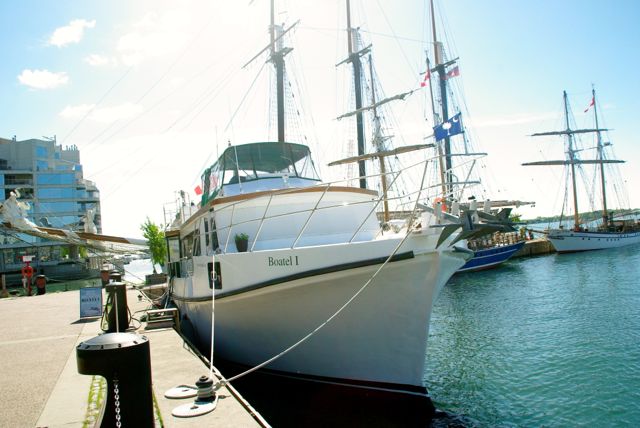 When you can't decide if you want to cruise on a boat or stay in a hotel for the weekend, the Boatel has the perfect solution! We were in Toronto for TBEX and found ourselves sleeping on the water with Diane and Ted of the only Boatel in Toronto and one of the most unique bed and breakfasts we have stayed in yet!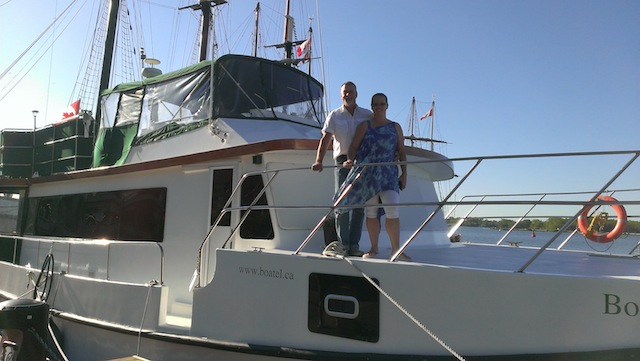 Their Story:
…was much like our own. They decided to risk leaving the 9 – 5 for making a life on their boat and welcoming guests along for their adventure. They spend the summers in Toronto serving guests from around the world, and they travel to the Bahamas in the winter for their own vacation escape. Diane is always busy around the boat, a cheerful face everytime you return home and Ted is captain of one of the local cruise ships – if you're lucky you will see him dressed in his stripes!

The Goal:
To have people arrive as strangers and leave as friends.
This was what stood out to us the most.
The first morning Josh and I woke up and rushed around our cabin getting ready for the first day of TBEX. Relaxed was not the word I would use to describe our demeanor that first morning. We went upstairs for breakfast outside overlooking the marina, and Diane and Ted sat down with us as we ate and chatted together over some of the most delicious whole-wheat banana flaxseed pancakes I have ever tasted.
This became our morning routine for 4 days. We would wake up, sit down and eat breakfast getting to know Ted and Diane more and more each morning. Little did they know that we were setting our breakfast time 15 min earlier than we needed, because we found this morning time so relaxing and them as a couple so intriguing!
It happened. We came as strangers and left as friends…goal accomplished!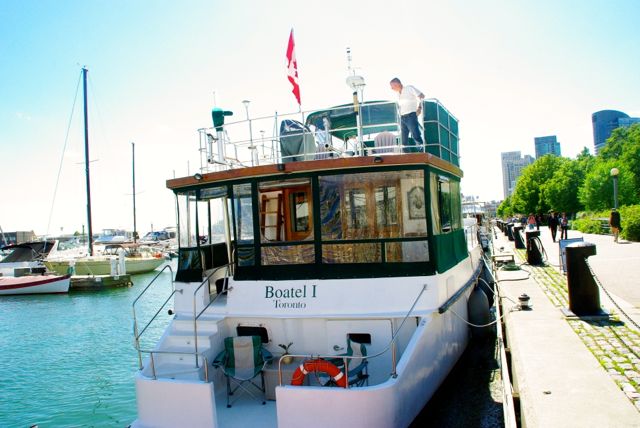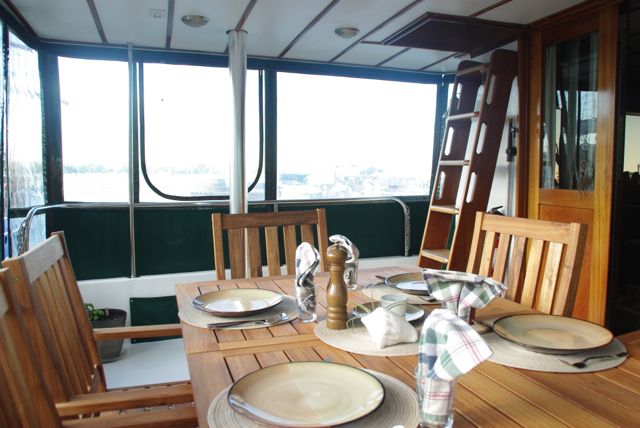 The Boatel:
I love unique bed and breakfasts. I will search harder to find a hotel with personality or a fun story behind it if I can. I still don't know how I came across the boatel, but it was definitely worth the extra time Googling.
The interior is beautiful mahogany, the rooms are cozy and just enough for a comfortable nights sleep. What I loved most is the three levels available to relax on. Whether you are drinking your coffee on the lower level chairs watching sunrise, or sunning on the top deck, the view is awesome of both the city and the waterfront.

The City:
Toronto is awesome. Coming from Chicago, it reminded me a lot of my favorite US city! We were out every night at various events and the boatel was an easy and safe walk home. I highly suggest taking The Beer Lover's tour in the city, it is amazing the connection between the history of Toronto and craft breweries. The architecture is stunning. Also, if you love improv comedy, The Second City has a sister location in Toronto and it is a great evening of laughs!
I will warn you Toronto is known for it's continual construction you will see everywhere. Big cranes and roads are blocked as you try to navigate the growing city. An easy solution is to explore on foot, bike or use the public transit.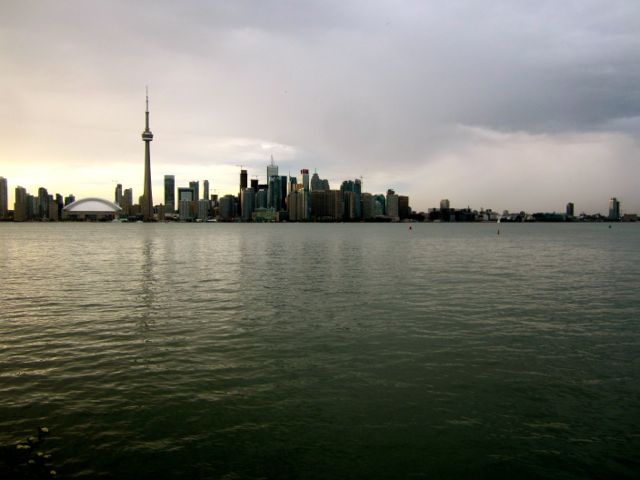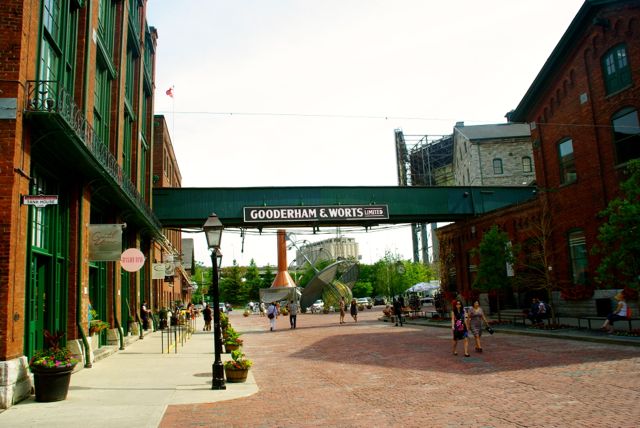 Where is the most unique bed and breakfast you've stayed at? And why did you love it?