Sometimes you have tough days… and you just need a glass of wine.
The photo sums up the story pretty well…DISASTER.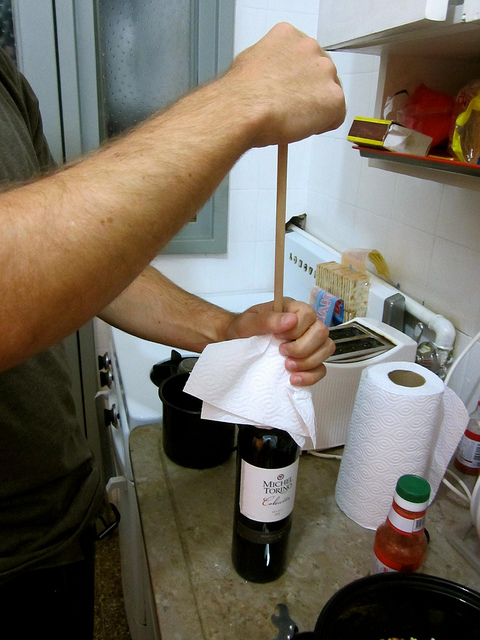 This photo was actually our second bottle of wine we opened with the old wooden spoon and paper towel trick. You ask, since we were in the big beautiful city of Buenos Aires why didn't we just go purchase a wine opener down the street and make our lives much easier.
My answer… I have no idea. Looking back, it seems like the right answer, but at the time… not sure what was going through our heads other than a strong desire for a glass of wine.
The Wooden Spoon Method
Anyways, our first attempt with the wooden spoon method was without the paper towel. Our goal was to push the cork into the bottle, it seemed pretty straightforward. I held the bottle so it didn't move and Josh used his strength to push the cork into the bottle (#teamwork). What we didn't plan for was the explosion of red wine everywhere that left our AirBnB apartment looking like a scene from Dexter. The white kitchen counters were covered in red wine as were our clothes. We quickly cleaned up the crime scene, poured ourselves a glass, enjoyed the delicious Malbec and brainstormed how we could clean up the process.
The Wooden Spoon + Paper Towel Method
Of course we learned from our mistake the first time around and improved the method. We added a paper towel, as seen in the photo above. We knew to expect the explosion this time so as I held down the bottle and Josh pushed the cork in, the wine exploded as normal and the paper towel caught all the mess (#perfection). We again poured ourselves a glass and this time proudly drank it feeling accomplished.
That is what travel is all about right? Making do with what you have, figuring it out as you go. We are currently getting a patent for the wooden spoon + paper towel method and hopefully you will be seeing these in a Bed Bath and Beyond near you!
What are extreme ways you have used to open a wine bottle, for those days that you just need a glass of wine?