We spent a week in Portland this summer and fell in love with the food culture there. Below is our list of where to eat in Portland, Oregon.
LucLac
LucLac started as a food truck and grew so quickly in popularity that they opened up a restaurant. Their Pho is delicious – highly recommend stopping by when you are in Portland!
Voodoo Doughnuts
Almost everywhere in Portland you have to wait in a line to get your food. Everyone living in the city seems to be a foodie and prepared to wait. Voodoo is more for the tourist I would guess but there is almost always at least a 30 min wait for doughnuts covered in Fruit Loops, Oreo crumbs, grape Kool-aid – you name it, it might be on a doughnut here! If you order their namesake, the "Voodoo doll" they are all made differently, so you'll have a unique design.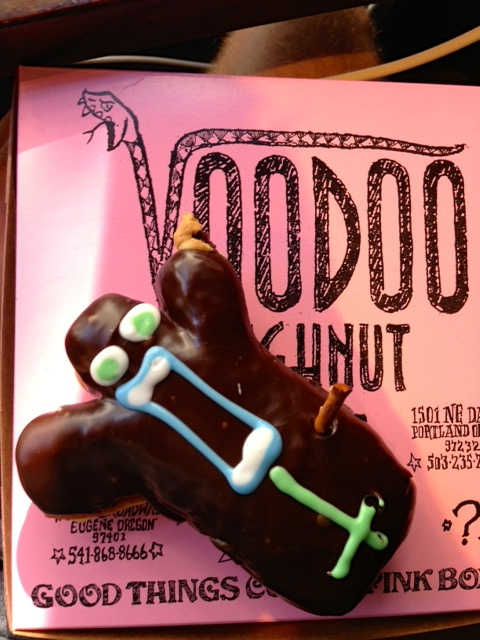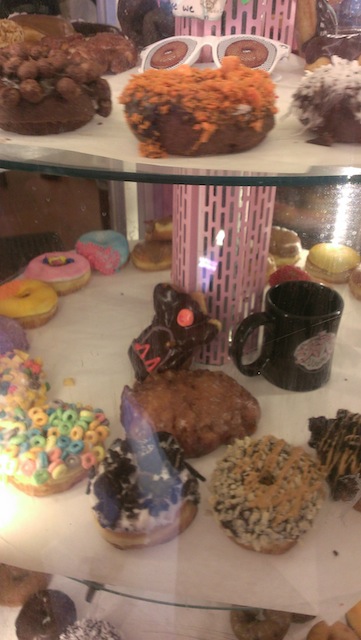 Thai Peacock
If you love spicy Thai food, Thai Peacock, across the street from Powell's Books, can deliver the punch! We asked for Thai spicy and were happy to have our mouths on fire by the end of the meal!
Salt & Straw
Love this place. If you skip every foodie spot on this list – don't skip Salt & Straw. The most unusual flavors mixed together that work so well. I had blue cheese and pear ice cream and Josh ordered one scoop of bourbon & coffee with a second scoop of goat cheese, marionberry and habanero.
Stumptown Coffee
Get a coffee or latte at Stumptown Coffee Roasters, a locally-owned roaster that has since expanded to Seattle and New York City. While there are many Starbucks in Portland, you'll be shamed for stepping foot in one, due to the proliferation of local coffee shops.
Food Trucks
Did you know at any given time Portland has over 500 food trucks serving up delicious food across the city? They are organized in pods and usually serve until they run out of food for the day. If there is a specific food truck you want to try show up early, and as usual – expect a line!
Grilled Cheese Grill
One of our favorite food trucks was the Grilled Cheese Grill. I tried The Sour Apple with Tillamook Cheddar, and fresh sliced Braeburn apple on Sourdough and Josh had The Gabby with bacon, Tillamook Cheddar, Colby Jack, Swiss and Mozzarella on white bread.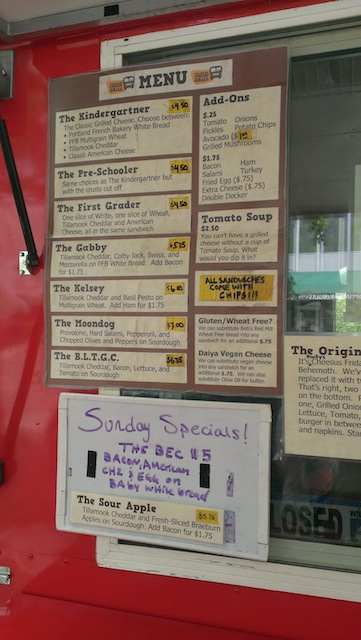 Add your must-eat places in Portland in the comments! We are already starting a foodie list for our next trip to the city!