When in Barcelona one of the top recommended sights is Park Güell.

Most of the time I won't do much research on the city where we are headed, either because I don't have time or someone I trust has already recommended all of the best to do's. So when arriving in Barcelona, I realize I should probably have heard of Park Güell (It's kinda a big deal in the city), but no, when I heard Josh say we were going to a park, I pictured picking up wine and cheese and sitting in the park having a picnic. I imagined a park, with a big grassy area and spending the day laying on a blanket, soaking up the sunshine.
Of course you can't be disappointed when you walk into an UNESCO world heritage site. Güell commissioned his good friend Gaudi (there's a name you can't get enough of in Barcelona) to design an estate for Barcelona's aristocracy. At the time, his architecture wasn't very popular and only a few houses were built, and so Güell donated the land to the city as a park. Everywhere you look it seems like a big, otherworldly puzzle, smiling dragons, columns that look like tree trunks, a bench that seems to go on forever with every color sprinkled throughout. Although it was never completed, it still remains one of Gaudi's most colorful and playful works and one of Barcelona's top tourist attractions.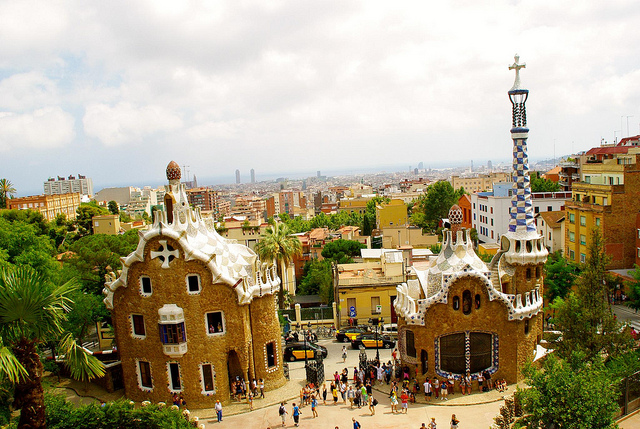 So, I didn't get my day in the park, but I did get awesome views of the city and spent the afternoon exploring a weird, but so interesting park in Barcelona. See more photos of our trip there below:
Tip: Be prepared for crowds. On any given day Park Güell is not just busy, it is packed with people.