Does the sight of a squat toilet terrify you?
For the next 600 words we are going to be talking dirty. Literally, we are talking about how to use a squat toilet. If bathroom chat offends you, I would suggest you check out this other great post with pictures from around the world. It's much more pleasant. But, if you want to get real and know the ins and outs of how these toilets work, keep reading!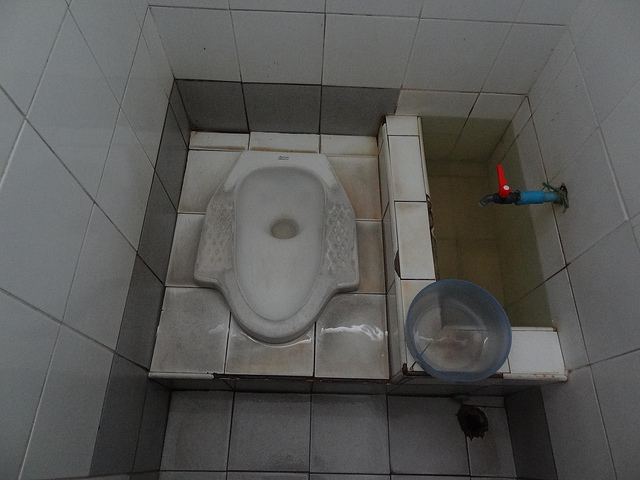 Let me let you in on a little secret… when I travel and there is an option between a squat toilet or a western toilet I almost always pick the squat toilet.
Why?
Trying to hover your body over a western toilet, not touch anything and maintain a steady stream is much more difficult than squatting all the way down and and doing your business.
This is coming from a female perspective…but I assume it's pretty much the same for you guys?
Women, we are squatting 100% of the time, while men only have to squat 50% – so we will quickly build up the muscles needed to master the squat. There is no instruction manual when you first walk into a squat toilet, so hopefully this helps settle any worries or fears you have!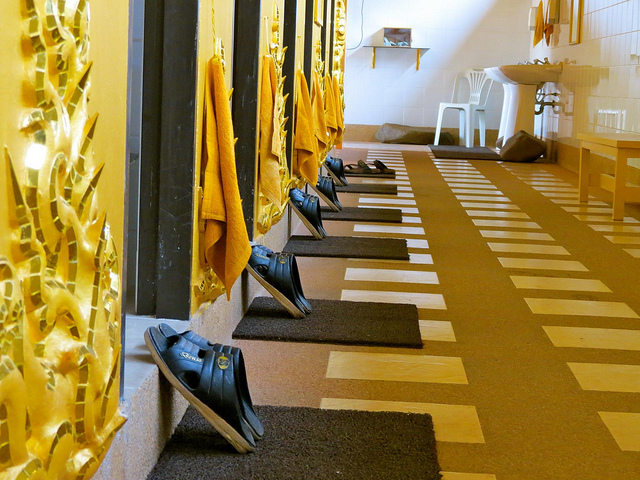 We rarely ran into this fancy of squat toilet, but the photo above is of a toilet at the white temple in Chiang Rai where they offered you sandals to wear into the bathroom so you can leave your shoes outside and keep them clean.
First:
Roll your pants leg up to your knees to prevent any splash back. Sometimes there is a hook and you can opt to completely remove your pants if you are more comfortable with this. I wore a lot of dresses and skirts when I travel which made for the perfect attire for a squat toilet.
Place your feet on either side of the toilet where the grooves are.
Pull your pants down to where you are comfortable, I suggest at least to your knees.
Next:
Squat until you can't squat any more. The lower you go the closer you are to your target and the better success you will have with less backsplash. Aim for the hole in the bottom.
Finally:
Wipe or rinse with whatever you have on hand. I always carry extra toilet paper with me since it isn't always provided. Ziploc bags can come in handy if there isn't a trash can, in addition to hand sanitizer, always a travel necessity.
While some squat toilets will be flushing, most will have a bucket and water that you will need to use to scoop the water into the squat toilet to clear it out for the next use.
Don't think because you live in the US, you won't run into a squat toilet. While most tourist locations do cater to western toilets, I've still come across them at certain authentic restaurants in the US!
Locals in other countries are naturals at this position. You will see men and women squatting as they eat on the street, drink coffee or just wait for the bus. Don't feel bad when you can't immediately get in the correct position. Honestly, this is much more comfortable than the crouching position you might be used to (not for the bathroom), and can stay in this squat for a much longer period of time.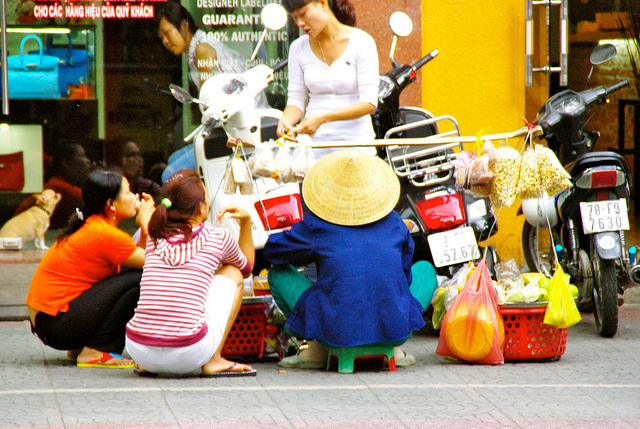 Tips:
– Always carry tissue or emergency toilet paper with you. I've been in some toilets where they have it free to use, some you have to pay for the toilet tissue and some just simply don't have any.
– Watch your pockets. If you don't take off your pants completely, be careful not to drop your wallet, passport or money down below – it will make for a messy situation!
– If you are traveling with someone else, hand off your bag to them and let them hold it, mastering the squat is difficult enough your first few times, having to balance an entire backpack and/or daypack will create a whole new experience for you!
Once you master the normal squat toilet, try it on a moving train or bus and try keeping your balance while getting rocked side to side. 🙂
Have you used a squat toilet before? What are your best tips for success?