Thailand is known for their delicious curries and if you are traveling through the country, you don't want to miss the great variety of curries available.
Here is our quick run down of what makes each Thai curry unique.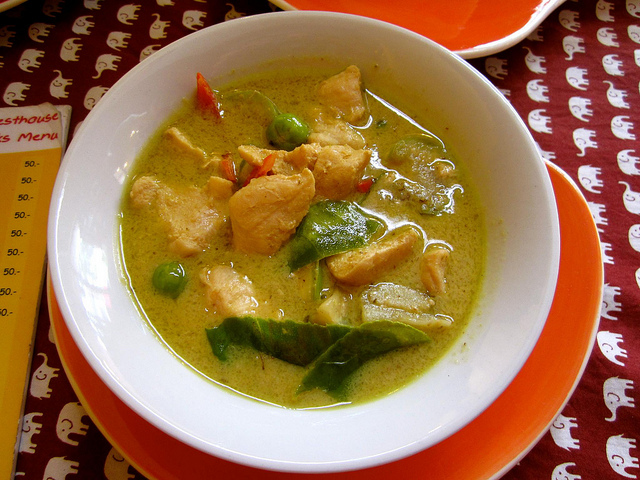 Green Curry
Considered to be the spiciest curry in Thailand, it is also sweet thanks to the high amount of coconut milk that is added to the dish. The base is made with fresh, young green chilis which makes green curry hotter than other curries and in our opinion one of the best tasting!
Red Curry
While still spicy and a bit sweet, this plays to your savory taste buds more than green curry. The color comes from the bigger red chilies used to create the base. The chilies are crushed with garlic, lemongrass, shallots, ginger and fish paste and added to coconut milk. Red curry is spicier and less rich than yellow curry.
Yellow
The yellow curry base is made of plenty of tumeric, cumin yellow mustard seed, nutmeg, kaffir lime leaves and juice. While you will find different variations across Thailand, yellow curry contains coconut cream in addition to the coconut milk, and has a rich taste with a sweet, milder flavors than the red and green curry.
Penang Curry
While very similar to red curry, Penang is usually seasoned to be less spicy than red curry and has the added ingredient of peanuts that gives it a sweeter flavor.
Masaman Curry
Masaman doesn't pack as much heat as the other curries, so it's a good place to start if you want to try something less spicy. It's heavily influenced by Indian curries and is by far the sweetest of all the curries. The base is made of cardamon, cinnamon, cloves and nutmeg, and generally comes with chunks of potato and topped with peanuts. You'll find a lot of this Chiang Mai.
Khao Soi Curry Soup
Hailing from Northern Thailand, my favorite curry soup is Khao soi. While very different from the other curries on the list, it is a must try when you're in Thailand! It's a coconut milk, soup-like dish, similar to yellow or massaman curry but a thinner consistency. It's topped with egg noodles and served with chicken or beef. This is one of the dishes that represents the Burmese influence on the cuisine in Northern Thailand
Have you tried any of these?
Which is your favorite Thai curry?