Tian Tan Buddha, or the Big Buddha as I've always called it, is a large broze statue on Lantau Island representing the relationship between man and nature, people and religion. It's main claim to fame is the "largest outdoor bronze seated buddha" – that's a mouthful. Come early, expect to wait in line when you first arrive and look forward to spending the day exploring Lantau Island.
Utilizing our zoom lens and trying to capture the color of his eyes through the fog.
Begin by climbing 240 steps up to reach the top.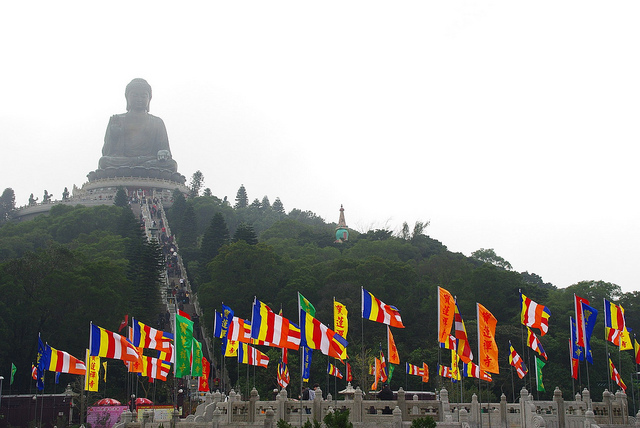 Incense sticks of all sizes are burning to purify the surroundings. You'll find a mix of locals and tourists at the Po Lin Monastery as this is a major center for Buddhism in Hong Kong.
Cute pup waiting patiently in the nearby grass, I couldn't help but snap a shot!
The Wisdom Path also known as The Heart of Sutra Wood Inscriptions is beautiful and a peaceful place to hike around and spend some time meditating if you would like.
Thick fog rolled in at mid morning, so much that as we hiked around The Wisdom Path there would be times we wouldn't be able to see the Big Buddha through the fog.
Don't miss out on the Chinese inscriptions on giant wooden pillars along the Wisdom Path. Hiking around this area was much less busy and our favorite part of the day.
Views from the Wisdom Path, looking through the fog.
After our hike we took a much needed lunch break. Can't go wrong with a good cup of fried noodles.
 We definitely agree visiting the Big Buddha should be on your list of things to do while you are in Hong Kong. We suggest you plan to spend the day there, the area around the Big Buddha is stunning and if you spend some time hiking around, you can get some great photos of the statue from different angles.
Check out our guide on How to Visit The Big Buddha in Hong Kong