Why Travel to Singapore?
Has Singapore ever been on your bucket list? Maybe it's not as exotic as Bora Bora or well known as Thailand. Singapore might not have the world's best beach or be seen as off the beaten path to the adventure traveler, but when we visited Singapore our eyes were opened to the cosmopolitan city and left thinking that is somewhere we could live one day.
6 Reasons Why You Need to Add Singapore to Your Travel List

1. The Food
Singapore offers an endless variety of foods from around the world… and most everything you will eat is delicious! There are few places in the world I have traveled to where the food beats out Singapore. There is a place to eat for every budget, you can choose to eat at one of the many hawker centers or some of the top dining restaurants in the world and be guaranteed a good meal.
2. The parks and green spaces around the city
One of the aspects that defines Singapore is it's greenery. You will notice the abundant trees and flowers on every corner, a nature lovers paradise.
A few of our favorite places to escape outdoors in Singapore are:
Southern Ridges is 6.2 miles of easy walking trails along the Southern cost.
MacRitchie Reservoir is 6.8 miles of trails through forests and lush greenery, including a 820 foot TreeTop Walk suspension bridge.
Gardens of the Bay is a seaside botanical garden that recently opened that is continuing to help make a name for Singapore with 15 story vertical gardens, cloud forests and waterfalls.
Outside of these are Mount Faber Park, East Coast Park, the Botanic Gardens, Esplanade Park and many more! When you are in Singapore get outside and enjoy the fresh air!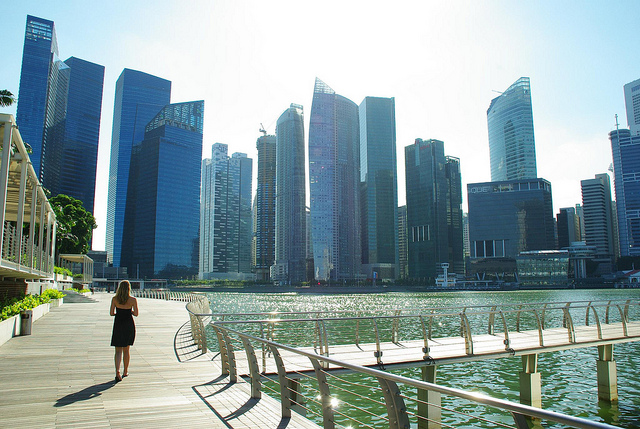 3. The hustle and bustle of the city
Singapore isn't only a tourist destination, but a major city full of activities and a major business center. The shopping in the city is overwhelming and plentiful so if you are here to shop, plan a full week to get through all of the different options available.
It's a travel hub for Asia so most likely you will have a layover here if you are staying in the area. We suggest extending that layover for a few days so you can explore this great city!
4. Awesome Public Transportation
Singapore is an easy city to get around when you are traveling. The public transportation will take you anywhere and for a cheap price! If you are there for a week or more, pick up the EZ-link RFID farecard to help you travel with ease.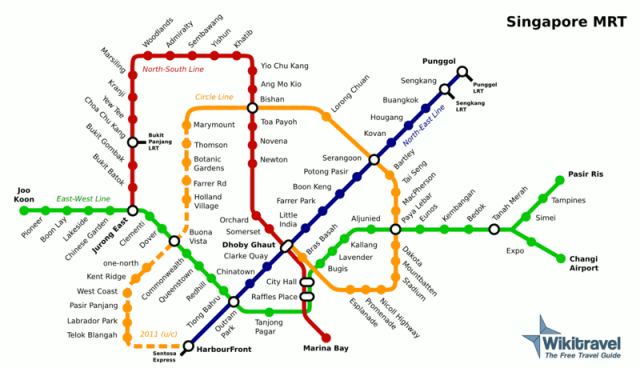 5. It's clean and extremely safe
You will be shocked at how clean of a city Singapore is. In a city where you can be fined or arrested for spitting, littering or selling chewing gum, you can imagine why the thousands of people frequenting the streets are so careful to not let anything slip out of their hands. Signs are posted around the city letting visitors and locals know what they can and can't do. Some may say this is outrageous and overly strict, but we appreciate the cleanliness when we walk around the city.
Along with clean, the city is extremely safe. The unemployment rate is one of the lowest, and the harsh judicial system helps keep crime rates at bay.
6. The Diversity
Singapore is a small island, but with over 5 million people living there it is one of the most crowded and densely populated countries. Expats from all over the globe move to Singapore to live in this diverse city. The population is mainly built of Chinese, Malays and Indians, with the remainder a mix of numerous other cultures.
One of the things I love about traveling to big cities such as New York and San Francisco in the U.S., is the vast diversity of people, cultures and languages you find. Walking down the streets in Singapore I love listening to the different languages as they pass by, and meeting people from such different backgrounds.
7. Chinese New Year
Ok, this one is a bonus, but if you can make it to Singapore during Chinese New Year, be prepared to be impressed. The celebration starts days, sometimes weeks before as people begin to purchase gifts, clean their house and decorate for the holiday. You will find fantastic fireworks, parades and traditional Chinese cultural performances taking place around the city.
Chinese residents make up about 75% of the population, so you can imagine during these few weeks the entire city shuts down to celebrate. We were lucky to be in the city for this unique and incredible celebration and highly suggest it to anyone who can plan around it.
Tips for staying in Singapore
1. Book your accommodation early. The city has numerous places to stay and while some run on the higher end for most budgets, there are plenty of unique homestays, apartment rentals and family hotels in Singapore that you can stay at.
2. Get outside. The best way to see this city is on foot!
3. Singapore has a very strict drug law which read something like "hanged by the neck until dead" … Hopefully you get the point.
4. Eat a lot. Try all different types of restaurants and cuisines. We suggest taking full advantage of the delicious food in the city!
What was your first impression of Singapore?
Disclosure: We received payment for this post. All thoughts and opinions are our own.