Before showing up in Dalat we didn't know what to expect, it was another stop on our trip north in Vietnam. We were surprised to step into a city unlike the others we had seen in the country so far. One that reminded us of the French Alps, with an almost European flair. You could tell the city was built for tourism with a variety of sites to see and activities to do, that would easily fill your days.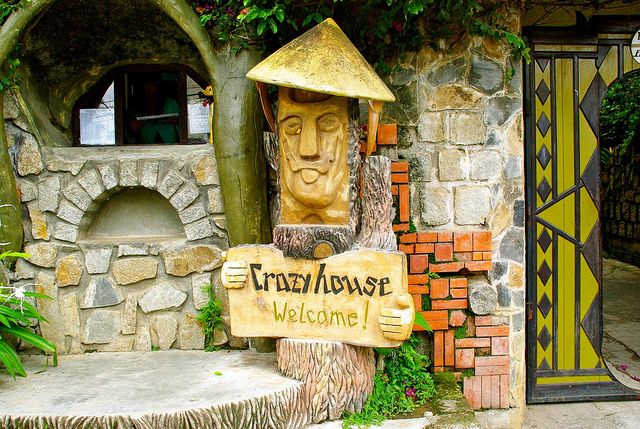 One of the most odd things we saw was Crazy House, aka Hang Nga Guesthouse, a fairy tale house that looks like a gigantic tree. The architect is Hang Nga, a woman whose father was the President of Vietnam back in 1980s.
The design and walkways are so bizarre, we had a hard time getting a good photo for you to see exactly what we are walking through. This is definitely one of those places that you have to see for yourself, photos can't even describe how strange it is. If you are in Dalat, Vietnam make sure to stop by and visit for the day, or book a room and spend a few nights here! If you aren't planning a trip to Dalat anytime soon, here is a short photo essay that will show you what we mean when we say there was no rhyme or reason to this Crazy House!
The goal of the architecture was to bring people back to nature, to appreciate it and not destroy it. All of the windows and doors are unevenly shaped and branch like structures grow along the walls.
Each guestroom is themed around an animal, for example the bear room, the tiger room the ant room etc., with decor to match. Furniture inside the rooms is handcrafted and designed to fit the house's abstract appearance.
Nga's architecture wasn't supported for many years by local authorities due to its unusual design. With private funding from friends and family she was able to continue building the house, and since the building has been highlighted in numerous travel guidebooks and features, bringing tourism to the city of Dalat.
The view from the top is spectacular!
Stairs and hallways throughout Crazy House are designed to resemble tunnels and caves which makes for an interesting walk through the house.
You don't have to stay here as a guest, you can come and pay a small entrance fee to explore this whacky house for a few hours.
Haven't seen enough? Visit our Flickr album for more photos from Dalat and Crazy House.
… and yes Josh hadn't cut his hair in 6 months at this point… so his hair is a bit.. well, crazy 🙂 But we love him!