"Tourists don't know where they've been, travelers don't know where they're going." ~ Paul Theroux
It boggles my mind that there is even a discussion about who is a traveler, and who is a tourist. Who is traveling in the correct way and who is doing it all wrong. A quick Google search will teach you how to be a traveler and NOT a tourist. I found this infographic online, which explains the argument: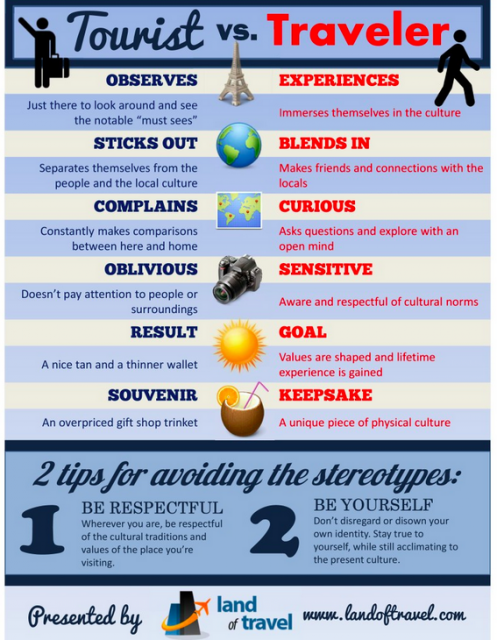 I understand the idea behind the argument, travelers are there to explore the culture and get off the beaten path, while tourists are following along with the guidebooks. I believe even travelers stick out depending on which country you are in, and I know long-term travelers who complain more than anyone I've met, because they have experienced so much. I don't believe tourists would travel if they weren't curious and expected to gain lifetime experience.
To be a good 'traveler' we are supposed to leave our stereotypes and preconceived opinions at home. All this traveler vs tourist debate does is bring out the worst stereotypes about traveling, which is a great education for anyone no matter how you travel.
The point of travel is to explore and experience, meet new people and be open to changing your perspective. We are all different people with unique preferences, it only makes sense that we will all travel in different ways.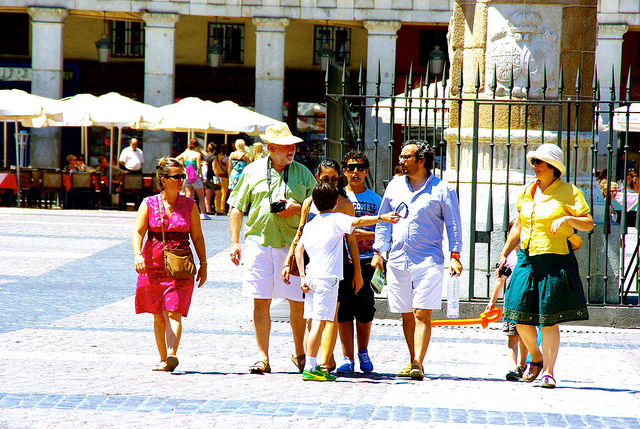 While one person can argue that if your entire vacation is spent at a resort or with a group tour, then you aren't a true traveler… just a tourist. I would argue, we are all travelers and all tourists. We are all visiting new cities and our individual preferences take us in different directions.
The adventurous stories that travelers tell, I think are personality-driven and may not interest someone else – not making you less of a traveler, but a different type of traveler with a different style.
Traveling has led to more experiences and opened my world up to more possibilities than I could have ever imagined. Whether I was at the Leaning Tower of Pisa, Machu Picchu or in the middle of nowhere in Botswana, I was still a tourist in that country, but also a traveler, exploring, experiencing and creating my own path.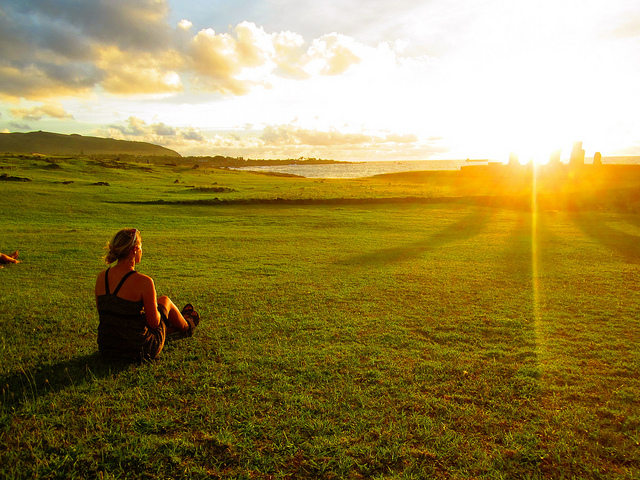 My personality lends itself to spontaneous activities and trusting strangers which usually ends in ridiculous "how did i get myself into this situation" stories. I know plenty of friends who wouldn't do half of the things that I do, not because they are any less of a traveler or more of a tourist, they just have different likes, dislikes and comfort zones.
I believe that traveling is all about pushing your own personal comfort zone. And something that may be tame and normal for one person is a wild change or new experience for another. The goal is to return home having learned more about yourself than when you left. Being able to open up and let some of each culture, person and place impact you along the way. As I mentioned in the beginning, we are all travelers, and we are all tourists. There is no right way to travel, only that we get out and do it!
I would love to hear your thoughts in the comments!