We've talked about why we cruise on the blog before. We know there is a never ending debate on the type of traveler that cruises, sustainability and lack of adventure to be found on cruises. We get it.
Every other year or so we like to turn off our electronics, get on a boat in the middle of the ocean and have an easy vacation. We like having everything planned out for us and not having to pull out a credit card all week. Judge us all you want, when we are looking for adventure we know where to go, and when we want an easy, relaxing, do nothing and don't feel bad about it vacation – we cruise!
Here are my best cruise tips for your next vacation. As usual with me you get mostly health tips, on how to eat healthier, exercise more and stress less on your next cruise.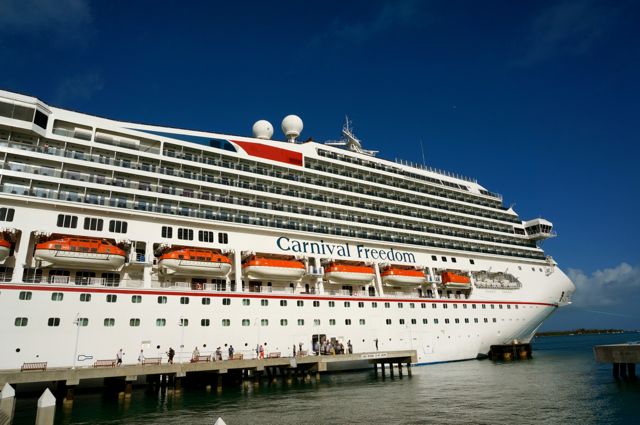 Skip the photographer – From the moment you board the cruise you will have a photographer trying to capture your beautiful smile on the camera. For first time cruisers, you might want to purchase one to bring home with you, but after taking your 35th photo you will understand and agree with me when I say: kindly say no thank you and continue walking.
Sometimes just take the photo – There are times (for example during dinner, while you're captive at your table) when it's easier to just smile for a second, take the photo and let your photographer move on. They are professionals and don't give up very easily.
Skip the elevator, use the stairs – You will be surprised how much you walk when you are on a cruise, these are big ships. One of the best ways to get some extra steps and exercise in is to not wait for the elevator, take the 3 – 4 (sometimes 7-8) flights of stairs to dinner or up to the top deck. Especially when you're headed for a meal c'mon, you're about to eat unlimited food!
Cruise line reputations do matter – Each cruise line has a reputation. Carnival = The 'Fun' ship, Disney = the favorite among families, Holland America = 5 star service, etc. These aren't random, you do typically get what you pay for when it comes to cruise ships.
Eggs are better at the omelet station – All cruises are different, but most of them will offer some type of buffet. If you have the option between eggs sitting on a buffet, or eggs made fresh at an omelet station – always wait the extra 20 minutes for the fresh eggs.
Bring a kindle with plenty of good books – There is plenty of entertainment on the boat to keep you busy every hour of the day, but one of my favorite things to do is find a lounge chair in a quiet area of the boat and read all of the books you don't have time for back home.
Book your tours off the boat – I say this with caution, some of the countries you visit it may be easier (or safer) to book through the cruise, but generally tours are always cheaper once you get off at the port.
Men, bring a sport coat for elegant night – While most of the time you will be in a bathing suit, during the formal nights or cruise elegant nights, most of the men do wear sport coats to dinner. You won't be turned away, but you will feel a bit underdressed next to your table mates if you leave your sport coat at home.
Pack only a carry on – What else do you need on a cruise more than your bathing suit? Don't overpack for a cruise, it makes getting around a lot easier. The rooms aren't big enough to fit a lot of luggage, and you can bring your luggage on the boat with you and not have to wait for the porters to leave it outside your door. This also makes it easier when you're getting off the boat, as you can "self-assist" and get off early instead of having to leave at a defined time.
Get a chair early for the days at sea – During your days at sea, expect the decks and lounge chairs to be full. They ask that you don't reserve chairs unless you are there actually using it, but we end up forgetting or following the rules and then are chairless! Don't be a sucker, get out there early and save your chair!
Yogurt vs Ice Cream – There is ice cream available to you 24/7, while this can be tempting it can also add plenty of unnecessary pounds to your vacation. If you get the option, choose the yogurt over the ice cream so if you do overindulge at least you are getting fewer calories.
Bring a collapsible water bottle – the sun is hot, the alcohol is flowing and you can quickly become dehydrated if you aren't careful. I always suggest everyone brings a collapsible water bottle with them and continually fill it up so you can keep plenty of fluids in during the day.
Pack your tennis shoes – No vacation is complete without your tennis shoes. Use the onboard gym and outside track to get your exercise in.
Ask to move tables if you don't like the group – Some cruises assign you to a dinner table with a group of 6 – 8 people. If you feel uncomfortable during the first night don't hesitate to ask to switch tables, it happens more often than you think. You shouldn't have to dread going to dinner, you want to meet new friends and enjoy your meal.
Run before the sun – This goes along with packing your tennis shoes. Once the sun is up, it gets hot. It's dangerous to run outside during the direct heat so I suggest waking up and get your run in before the sun rises (or at least before the temperature rises too high).
Your eyes are always bigger than your stomach – The food on cruises never seems to end. The plates are super sized and the buffet runs almost all day. You are on vacation, but that doesn't mean you should vacation from your normal healthy eating routines. For breakfast I usually stick to an egg omelet with a side of fruit and lunch I make a big healthy salad, full of veggies, topped with protein and another side of fruit. If I have to splurge on the cheesy fries, Josh and I will get a small plate and split them.
Go early to get a good seat at the night shows – The shows in the evening are usually popular and you will want to show up more than 10 – 15 minutes early if you want to snag a good seat. There were times we went 30 minutes early and were still searching for a decent seat.
Bring snacks from the buffet if you think you are going to get hungry – I like to eat a small snack every few hours, so during the cruise I would grab a banana or orange from the breakfast buffet and keep it around for when I feel I need a quick bite. They probably have pizza and ice cream types of food available 24/7, but if you want to eat healthy, plan ahead!
You can always go back to the buffet – I mentioned earlier to pace yourself and how your eyes are bigger than your stomach. Start with a smaller plate and go back. If you fill a large plate with food you will most likely eat it all and some more. Use the small plates, start with a salad and then go back for more if you are still hungry.
Bring your own hair shampoo and conditioner – I have yet to find a cruise that supplies good conditioner, I always bring my own instead of relying on what comes in the cabin.
Order a bottle of wine at dinner -If you love wine as much as we do, I suggest ordering a bottle the first night and your waiter will bring it back each night until you have finished it. This usually ends up being cheaper than ordering by the glass.
Late dinner – Late dinner usually sits around 8:30, for most people this is normal dinner time, for others their stomachs start to rumble around 7:00. Check out your daily agenda, but there are usually sushi bars or taste bars available on your cruise that you can check out for small appetizers before dinner.
Days at port – Seeing the port of a city is not seeing the city. You are usually dropped off in a highly touristed area with locals waiting to take your money. If you research the cities early you can know where to get a taxi to, if not beware that the best time to get scammed is within 15 minutes of walking off the ship. Don't accept the first offer you get and be specific on the cost and what's included before you get in a taxi or purchase a tour.
Get to know your cabin steward – you will see your cabin steward every day wishing you a good day and good night. They leave cute towel animals on your bed and are usually your go to person if you have any trouble with your room. Being friendly with them can't hurt in case you need a quick favor with your room.
Bring a beach bag – Whether you are hitting the beach or simply sunning on the top deck, having a beach bag lets you easily throw in your towels, books and sun screen to carry with you.
Use more sunscreen than you think you need – The sun is HOT. Depending what area of the world you are cruising, you may be closer to the equator than you think and the sun will be stronger than your skin is used to. There aren't any trees to hide out under on the cruise deck so make sure you keep a good lather of sunscreen so you don't burn. Nothing ruins a vacation quicker than a sunburn!
Drink beer & wine vs. the sugary drink of the day – Save calories and money by opting to drink beer or wine during your cruise. While it's always fun to have a sugary mai tai poolside, depending on your bartender you could get a watered down drink. As a rule of thumb, I usually stick to beer during the day and wine at night.
Stop complaining – there will always be lines in the buffet, you won't always get front row at the show and someone sitting near you will always be talking too loud. I heard so many people complaining about their vacation and how everything isn't going perfect for them. We are all on vacation together, so let's stop complaining and just enjoy being out in the middle of the ocean!
What tips helped you on your last cruise vacation?