We've taken apart Josh's messenger bag so you can see exactly what he packs. Incase sent us this nice looking Range messenger bag that we can't help but show off. Luckily the bag is big enough to hold all of his electronics, while still being easy to carry with the over the shoulder strap. He uses it when we travel as his personal item, but also uses it as his laptop bag when we aren't traveling.
I'll pass the post over to him to dig through his bag with you.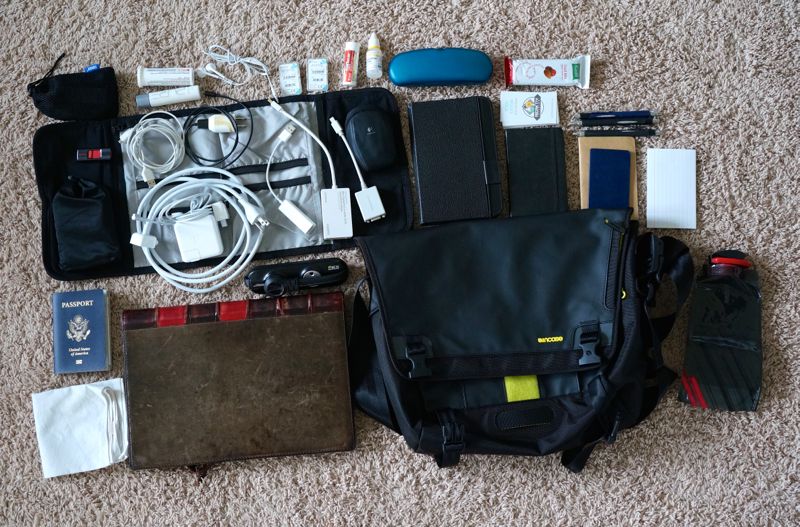 What's Inside Josh's Messenger Bag?
1. Handkerchief
I can't go anywhere, especially anywhere hot, without one of these. It's helpful to have in your bag when you're meeting someone after walking from the train in 100 degree heat.
2. Passport
They won't let you out of the country without one.
3. Macbook Air 13″ + BookBook
 cover
The BookBook cover has attracted more attention than anything else I travel with. It's a definite conversation starter, while its purpose is to obscure its contents. I still like to keep the cover for when I'm using the laptop in public, it keeps a barrier between the laptop and someone spilling their coffee on the table, and provides extra padding. The only downside of keeping the cover on with the Incase bag is that it doesn't fit in the nicely padded computer pocket. I still have the option of removing it from the case or just dumping it in the main compartment. The laptop itself is still going strong since 2011 with a new battery and power supply.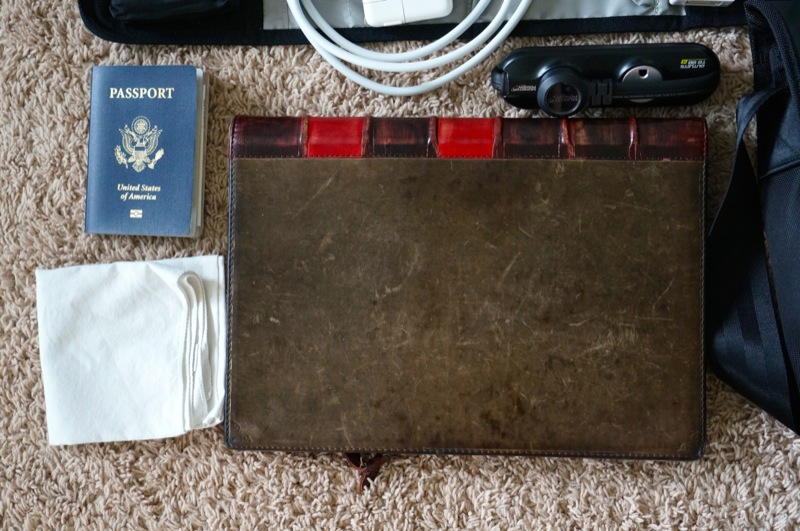 This surge protector is a godsend in airports. It's very small and light, and while the cord is short, it's a perfect way to get a free outlet. If all the outlets are taken it's a great way to ask someone to share. When you can turn their power outlet into four, it's not a difficult case to argue with a fellow traveler.
5. Cable Wrap
I got this at TBEX 2013, and it has come in handy. Before, my bag was a mess of tangled cables. This thing is like a packing cube for my messenger bag. I can fit the mouse, power cords, usb cords, chargers, earbuds with room to spare and it keeps them organized, untangled and out of the way.
6. 2TB external hard drive + Thumb drives.
Every traveler needs a backup, I backup all my work and photos onto the hard drive and also backup to the cloud when my connection is fast enough. While the cloud is great, when it comes time to restore a computer, you'll be wishing for a local backup to quickly retrieve your files. Thumb drives come in handy when needing to quickly share a larger file with someone sitting next to you, without having to trust them with your entire backup.
7. Kindle charger
8. Macbook charger + extension
9. iPhone charger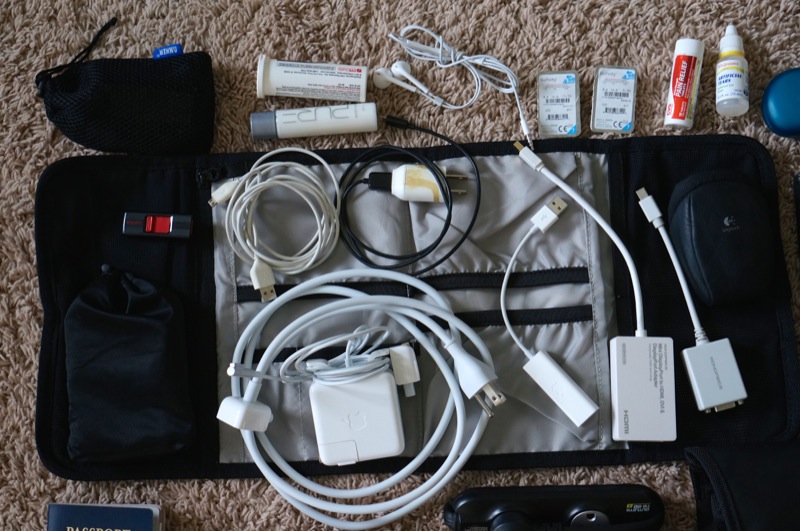 10. Apple USB Ethernet adapter
The Macbook Air doesn't come with an ethernet adapter, so this $30 accessory is one of the only options. I have rarely had to use it, but it came in handy in Hong Kong when the only connection was an ethernet 3G dongle.
11. VGA to Mini DisplayPort & HDMI, DisplayPort, DVI to Mini DisplayPort Adapters
These are key for anyone giving talks at conferences. You never know what the projector will support, so it's important to have your own adapters. These two adapters can handle pretty much any connection you would need.
12. Logitech MX Anywhere Mouse
I have used this mouse for 5+ years now. It is fantastic and works on nearly any surface including glass.
13. Jetpack battery pack
I have a whole drawer of these things, but having a battery pack charger for your phone/camera is key for long car/plane rides.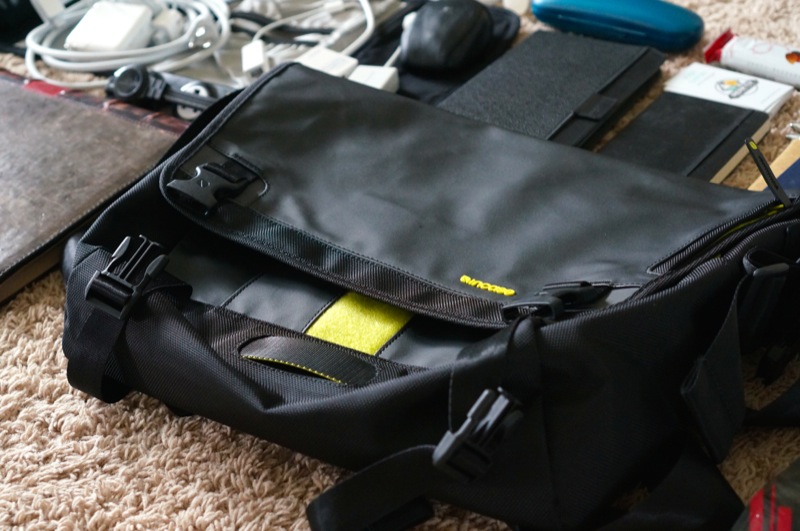 14. Hand lotion
I've never had a problem getting a travel size bottle of hand lotion through security, and I usually forget I have it, but I always bring it with me ever since spending a year in Denver and experiencing cracked and bloody knuckles from the dry air.
15. Airborne
It's probably a gimmick, but I always take this immune system booster before flights to help prevent myself from getting sick.
16. Earbuds
17. Extra contact lenses
I try to ensure that I have enough essentials in my carry-on bag, that if my main luggage was lost (which is also a carry-on 99.9999% of the time) I could still get through 24 hours. These are for peace of mind.
18. Tylenol
19. Eye drops
20. Glasses + case
Toothbrushes are easy to find anywhere in the world, but I couldn't easily replace my glasses, so they always come with me.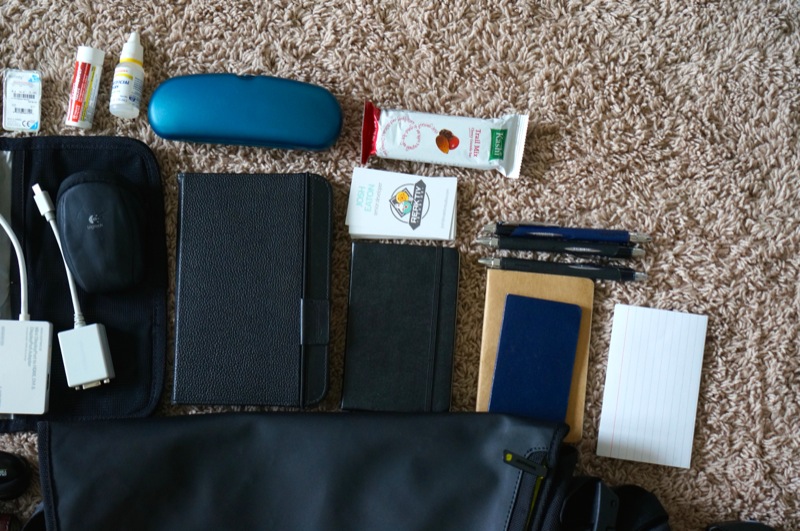 21. A granola bar/snack
There's always something to eat in my bag to avoid low blood sugar travel fights. 🙂
22. Kindle 3G
This Kindle is old, but it still gets free 3G internet which is almost unusably slow, but has come in handy many times when traveling without a mobile phone.
23. Moleskine Notebook

+ Field Notes + Tiny Moleskine

+ index cards
While most of my notes and writing is on the computer, I always have multiple notebooks of different sizes with me. The field notes or tiny Moleskine are perfect for slipping in my back pocket when heading out for the day and the larger Moleskine gets used for longer term planning or journaling. I keep a small stack of index cards with me in case I need to write something down and give it to someone. Some notebooks have perforated pages for this purpose, and this only really comes in handy if I can't email or text the info.
24. Pens
I generally use only Uniball Jetstream pens or a Fisher space pen, but I always make sure to have multiple with me.
25. Vapur Element Collapsible Bottle
This thing is fantastic for traveling. It holds 0.75L of water, and when empty, rolls up smaller than my glasses case.
26. Incase Range Messenger Bag
All 24 items above fit in this light, weather-resistant bag.
How do you pack differently? What is he missing?