If you've been following the blog, we've been taking shorter trips over the past four years, mainly because we've added two little travelers to our team. We've slowed down travel-wise and been in full newborn/baby mode. This past May our youngest turned one and we thought it was about time we took the two littles (age 3 and 1) to Europe to spend their first summer abroad.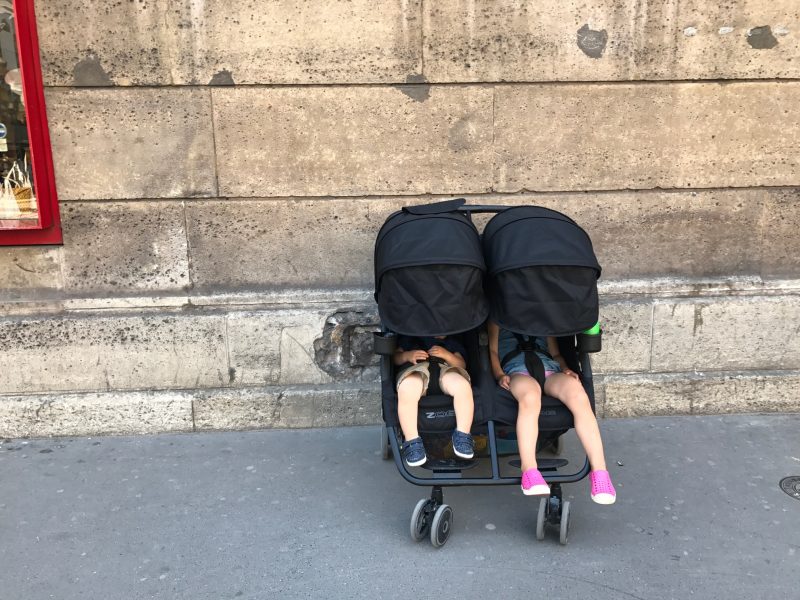 Traveling with littles is hard. If we wanted easy we would stay home. There are a lot of concerns and doubts and extra baggage that we are lugging around now, that we didn't before. That being said, despite the cons that people complain about when it comes to traveling with littles there is so many more pros that drives us to do it. With our most recent trip we've gotten a lot of questions surrounding traveling as a family and the idea of leaving your home for two months with kids. I wanted to answer them all on the blog in hopes of inspiring other families to travel more.
Why would you want to travel with kids?
Not everyone directly asks this, but I can hear it in some of my conversations with people. I get it, it's harder. Like I said, if we wanted easy we would stay at home. We have routines at home that make life simple. We travel with our kids because we want to give them a worldview outside of our bubble at home.
Yes, adult vacations are way more fun. We get to do adult things and enjoy things like peace and quiet and eating in real restaurants and staying out later than 8 pm. But I didn't have kids to leave them at home, I want them out with me learning through travel. I enjoy having them around, and I enjoy watching them take in the world and hear their questions as they experience new things. I think the lessons that they learn when they travel will help them as they get older and quite frankly I learn a lot by having them with me.
Traveling with kids is fun and enlightening, and you will be surprised how many people you meet and opportunities come your way because you have your kids in tow.
What do you expect your kids to learn at such a young age?
My three-year old studies everything. She watches everyone and listens. Travel has taught her at the very basic level how to interact with people. She has learned the entire world doesn't revolve around her play schedule. She has to help on our travel days, because we don't have enough hands to carry everything without her little hands. She can't tantrum in the middle of the quiet train, she has to be aware of her surroundings, and she doesn't always get what she wants. It makes her interact with kids who speak a different language, try new foods and sleep in new beds. She isn't surrounded by toys, so she learns to play with what is available and she makes up games as she goes.
She's doesn't care about world history yet, and doesn't appreciate the incredible views we are seeing, but she watches us and how we react. She sees how we stand in complete awe of some destinations and is learning to marvel at the beauty our world holds. She experiences us not rushing through, but taking the time to appreciate. She watches as we interact with the locals and we meet people we don't know.
I could (and will) go on about what I know she is learning even at the young age of 3, but trust me, travel is so good for both of these littles.
How did you decide to go?
Travel is a priority of ours and so we simply decided to go, without over thinking it. We talked about it and we worked out some of the details: where, when, budget, etc. and then we bought our flight and committed to go.
There will always be an excuse for you not to go, and there will never be the perfect time. You are going to miss things back home, but you are also gaining some really cool experiences as a family. You can talk about traveling forever, my best advice is to buy a plane ticket and commit to going. The travel details you can figure out later.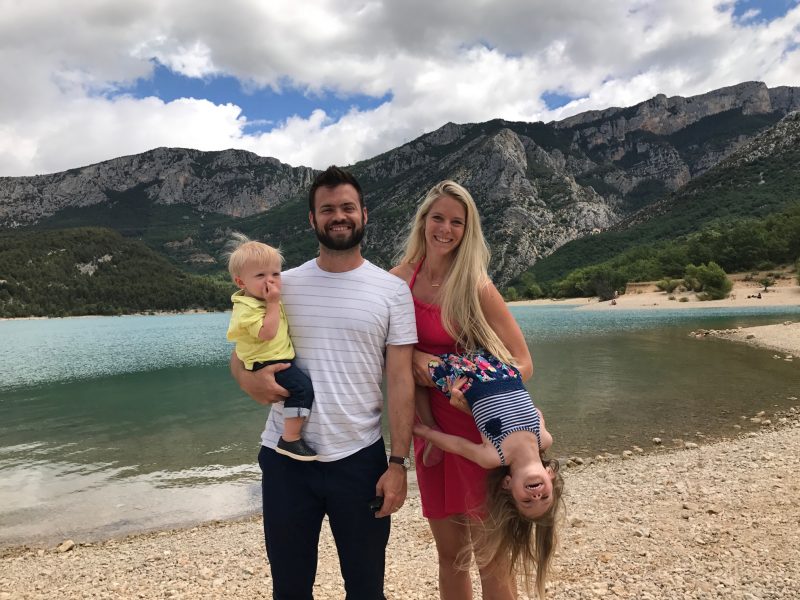 How do you pick a destination?
First, we considered where we wanted to go, where haven't we been, and where have we been but we want to go back to. We also take into consideration the age of our kids. There are certain adventures we want to have when our kids are older and will appreciate them more. At our current stage of 3 and 1, our kids are happy with a beach and a park nearby.
We both love Europe and it's been 10 years since we've spent a summer over here. Josh had a conference in Paris so we started in France and planned our travels from there.
How (and why) do you go for such a long time?
How:
Josh works remotely, so as long as he has his computer with him and a good Wi-Fi connection, he is able to work. This summer isn't a vacation, he is still working and I still take the kids home and put them down for naps and try to create routines in our new apartments. While we are traveling he maintains almost-EST time zone hours so he is still connecting with his team. For example while we have been traveling this month in France he shifted his work hours from 2 – 10 pm. He is out exploring with us in the morning, I bring the kids home and do lunch, nap time and then usually end the day in a nearby park before bath and bedtime, while he finishes up work.
Why:
I like traveling for a longer time, especially with kids, because it gives you time to adjust to the new location and timezone. You don't need to rush around to see everything in one week, you have the time and flexibility to explore. Kids move slower and need naps, so you can't run from sunrise to sunset unless you want cranky kids at the end of the day.
We do one thing a day, we move slow, we take breaks and our kids are happy. We get the chance to become locals, even just a little bit. We go back to the same cafes so the owners get to know us, we grocery shop and do laundry just like we do at home.
How do you afford it?
We used points for Lottie and my big flight from the US, and Josh expensed his flight because he was coming over for a work conference. Dudeman is still free, but that also meant he was sitting on our laps for 9 hours!
We bought cheap luggage ($15 a piece) that fit the tiny dimensions of the cheap airlines over here. So we flew cheap and made sure our luggage fit in their size requirements, so we wouldn't get hit with their $60 per bag fee if we had to check them.
We don't go out to fancy restaurants while we travel, we don't take expensive tours, we don't go shopping. There are a lot of ways to spend money when you travel, and we don't do any of those. We do a lot of walking and local transportation. We do self guided tours, we spend days on the beach and in parks and walking through the city exploring on foot. This may not sound like a vacation to you, but we love it. It lets us not only save money but get to know the city outside of the tourist destinations.
We don't skimp on everything, there are things that you need to spend money on when you travel and that's ok! We just spend where we prioritize as important and we save on everything else.
We always rent through Air bnb so we have space to spread out, a kitchen to cook meals in and laundry to clean our clothes in. We usually end up eating breakfast and dinner in the apartment and go out for lunch at a cafe.
This time, since we were gone for two months we put our house on air bnb for the first time (more to come on my thoughts and feelings on that soon). With renting our house out while we are gone we've already made back our monthly mortgage and more which has helped re coop some of the money while we travel.
Don't you get lonely traveling away from home?
We miss our friends at home and our playdates and neighbors and parents, we are blessed with an incredible tribe back home that keeps our family growing. That being said, leaving for two months doesn't change those relationships. Yes, I miss them but they are busy with their lives at home and when we get back we all plan meet ups and have a lot of summer fun to catch up on.
Are you concerned about safe areas while traveling with kids?
Safe is relative and dependent on a lot of factors. Generally with all of our travels, we've found if you keep common sense in your decisions, you aren't out late into the night, and you talk with locals about areas you should stay away from, you will be good. I'm always aware of my surroundings, whether I'm visiting Barcelona, New York City or my hometown.
We never walk around with money belts under our clothes, but we do limit the cash we carry and usually only bring one credit card out with us. We pay attention to our surroundings, and we don't leave our bags and cellphones out on the table asking someone to walk away with them. We teach our kids to stay close, but we still let them run and play. There is a balance, but I think it all boils down to common sense and staying aware.
What do your kids eat when you travel?
Food. It's amazing when you stop worrying if your kids eat, you realize when they are hungry they will eat. Similar to when we are at home, sometimes my kids barely eat anything for a few days, and the next two days eat everything in sight. I don't micro manage what they eat, I continually offer them healthy food throughout the day, and when they are hungry, they eat.
You can find kid-friendly foods in any country, it might look different from your food at home, but that's a good thing. The point of travel is to start introducing your kids to new flavors, and encouraging them to try things that are outside their normal.
Some staples we pick up at the grocery store when we travel with kids:
Fresh fruit is always a big part of our diet when we travel because our kids love it.
Milk, yogurt, museli/oatmeal
Carrots
Avocado
Cheese
Eggs
Bread/meat/cheese for sandwiches
What about routines?
We create new routines. We like that travel teaches them to sleep in new beds and to adapt to the situation whatever it is. So our routines look different depending on our hotel or apartment for the week. They fall asleep in one bed and we transfer them to a different bed, or we share beds, or we build a cot on the floor and they sleep there. We've done it all.
The routine is always dinner, bath, brush teeth, book and bed. We can do that routine in any country, in any bed.
What else? Leave your questions in the comments about anything travel and family!