You might think we are crazy for flying our one and three-year old to a new country, dragging them though The Louvre, Musee d'Orsay, and traveling with kids in Paris, a country known for its well-behaved kids. You're probably right.
It was crazy… But worth it.
Our kids are wild. 'High energy' is a nice way to describe them, but that doesn't mean we shy from the challenge of traveling with littles.
We packed light, carry-on only, and folded up our double stroller and walked this city.
Luxembourg Gardens
We stayed in Saint-Germain-des-Prés (our new favorite neighborhood in Paris!), so Luxembourg Gardens was a short walk away and our first stop when we arrived in Paris.
Grab a vintage toy boat and chase after it, using the long stick to turn it around and push it back in the right direction. You pay per 30 minutes. Our boat got stuck under the fountain in the middle for a good 10 minutes until another boat came along and bumped it free. It was a beautiful day and the whole family had fun spending the day in the park!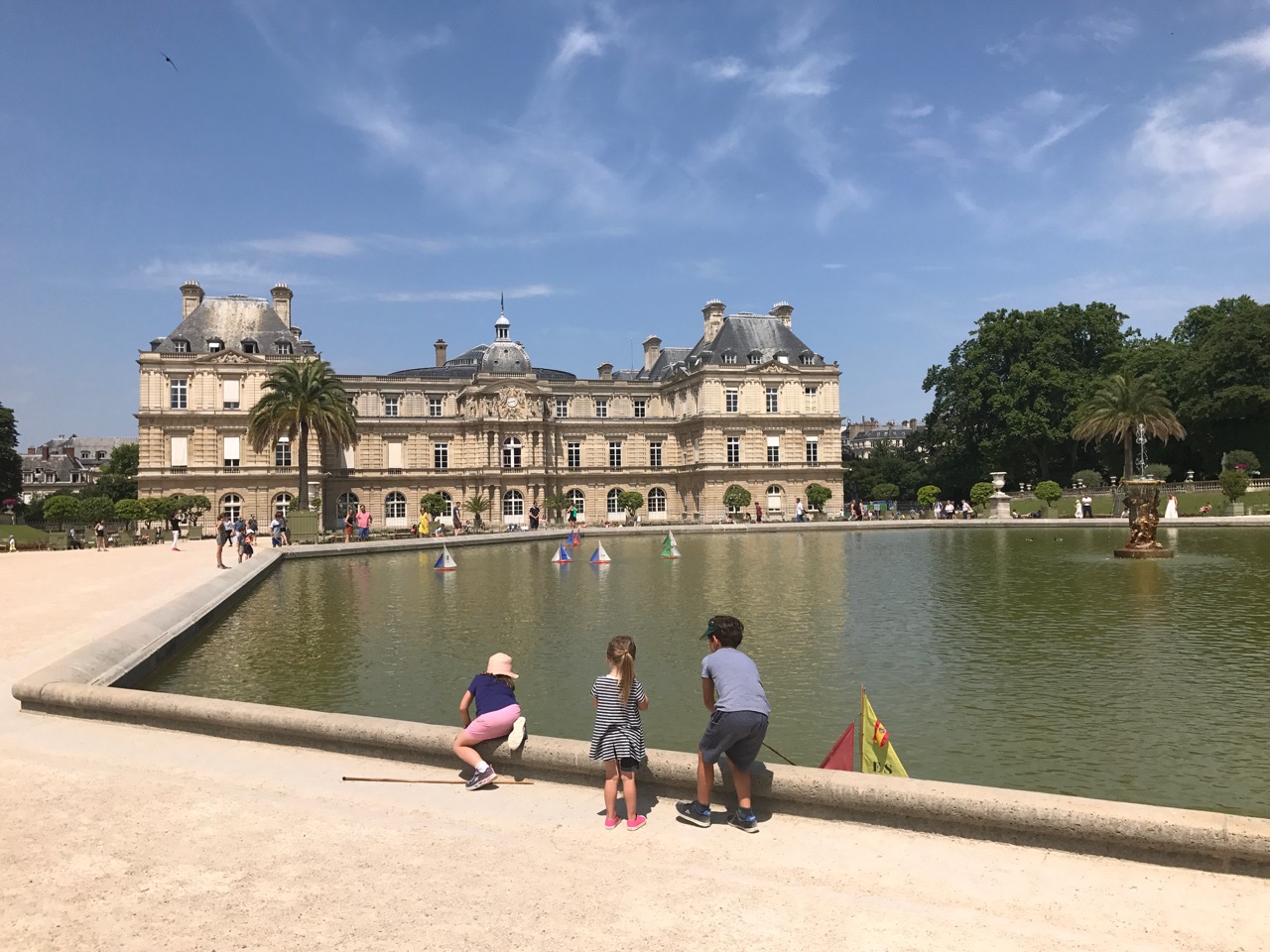 Champs de Mars
Bring a baguette, ham, cheese and wine and enjoy an afternoon picnic with the family. If you have older kids plan to stay late and watch the Eiffel Tower light up.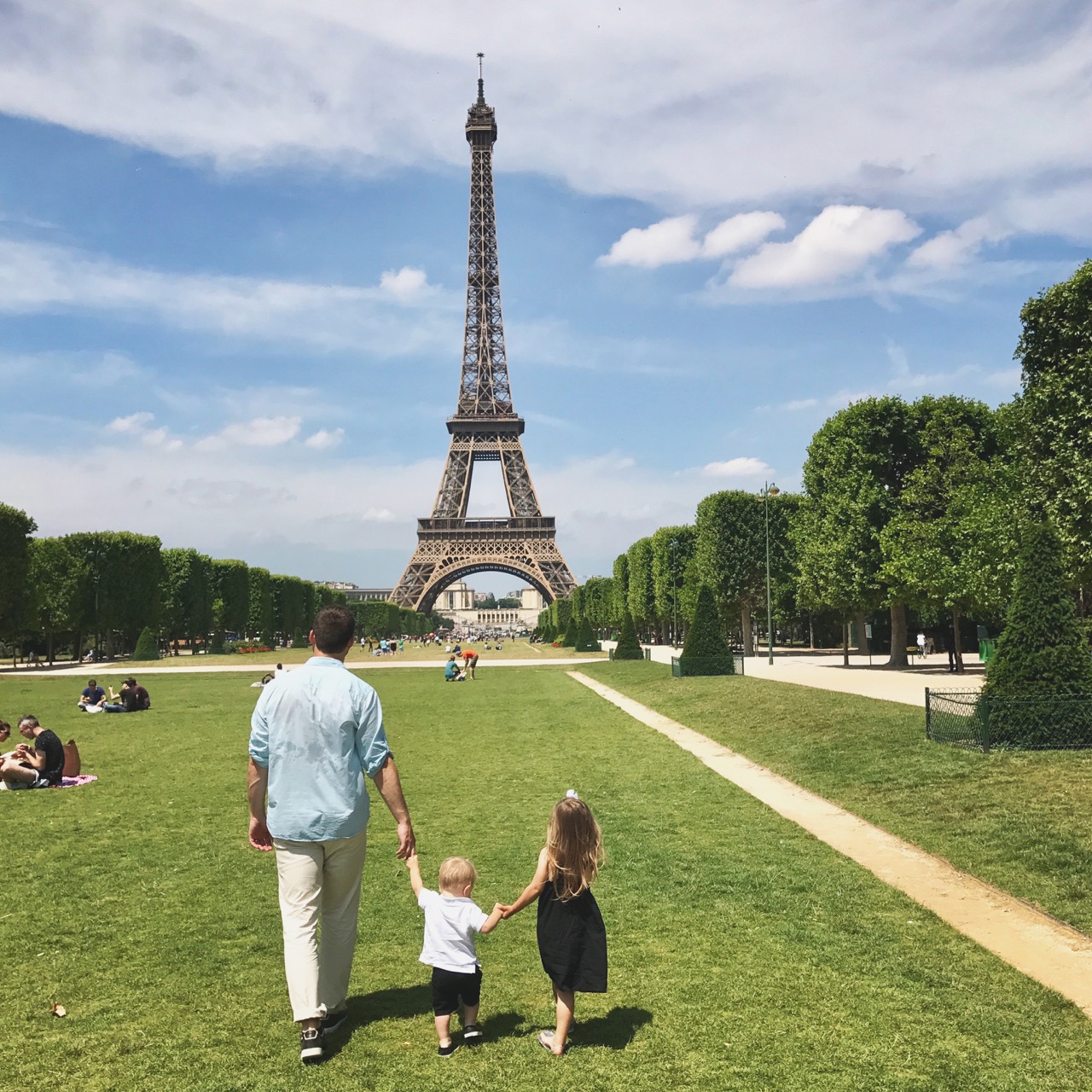 Eat all the Sweets
Croissants for breakfast, macarons for lunch and crepes with nutella for dessert. French bakeries are a must while in Paris, and Laduree, one of our favorites, won't disappoint!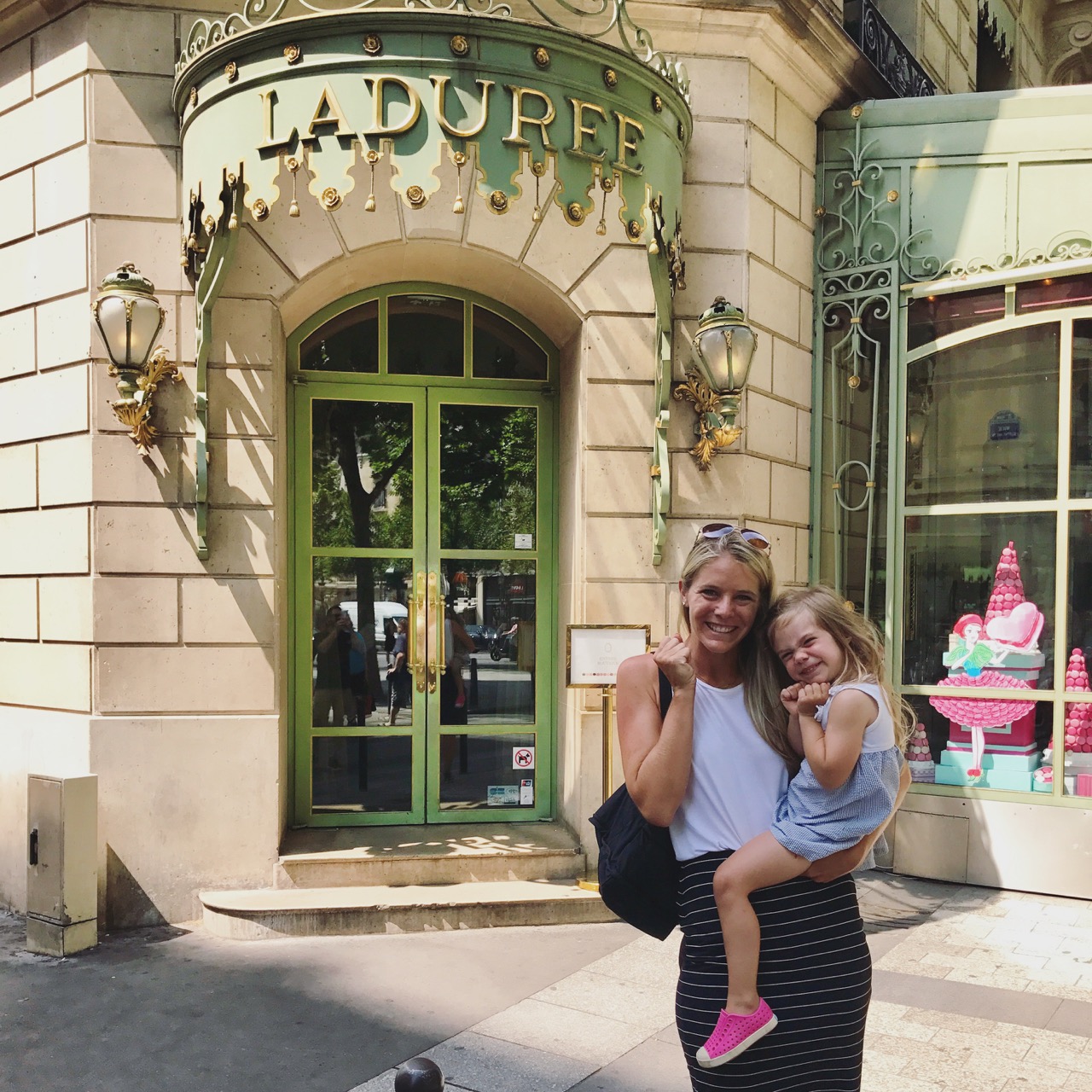 Ice Cream truck for an afternoon treat during the summer heat: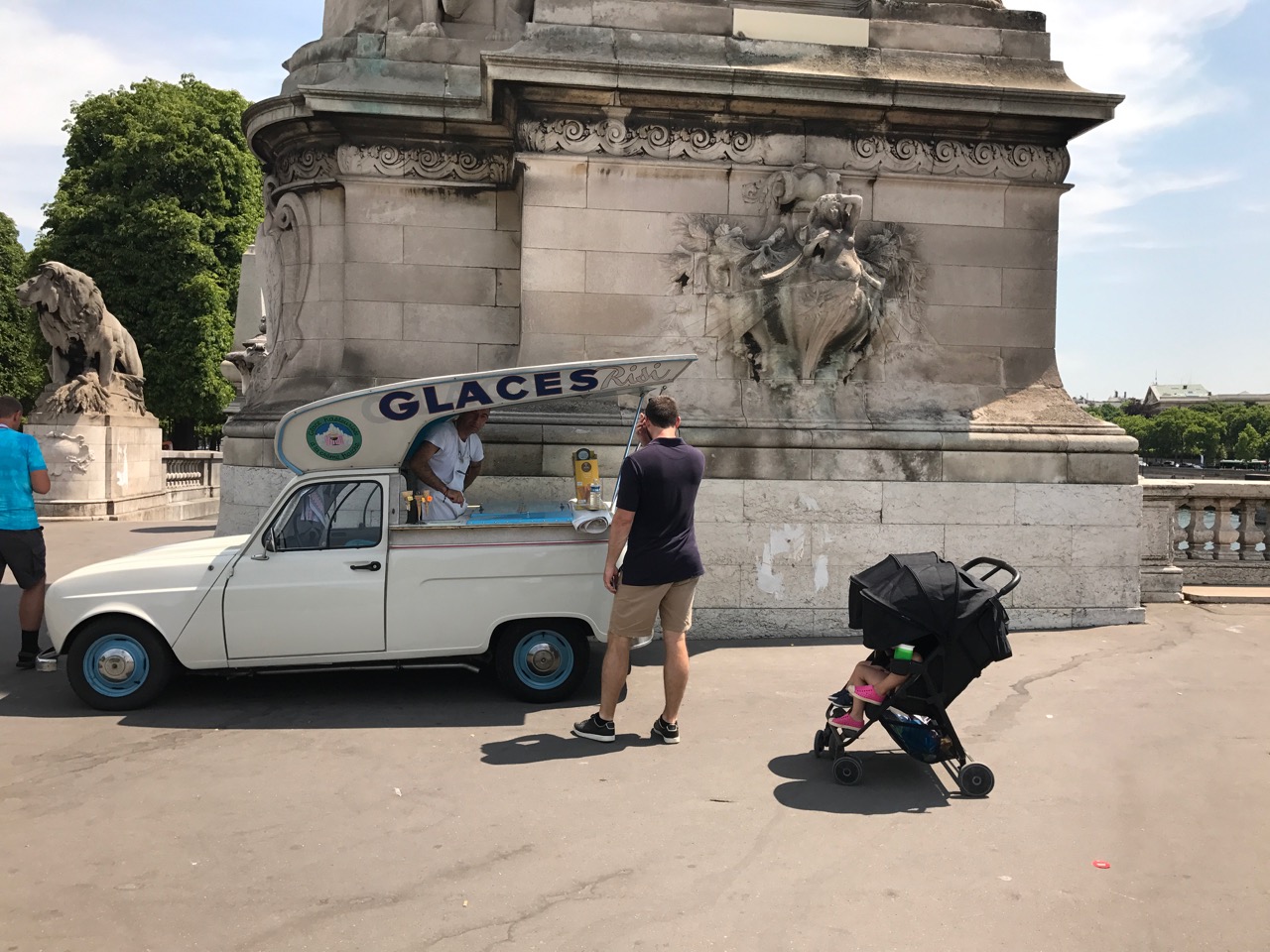 Breakfast, Lunch & Dinner in the Cafes
While some of the finest foods are prepared in Paris' fancy restaurants, with two toddlers we weren't in the mood to sit for hours while trying to encourage our two littles to sit still. Instead, we ventured to all of the different cafes and loved how easy it was to roll up our stroller to the table and enjoy our meal outside.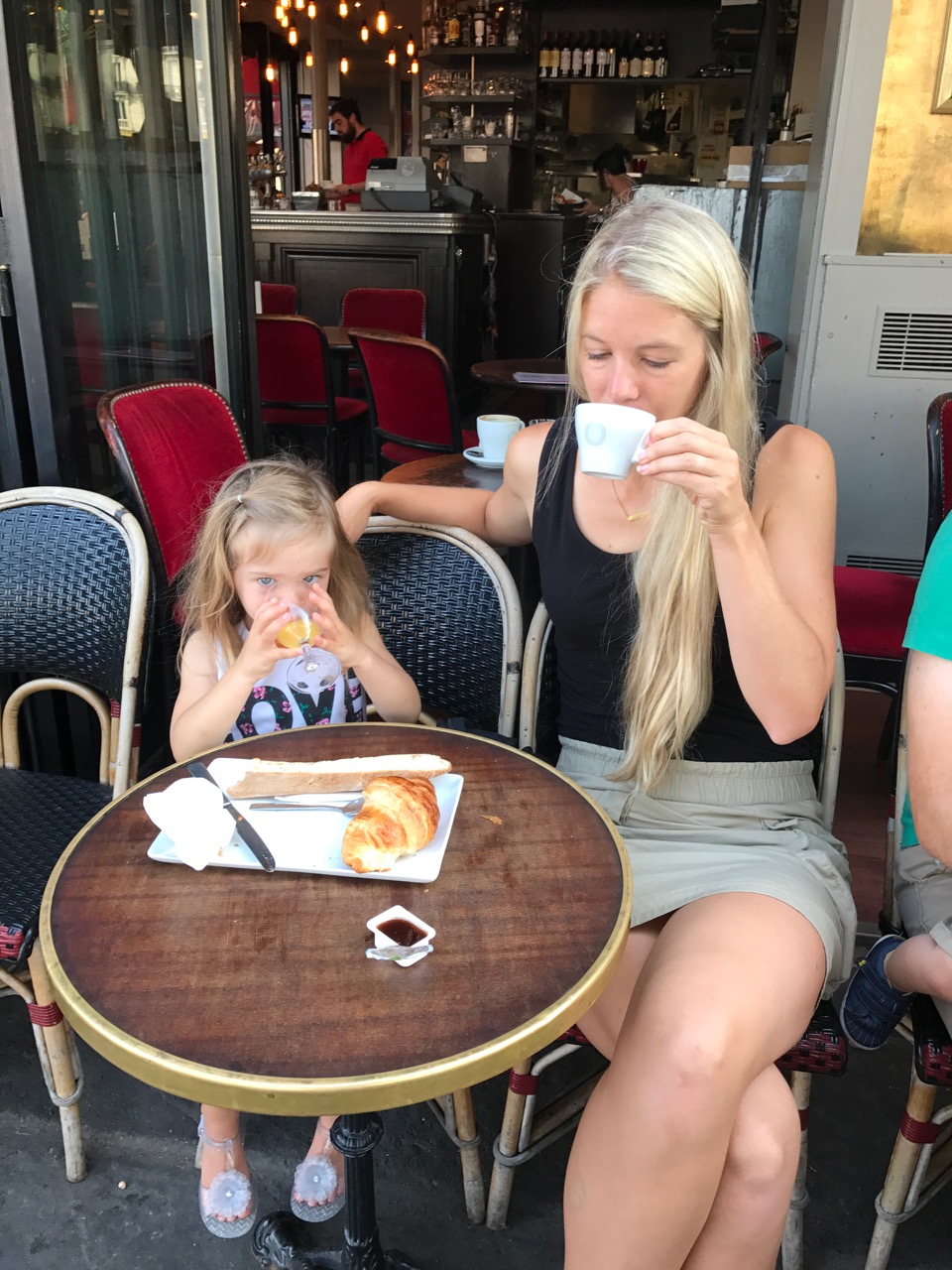 Carousels
Our favorite carousel was behind the Eiffel tower, probably because the backdrop was incredible. Your kids deserve to have fun too, and after a long day at museums and exploring the city, our kids couldn't wait for their turn to go on an almost daily ride (at least once) on a carousel.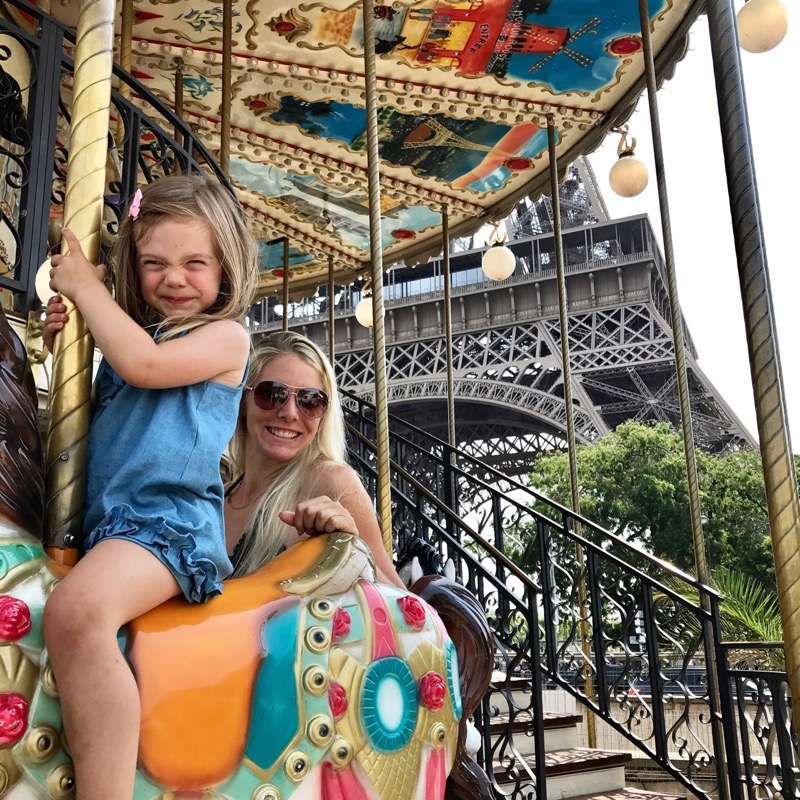 You can only expect so much from kids, and expectations can make or break a trip. No matter how many rounds on the carousel or macaron stops you make, you have to expect a tantrum or two. Remember they are only three
Our meltdowns usually happened in public places, like the Louvre. There's only so much art a 3-year-old can look at before she grumpily sits down on the floor and refuses to move. I don't blame her.
Instead of getting angry and letting a few tantrums ruin your trip, try to understand where she is coming from. She's tired, hungry and bored. A perfect recipe for disaster. Bring food to eat, a stroller to nap in and make a game out of looking at the art in the museums. Have them find things starting with a specific letter or a specific color. Get your kids involved in the trip and let them voice their opinions about the art you are looking at.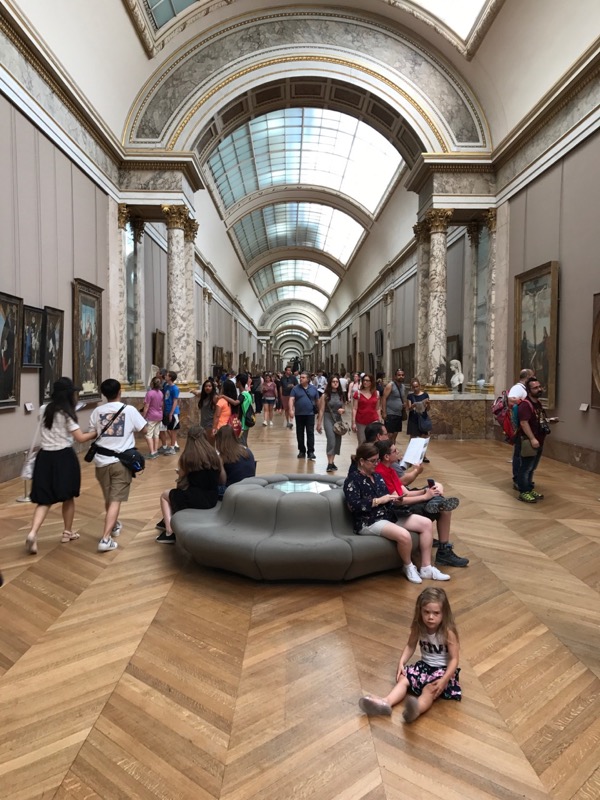 Tips to survive?
Nap in the stroller
Almost daily we napped in the stroller. With a limited amount of time and a lot of things we wanted to see/do, we couldn't always make it back to the apartment for a nap. The kids got used to sleeping and sometimes eating in the stroller on the go.
Take park breaks
After a long museum visit, find a park nearby (in Paris there is always a park nearby) and let your kids run off energy.
Bring snacks
Food can work magic when you have hungry toddlers (or adults).
Lower your expectations
Traveling with kids is a different type of travel. You have to expect to move slower, dine in different types of restaurants and not stay out as late. If you go in with high expectations and push your kids and they melt down you are going to be disappointed. We've always said it isn't easy traveling with kids, but it is worth it, but don't expect easy.
Add to my list in the comments, what was your favorite thing to do in Paris with kids?