We are participating in the BootsnAll 30 Days of Indie Travel project. We will be posting once each day in response to a prompt given on the BootsnAll website. Leave your comments below and also check out their website for other bloggers joining in!

Day 15: What is your favorite (or least favorite) city and what do you love (or hate) about it?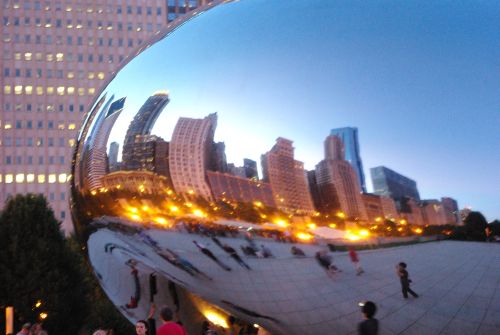 The Windy City has been where we call home for the past three years. We have been to Cubs games, celebrated sunny days at North Avenue beach, laughed at The Second City, visited musems, the aquarium, the Lincoln Park Zoo and so much more. The activities never end, the city never slows down. There is always a bustle of energy along Michigan Avenue with a new restaurant always popping up to try.
Despite our interest in new cultures and our desire to travel the world, our love of Chicago won't go away anytime soon! When you visit Chicago you will get the big city feel with a beautiful skyline and tours that will keep you busy for weeks. You will hear a variety of languages and be able to partake in your choice of delicious ethnic food or an Italian beef or Chicago dog (no ketchup). The El train or bus system will get you anywhere you want to go (we haven't owned a car in three years), but I would recommend walking on a nice day to take in the sights and sounds of the city. Amidst the skyscrapers and food vendors you will find a group of the friendliest city dwellers on these streets. I have visited plenty of big cities to know that a smile isn't easily found and if you are lost, you may not have the most helpful people around. We love when people ask us questions when we are downtown, because we are adding to Chicago's friendly vibe
We love the Green City Market in Lincoln Park on Saturday mornings
We love the smell of brownies in River North (chocolate factory nearby)
We love that we can be at the beach and surrounded by skyscrapers in the same summer day
We love living next to one of the largest lakes in the US
We love that we don't need a car and can still get pretty much anywhere we want to go
We love that it's one of the cleanest big cities we have been to, clean sidewalks and beautiful flowers surround it
We love the spectacular views available from an office 50 stories up
We love the friends we have made here
Where is your favorite city?