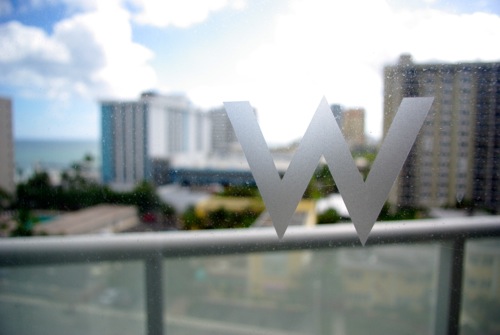 Name: W Fort Lauderdale
Where: Fort Lauderdale, Florida, USA
When: December 2011
Price: $0 / night (paid with free SPG resort nights)
Who helped us? [Service]
With Josh's Platinum status with SPG, I have to admit that we get spoiled when we visit any of their properties. Check-in was quick and they had upgraded us a couple of levels to a two room flat. It had a full kitchen, living room, two bedrooms and two bathrooms and three balconies! Everyone was extremely helpful when we called the Whatever/Whenever line to ask a couple of questions and quick to deliver anything we needed to the room. The staff at this hotel is ready and willing to help.
What did it look like? [Ambiance]
You know you are in a W when you are greeted with sophistication and style. There are always clean lines, modern touches and beautiful people everywhere. The hotel itself is split into two towers, each curving an opposite direction. The lobby and hallways are quite dark adding to the W's nightclub feel. Our room was gorgeous. The kitchen had stainless steel appliances and ambient lighting, the bedrooms were clean and bright. Our only complaints about the room would be the shower head. It was large and the water streams were tiny and far apart. It felt like you had to move around to try and get wet. A small inconvenience in an otherwise great room.
Did we sleep? [Room]
Sleep was one of our main goals on this trip, and how nice to have two beds to choose from! The bed was comfortable, we had some trouble figuring out the right temperature for the thermostat, but once that was done we both crashed at night. The curtains are pretty thin, so if you are trying to sleep in, you probably won't have much luck but if you enjoy waking up to the Ft Lauderdale sun you will love the room.
Were our stomachs full? [Food]
The first night we arrived in Fort Lauderdale it was late, we checked in around midnight and we were hungry! We immediately went to the room service menu and each chose items to eat. Josh went with a basic but delicious cheeseburger. I had the spicy chicken flatbread and it was much bigger and tastier than I had expected! I would definitely order the flatbread again at this hotel, the jalapeno slices on it were a great touch!
How quickly could we surf the web? [Internet]
We had complimentary internet with Josh's status and boy did we use it. Both of us were on our laptops most of the trip since we were here for our work-cation. The Internet worked fairly well for both of us, we had some issues getting connected a few times and it seemed only work well in the living room, but that wasn't a big issue (the room was enormous too).
The only downside of the internet is that there was no wifi on the pool level. When the sun is shining I like to be outside and would have loved to bring my laptop outside but the signal wasnt strong enough on the 5th floor.
Where is the W? [Location]
The W Fort Lauderdale is located right on the beach, about 3 miles off US 1 and a few blocks north of Las Olas Blvd. There are plenty of restaurants and touristy beach shops south of the hotel on Fort Lauderdale Beach Blvd and if you go about 3 miles inland on Las Olas, you can find many nice restaurants and shopping. We did our daily walk up Las Olas, which was 6 miles round trip.
Would we go back again? [Overall Thoughts]
The W in Fort Lauderdale is a hotel I would highly recommend to anyone visiting the area! The pools are beautiful, the staff is top notch and the hotel overall is clean and fun. The hotel is definitely geared to a younger crowd, the bottom floor of the hotel is bopping most nights with dance music and as always in W's, a very "scene" atmosphere. Our room allowed us to grocery shop and eat in our room most days which helped us maintain a healthier eating routine. Next time we will hopefully be back without our backpacks and RTW gear, and bring nicer luggage and more fashionable clothes! 🙂