It's very common in Bali to walk down the street and hear those magic words…
"Transport?"
It's also easy to get swept up in Bali's heat and be tempted by the cool air conditioning and not-so-suave demeanor of the many drivers touting their services on the street. If you prefer to enjoy the scenery behind a bug protecting windshield, and you would rather be able to drink a cold bottle of water while you sightsee or even upload a photo to Facebook while your driver does the hard work of navigating the busy streets of Ubud then when that "T" word is uttered, take the nice man up on his offer and hope he speaks your language to tell you about the places you are seeing.
But, if you prefer to have the wind in your hair, sun on your back and bugs in your teeth. If you are ok with taking an occasional wrong turn and you enjoy feeling completely exposed to the multitude of cars, motorbikes and unidentified flying objects wooshing past you I would suggest finding a motorbike and paying 30,000 – 50,000 Rp ($3 – 5 USD) for the day and taking off on your own sightseeing adventure. Just as with transport (and sometimes the second offer after you deny the taxi ride) you can't go two steps without tripping over a bike or being offered one for the day. We will even do the hard part and lay out your itinerary with maps, directions and instructions to creating an unforgettable day trip from Ubud, Bali!
First off, a few words of caution:
It will be more work (figuring out directions, information, refilling gas on your own)
It will be stressful/terrifying/exciting
Your left brake might not work
Your mirrors may spin freely on every bump
You may get sunburned
You will wonder how the guy next to you is driving with the water jugs/stack of wood/dead chicken(s)/lawn mower he's carrying
Your butt will be sore
Don't listen to anyone who says you must buy a sarong from them to enter the temple (you get one with your ticket)
Don't stop for anyone except police flagging you down on the side of the road
You will return home at the end of the day with more stories to tell than if you got a driver
Day Trip from Ubud
Destinations:
Tegallalang rice terraces
Bali Pulina (coffee plantation)
Mount Batur & Lake Batur
Directions:

Ubud —> Goa Gajah
This is a quick 10 minute drive from central Ubud to the Elephant Cave. Starting at the intersection of Jalan Raya Ubud and Jl. Monkey Forest Rd., head east on Jl. Raya Ubud and turn right when you see this statue:

Keep going south until you hit a T, and turn left. After 2-3km you will see the sign for Goa Gajah on your right. The temple includes a bathing pool (not for swimming) and the elephant cave and was built in the 9th century. We spent about 30 minutes here. It is a popular temple, but if you are all templed-out you may even want to skip this and go straight to Gunung Kawi. They have complimentary sarongs that both men and women must wear to enter the temple. 15,000 Rp per person and parking is free.

Goa Gajah —> Gunung Kawi
When you leave Goa Gajah, continue east on Jl. Raya Goa Gajah, and take the first left at the next large road which is Jl. Raya Pejeng. You will drive north about 16 km to Tampaksiring and see the sign for Gunung Kawi on your right. The drive is beautiful and the 371 steps leading down into the 11th century temple, past beautiful rice paddies are well worth the exercise. Parking is 2,000 Rp for an hour and the entrance fee is 15,000 Rp per person. You will pass multiple women selling sarongs insisting you need it to enter the temple, but they are supplied with your entrance ticket so no need to barter for one this time!
There is probably a way to get over to Jl. Raya Tegallalang from Tampaksiring, but the easiest way is to just go back to Ubud the way you came, but continue north past the statue you turned at earlier for the rest of the sights. From now on, everything is on the same road.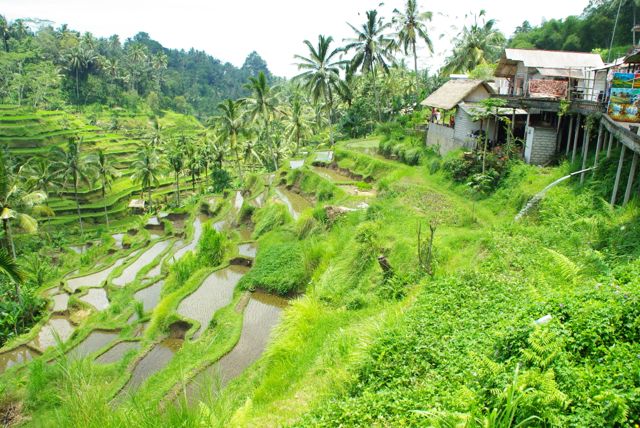 Gunung Kawi —> Tegallalang
Tegallalang is known for their beautifully manicured rice paddies. It is a very touristy (trap) destination where you can drink coffee or grab a bite to eat over looking the paddies. It's easy to know when you've arrived, the rice terraces will be on your left and there will be cars parked everywhere. Until you go into one of the cafes or leave, you will be constantly hounded by touts, but the views of the verdant terraces are well worth the hassle. We spent another 30 minutes overlooking these, mostly because we met some fellow travelers and spent time talking with them.

Tegallalang —> Bali Pulina
One of Josh's main goals when coming to Bali was to try Kopi Luwak. We read recommendations and heard about how great the agricultural plantation, Bali Pulina, was. We searched for an address or any directions on how to get there…nothing! All we could find was that it is on Jl. Raya Tegallalang, so we figured once we were in the city we would simply ask from there. Luckily, Bali Pulina was only 5 minutes north of the rice terraces, on the left side of the road. The plantation offers a free tour and tastings of a multitude of teas and coffee, and kopi luwak is 50,000 Rp if you want to try a cup while you are there. If you like any of the teas or coffees and enjoyed your experience I would suggest supporting them by purchasing something in their shop. We went with the lemon tea (delicious!). We love coffee and loved our tour guide so we ended up spending right around an hour here.
Bali Pulina —> Mount Batur
Continue your drive north on the same road and enjoy the rapidly dropping temperature. After about 45 minutes and a winding uphill road, you will come to a security guard and ticket collector. It is 22,000 Rp (for two people) to enter the main road around the mountain and lake. It offers great photo opportunities of the area. There are tours where you can start at 3 am and hike up to Mount Batur's summit to see the sunrise (2 hours, guide required). Unfortunately, Josh and I aren't that ambitious, but the later in the day you go the more the clouds will roll in. Another idea we had was to head straight to Batur first from Ubud, and then make your way back through the different stops. Whether you are hiking the mountain, participating in a water sport on the lake or grabbing lunch at one of the many restaurants offered you can spend anywhere from 30 min to 4+ hours here. If you aren't comfortable dealing with touts, Kintamani is infamous for agressive sellers of crap. (We had a guy follow us all the way up to the ticket collector trying to get us to come to his restaurant.)
Mount Batur —> Ubud
After you've gotten your fill of the mountain and the lake, just head back on the same road for about an hour and a half, turn right at the statue and you're back in the center of Ubud.
You can use the map below to find your way though the trip. You can take this trip with a private driver for 200,000-500,000 Rp or drive yourself for 50,000 plus 20,000 for gas. Let us know if you give it a try and how the experience was for you!

View Day Trip from Ubud on Motorbike in a larger map