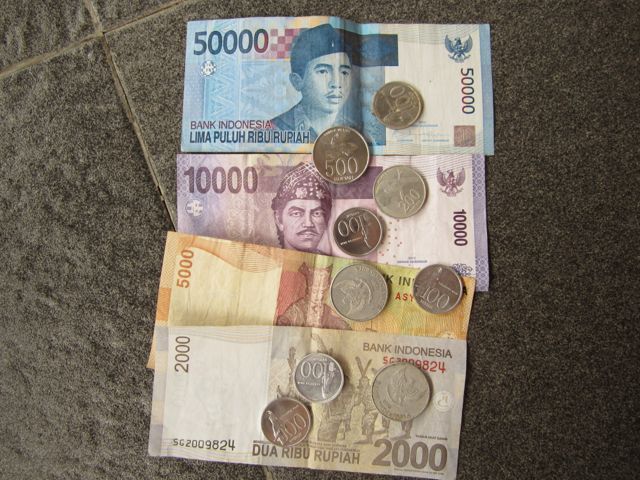 We stayed 29 days and budgeted $40 per day for two people, which ended up being too low, even though our final average was pretty close. We were able to keep it low mainly by picking our accommodations carefully and eating very cheap. We found one warung in Indonesia that we loved and she served Nasi Campur, our favorite dish in Gili Air, which was only $1.10. Some days we would eat that twice a day and only end up spending $4.40 on food. When we weren't eating Nasi Campur, we ate Nasi Goreng (fried rice) and Mie Goreng (fried noodles) for pretty much every meal ($2.00 and under), and had breakfast covered at every place we stayed (eggs and toast or pancake and fruit with coffee). We ended up spending an average of $46.31 per day, not including our "Adventures" budget. (All numbers are total for the two of us, items like visas, fees, activities and food can be split in half to get a per person amount.)
Exchange rate: 9,000 IDR = $1 USD
Below, you can see a breakdown of our 4 weeks in Indonesia by category:
| CATEGORY | USD ($) |
| --- | --- |
| Lodging | $654.81 |
| Food | $328.91 |
| Misc. | $105.37 |
| Transportation | $176.10 |
| Activities | $31.27 |
| Visa on arrival x 2 | $50.00 |
| Total Spending | $1,346.76 |
Budget Notes:
For lodging, we stayed in guesthouses. There are many accommodation options in Bali and Gili Air and we could have spent even less if our standards were lower.
Food was pretty cheap if you knew where to find it. Most restaurants in Bali were expensive, but if you only ate at warungs, you could eat plenty of good food for cheap.
Misc. included flip flops, new shorts for Josh, a book, lots of bug spray and sunscreen, playing cards (how did we leave these at home?), and $30 for the stupid airport departure fee that required Josh to go through security three times since there are no ATMs in Ngurah Rai airport.
Transportation included three taxi rides (Kerobokan – Seminyak, Seminyak – Ubud, Kuta – Airport) and our fast boat to Gili Air.
Activities does not include our scuba diving in the Gilis which is included in our separate "Adventure" budget shown below:
| ADVENTURE | USD ($) |
| --- | --- |
| Scuba Diving – Open Water Certification x 2 | $755.98 |
| Scuba Diving – Adventure Deep Dive x 2 | $118.07 |
| Total Adventure Spending | $874.04 |
Indonesia is a country made up of over 17,000 islands, and by going to two we saw less than 1% of them. With that said, based on what we saw, Indonesia is very affordable. There are many mini marts with cheap snacks, water and toiletries compared to other touristy destinations. Accommodation is available at every budget level and Indonesian food is cheap everywhere. If you are traveling on a budget, there are many places in Indonesia where you could stay for awhile. We would have stayed longer if our visa didn't end!