How easy it was to put on my tennis shoes and go for a run in Chicago with the Chicago marathon months away. Both Josh and I habitually ran 3 – 5 times per week without thinking about it. I believe that a runner's high is real and addicting – and I was a living example. Beyond that, I am a personal trainer in Chicago and was constantly immersed in exercise and motivated daily by my clients and colleagues around me. Working out was second nature, anticipated and necessary to maintain sanity in a stressful world.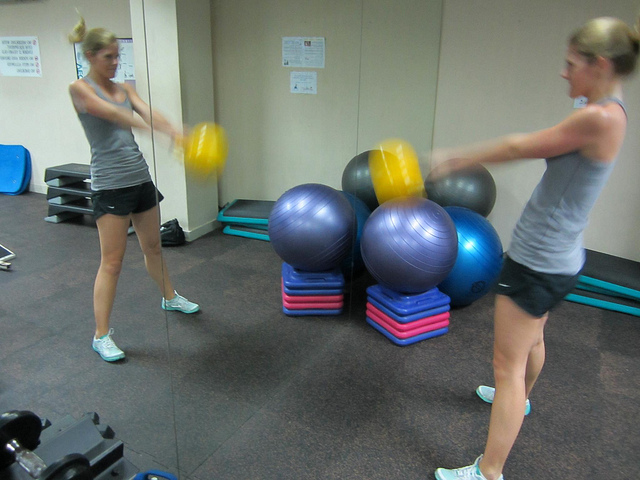 Add travel and heat and sand and it's amazing how the tables do turn
I swore months ago I wouldn't let my workouts slip, but I am here to admit a minor defeat. Exercise was my main stress release in Chicago, and on the road the stresses are different and possibly my body doesn't depend on the sweat to unwind. The heat in Southeast Asia can be unbearable. If you wait much past breakfast it can be hard to catch your breath while running outside. When it is not hot and humid it is quite possibly a torrential downpour outside your window. Traveling quickly takes over and your schedule is not your own. Activities, dinners and unplanned events can and do pop up all the time, taking you away from any plans you hoped to accomplish that day. Running was on a long list of "hope to do today's."
My workouts struggled the first month on the road
I walked everywhere, but I did not push my heart hard enough to where it was getting stronger. I remembered my "no excuse" attitude prior to leaving for our trip and the endorphins I had after a great workout, but nothing could get me on a routine. I was tempted daily by our next adventure or new sights, sounds and smells that took up my time instead of my tennis shoes. I ate healthy-ish, but our attempt to stick to a specific budget left me eating many more carbs and less vegetables than I prefer.
My dirty little secret: I loved every minute of it
My body didn't feel regret when it didn't wake up early to go for a run. I didn't have "fat days" like I did in Chicago and run to the gym to compensate. My body has been happy. I have been happy. Traveling through Southeast Asia, my diet has been solely focused on rice and noodles with a side of fruit. The nutrients are different, but the food is fresh and delicious! I feel relaxed, we walk everywhere and I am not out socially eating or drinking most nights of the week. Life has changed and I am enjoying it. This won't be my norm due to my love of exercise and I truly do believe in the importance of it, but for my first month I know my body was thanking me.
To all of my clients in Chicago:
You all motivate me daily to get back into my workouts. I think of all the days that you complained of being sore or tired after a long day of work and I blocked out your complaining and proceeded to kick your butt. 🙂 Despite the heat, rain and lack of any schedule, I will start running again – only for the next 10 months it will be in kilometers!