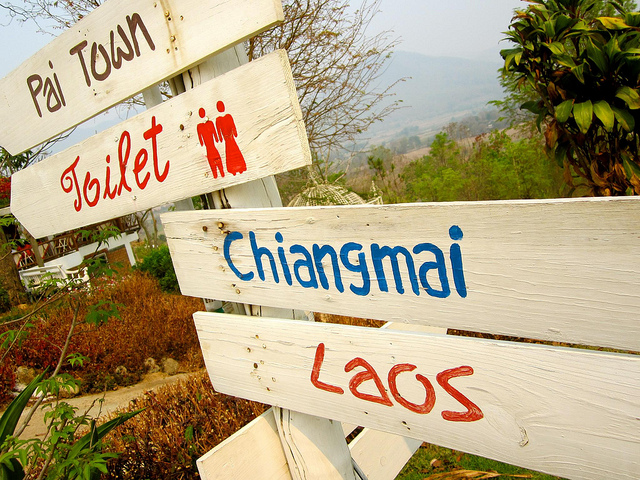 Helmets clicked on.
The engine revved.
My hands are tightly wrapped around Josh's belt.
The open road before us.
Only 130 kilometers to go…
The drive from Chiang Mai to Pai is a popular 3+ hour trip through the mountains. Planning this drive as your next day trip is only for the stupid ambitious. It is for those who are willing to spend 6+ hours driving in order to see breathtaking sights of rolling mountain ranges and enjoy walking through a hippie town full of personality. If you have the time I would suggest spending a few days here to discover Pai for yourself and give your bum a break from the bike.
If you want to make the drive along 1095 to Pai there are a couple of options available to you via bus, mini van or motorbike. Of course the latter is our choice of transportation! I have heard of many travelers riding motorbikes around southeast Asia for months, and figured if they could do it for days on end I could last one day. Before I tell you the where's and how's and show you photos of the beautiful scenery I'll share with you how the story ended: with a bruised bum. I am writing to you with a new respect for all bicycle and motorbike travelers alike. The fact that they can sit on the bike for hours on end and still sit normal in regular chairs says a lot about their stamina and my lack thereof.
The ride from Chiang Mai to Pai was truly was one of the best day trips we have taken in Thailand! You should start early in the morning, as the drive is at least 3 hours each way. Stopping to take photos, grab a bite to eat, get gas or any other unplanned stop will add more time. We had our bike delivered at 8 am (which may mean 8:30 Thai time) and finally got on the road around 9. Make sure to check your bike before you drive off, fill your gas tank and get your camera ready to take fabulous photos.
When you read about this ride elsewhere you might get scared off, a lot of the advertisements promote the curvy roads and how a few people on your bus will get sick. There is even signage along the way for what appears to be "barf-stations". Yes, the road is extremely curvy and I can see how if on a big bus, riders could get sick, but while on the motorbike neither of us felt sick at all during the trip. My driver (Josh) did a great job of taking the curves at the right speed. Bring extra water and when you stop to take photos make sure to keep hydrated. On the bike you are constantly in the sun and because of the driving you may not realize how quickly you become dehydrated.

Rules of the Road:
Let trucks/cars pass, they are bigger than you
Don't be a dare-devil and try to go to fast on the roads, there are many hairpin turns
Always wear your helmet
Carry your international drivers license on you, in case you get stopped by the police
Don't have your first motorbike experience on this drive, spend time getting comfortable before you take on 1095
When you make this drive expect to run out of gas. Pay close attention to your tank, most motorbikes don't always give the most accurate picture of how much gas you have. Your last gas station will be about an hour into your drive and from there until you reach Pai you are on your own. We got lucky and found a gasoline stop in a small town, but without this stop we would have been stranded roadside. Expect to pay a bit more when you stop outside of a gas station, we only put in a liter, enough to get us to Pai, where we could refill. Also, on the way back prepare to run out of gas again. Refill right before you leave Pai and you'll have enough to get you to the next gas station on 107.
The views are spectacular. Every curve unveils a new mountain range, endless greenery (mixed with a bit of brown if you come at the end of hot season like we did) or small town waiting to be visited. The three hours go by quickly since your eyes are always darting to the next curve or pothole.
Once in Pai, park your bike and walk around. At this point in your day your butt is most likely sore, close to numb. Pai has its share of street vendors selling sugary fruit juice, spicy papaya salad and fried bananas. Each café shop has a different vibe catering to the laid back crowd of Pai. Once we felt like sitting again we grabbed some curry noodles and fried rice at a corner restaurant and picked up some mango sticky rice. The sweetness of the mango in Thailand is enough for me, the sweet sticky rice and coconut cream poured over the dish is all unnecessary, but appreciated icing on the cake.
After lunch and a short walk around the town, we got back on our motorbike and left with enough time to make it back to Chiang Mai before sunset. Since we were only renting the bike for one day, we wanted to explore outside the old city. We didn't spend time seeing the sights around Pai such as: Pai Canyon, Pai River, the Chinese Village and Mae Yen Waterfall, we will leave that for our next trip when we have more than a few hours. You might ask if it was worth it. A 3 hour drive up and down mountain ranges to eat lunch and sip on a fruit smoothie, only to return 3 hours that day with a bruised bum. It was absolutely worth it, even if we hadn't stopped in Pai, it was the adventure of the drive.
We stayed at Elliebum Guesthouse and the owner Gade was great at helping us rent a sturdy motorbike to make it up the steep climbs in the mountains. We have heard horror stories of bikes that aren't powered enough to make it through the drive or simply are old and fall apart along the way. After our flat tire in Bali we are extra careful who we rent our bikes from. Expect to pay around 250 baht per day for a good bike in Chiang Mai.
Directions: From Chiang Mai old city take the north exit out on and head north on 107. Follow the signs for Mae Rim and then the signs for Pai. After about an hour you will see a sign for 1095 (Pai), turn left and follow 1095 all the way to Pai.
Good luck on your trip! Contact us if you have any questions we are glad to help!