1. Start at Lub d Hostel – Grab a quick breakfast and cup of coffee to fuel your walk.
Stick your head through the Elephant's bum. Don't ask questions…just do it.
2. Looking at your map, you notice a nearby park. Take your breakfast and walk to Lumphini Park to sit and enjoy the views before you head to the busy city.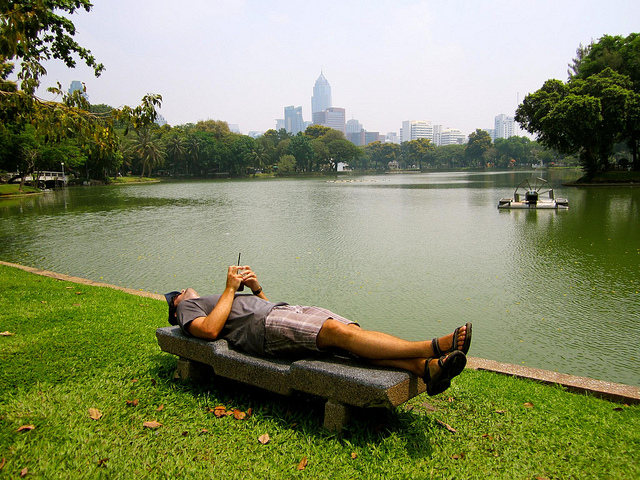 You enjoy the quiet of the park, your guilt kicks in as you watch the 8th person jog by you and you consider picking up Tai Chi after watching a lesson in the street across from you.
3. Thinking ahead you begin to walk toward Hua Lamphong train station. You need a ticket to travel to Chiang Mai in a few days and you don't want to get stuck on another overnight bus, so you go early to book a sleeper ticket on an overnight train. On the map it is only a few finger-lengths from Lumphini Park, definitely walking distance.
By the time you reach the train station you probably look like this:
(…traveling during "sweat" season)
No worries, the train station is air-conditioned! You get in line, fight through the hundreds of backpacks and find out there are two empty beds next to each other…SUCCESS! Purchase your tickets and you are on your way again.
4. Checking your map, you are already over halfway to The Grand Palace and Khao San road, so it makes sense to keep walking. This time you only have three fingers to go until you get there, so you continue up Rama IV in anticipation of seeing the beautiful palaces you have read about.
All of a sudden you are in China… or Bangkok's version of China. You see Chinese characters, vendors peddling their wares and food of all kinds and you pause as you have flashbacks of Nathan Road in Hong Kong. Glancing to the right you see this:
Forlorn, the meat sits on the street unsupervised, bathing in the hot sun. This is normal, so you disregard the meat basket and decide to continue walking. By now you have turned down your 7th or 612 th offer to take a tuk-tuk and are more determined than ever to follow your map to the palace that awaits.
5. Up until this point in your walk the buildings have been your friend offering you shaded sidewalks. Suddenly the sun hits you and you don't have many places to hide. Most of the trees are already taken by locals sitting having their lunch or taking an afternoon nap. You pick up a freshly squeezed orange juice to keep you hydrated and keep trucking forward.
6. Around the corner from the Grand Palace is Khao San Road. The short street known for the cheapest accommodation and gaudiest backpacker necessities. You realize that lunchtime passed a few hours ago and you instantly begin taking advantage of the 20 baht pad thai, 10 baht milk tea and endless bags of cheap fruit. The great people-watching here is enough to keep you busy for hours.
7. You've already walked this far, what's a few more inches on the map? Glancing at the map you pick out the closest train station and decide to jump on a train back to Lub d at the National Stadium stop. You pass a few markets and famous wats, but you are focused on a single goal of making it to the station.
You admit that you are tired and maybe this whole walking thing was a bit crazy, but are still too stubborn to give into a tuk-tuk drive home. Eventually the crowds pick up again and you see the huge three letters staring you in the face, laughing at how far you have come.
8. You arrive at MBK center, a 7 story shopping mall for anything and everything. Although your body wants to walk the 7 stories and explore the many stalls of clothing, electronics and food, your feet are screaming. You need to sit down and against any of your rational thoughts, you find yourself sitting in McDonalds. This is a low point. Somewhere that if in the U.S. you would never think of entering, maybe because you are in a different zip code the Oreo McFlurry you are about to eat doesn't count?
9. Your feet rested while your health suffered a bit, but now you are en route to the train station with a light finally at the end of the tunnel. You are almost home! The train home costs 25 baht per person and you respectfully push your way on and spend the next 3 stops trying ignore how crowded it is by going to your happy place of beaches and pina coladas.
10. After fighting to exit the train, you forget how bad your feet ache and begin a steady run back to Lub d Hostel and leap into your bed. Taking advantage of the air-conditioning and sinking into the comfortable bed (of course after you take a hot shower and brush your teeth).
If you want to accidentally (on purpose) follow our lead and do a walking tour of Bangkok, starting in Silom, here is a crudely drawn map of our route. Bring comfortable shoes, stay hydrated and stay strong when the tuk-tuks continually offer to drive you to your next destination!