*Post update: The OneWorld RTW tickets have been discontinued.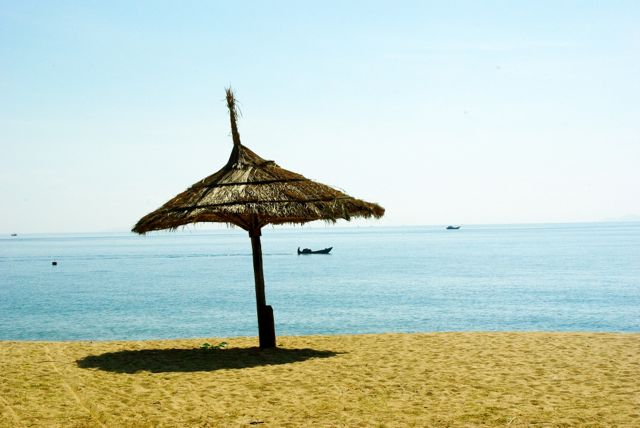 No, seriously. I bought 14 flights for $346.
Many people have asked me, "How can you afford to go on such a huge trip???" or "I wish I had the money to travel around the world." It may sound like a ridiculously expensive and foolish thing to do, but it doesn't have to be.
How I Can Afford To Travel The World
As recent as a year ago, an around the world trip was something I would never do. World travel fascinated me and I envied those who had done it, but I figured it was just too expensive, too difficult, and not important enough to risk leaving my career. I read about "around the world" tickets, but hadn't given them any thought until I read Steve Kamb's post, How to Travel the World for $418. I realized that I already had enough points to buy the same ticket as Steve and if I could double those points, Caroline and I could afford to travel to all the places we'd dreamed about.
Something that seemed so impossible only a year ago, was now not only possible, it was (almost) free! Seeing as money is one of the biggest reasons people don't travel, this was one of the critical factors that helped us decide to take the trip.
"But Josh, I know you. You had a job which required you to travel for business. You got your travel paid for and were able to keep the points. Not all of us can afford to fly twice a week every week…"
Well, the great thing is, you don't have to! (You'll eat a lot less fast food this way too.) I'm going to show you how you can take a trip like ours and travel the world for cheap.
What is Travel Hacking?
Travel hacking, as defined by Chris Guillebeau, is simply, "experiencing the world on a limited budget." The travel and leisure industry plays up travel (especially international travel) as a luxury only the rich can afford. By using some tips, tricks, and loopholes it's possible to travel across the world, or all the way around it for very cheap. There are many travel hacking strategies and tons of useful resources on the Internet, some of which I will share at the end of this post.
I'll show you how I earned my frequent flyer miles and hotel points, with and without actual travel. Then, I'll take you through the steps to plan your own trip and describe the process for redeeming your miles like I did. Finally, I'll leave you with the best resources for travel hacking on the web.
Let's look at the miles I earned from actual travel vs. what I earned by "travel hacking.":
Miles earned from actual travel:
170,000 AA Miles
120,000 SPG Points
79,000 AMEX Points
Total: 369,000 Points
I took advantage of every promotion, and I earned Platinum status with both AA and SPG. (Which is something you usually have to put your butt in a seat to earn, but not always.)
During one promotion, every three stays in an SPG hotel earned you one free resort night anywhere in the world. Each time you check into a different property it counts as a stay. The promotion ran for three months and during that time I switched between 3 SPG hotels every night to maximize my stays. I earned 7 free resort nights, just by booking ahead and packing and unpacking my bag each day. We used the free nights to cover the stay for our Around The World (RTW) Practice Run.
Some hotels run a promotion where you can choose to forgo housekeeping in return for a restaurant coupon or points. I lived in filth (not really), and earned 1000 extra points every week.
I ensured that I always stayed at the same hotel chain, even if it meant checking the website and calling each hotel twice a day until a room opened up.
I earned plenty of points from business travel, and went through a lot of extra effort to maximize my earnings. Earning all these points only made me want to earn more. I was hooked. I loved seeing the mileage balance increase each week. But after learning about big mileage bonuses with airline credit cards, I earned a ton of miles in a much shorter period of time, without any actual travel.
Miles earned from Travel Hacking:
50,000 AA miles from the Citi AAdvantage Visa
40,000 SPG points from the Starwood Preferred Guest Amex
200,000 BA miles with the Chase British Airways Visa Signature x 2
40,000 US Airways miles with the US Airways Dividend Miles MasterCard
50,000 Chase Ultimate Rewards from the Chase Sapphire Preferred Visa
Total: 380,000 Points
For how much little work went into the travel hacking, it was considerably easier than getting on a plane twice a week for an entire year. All I had to do was fill out a few applications, switch all my daily spending to a certain credit card, meet the minimum spend, and (most importantly) pay off the bill each month. (You must be organized)
DISCLAIMER:
You might be thinking how irresponsible this sounds. "You signed up for 6 new credit cards?" "How deep are you in debt?" You don't have to sign up for any credit cards to earn miles and fly for cheap. There are many other tactics for travel hacking, which I will write about in the future. However, to earn the greatest amount of points in the shortest amount of time, credit card bonuses are the best way. If you don't know what you are doing, or don't have the patience, energy or concentration to keep track of everything, please do not follow my advice. Caroline and I are debt-free with high credit scores, and our scores actually increased after applying for each of these cards. We never carry a balance on any of our cards and never miss a payment. Your credit is a vital asset. Use it responsibly!
How You Can Travel For Cheap
It's possible for you to do the same, by following the steps below:
Set a travel goal
Where in the world do you want to go? Have you always wanted to visit Angkor Wat in Cambodia, tour Europe, climb Kilimanjaro or surf in Australia? Just pick one place from your list that you'd like to visit.
Figure out who can take you there
Check out the oneworld route planner, or the star alliance downloadable timetables. These will show you which airlines and flights can take you to your dream destination.
Determine how many miles you need
Look up the airline's award chart. This gives you your mileage goal.
Earn and save for the miles
This is where the travel hacking part comes in and you have to do some legwork of your own. Study or sign up for the travel resources at the bottom of this post for all the information you'll need. You can earn a bunch of points just by paying your normal monthly expenses on a different credit card.
Go.
This one shouldn't need any explanation, but if you need some help there is a certain travel blog I can recommend.
Repeat
Hopefully you enjoyed it so much that now you're hooked! This doesn't have to be a one-time thing. You can continue to find new ways to earn miles and take more trips than you ever thought you could afford.
Since I had all my airline miles on American Airlines (AA) and British Airlines (BA), I chose the oneworld alliance to book our RTW trip. Each oneworld airline has their own version of this award, which lets you book a certain number of segments on all the alliance's partner airlines. Confusingly, AA calls theirs a "OneWorld award". If you earn miles on another airline be sure to check their rules and regulations.
How to Spend The Miles You Earn
American Airlines OneWorld Awards
This is the fun part, spending those hard-earned miles. I wanted to cover as much ground (or air?) as possible since the tickets were basically free. I started by listing out every country we would ever want to visit. This was a long list and so we had to narrow it down. "This country is too expensive, this country is too far away, we can easily return to this country, etc." Then, using the oneworld trip planner and route map we plugged in the capital cities of each country and tried to optimize for the greatest number of miles and destinations within the constraints.
The rules are explained in detail in this FlyerTalk thread:
You must use at least 2 different oneworld airlines (These include AA, BA, Cathay Pacific, LAN, Qantas, etc.)
You are allowed 16 flight segments
You may stopover in each city one time, but can connect through the city twice
Your itinerary can have one open jaw (arrive at one airport and fly out of another)
The distance must be less than a certain number of miles, based on how many miles you used for the tickets. For us, our limit was 35,000 miles, and each ticket cost 140,000 miles
You may change the date and time of any segment, but not the routing
You still must pay the required taxes and fees on the tickets
All flights must be completed within one year of ticketing (not departure!)
The one year rule is especially challenging. You always want to book as far in advance as possible, since airlines have limited award inventory on each flight. I was told on the FlyerTalk forums that I would have a hard time getting the flights I wanted, since I needed to book out flights for an entire year, and the trip couldn't go beyond one year from the date I booked the tickets. Since I was booking in November for flights in January and February, I was concerned that the first few segments of the trip would already be full. Out of the 14 flight segments we booked, only two of the flights we wanted weren't available. Since we are flexible, we moved those flights by one day, and were still able to book the exact routing we had planned.
Our final around the world itinerary:
Chicago – Hong Kong – Singapore – Bangkok – Hong Kong – Johannesburg – Madrid – Sao Paolo – Buenos Aires – Santiago – Guayaquil – Galapagos Islands – Quito – Lima
Segments: 14
Distance: 34,499 miles (I tried to squeeze another 500 miles in there somewhere!)
Originally, we were returning to the U.S. via Miami, but after we learned that we could include the Galapagos Islands on the ticket, we decided to use the remaining miles for that and make the whole ticket an open jaw.
Maybe a picture would explain it better?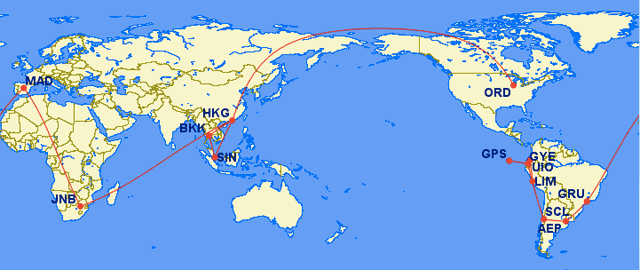 I needed 280,000 frequent flier miles (140,000 x 2) to book our itinerary. At the time, I only had 220,000 miles in my AA account. Luckily, SPG allow transfers to most major airline programs, usually on a 1:1 basis. Even better, every 20,000 points transferred earns you a 5,000 point bonus. Since I had plenty of SPG points, I could transfer 40,000 points into 50,000 AA miles, giving me enough to book the tickets!
After getting the miles together, it was time to book, and pay the necessary taxes and fees. British Airways is infamous for high fuel surcharges and fees on award flights. In order to save on fees, I tried to avoid BA if possible. This is easy in Asia and South America, but was quite difficult for Africa, as BA seems to be about the only oneworld carrier that flies between the African and European continents. I managed to find one Iberia route from Johannesburg to Madrid (hence our stopover there) which would then get us to South America. This is the only attempt I made at lowering our fees. I had planned for as much as $1,000 per ticket after hearing about how high the fees on BA can be.
So imagine my surprise when we call for the final booking:
Me: "How much are the taxes and fees for these flights?"

AA Agent: "The total taxes and fees are $346 per ticket."

Me: (Spits beer across the room.)
This trip takes us across 5 continents, 17 countries and 34,500 miles, and it only cost $346 and 140,000 frequent flyer miles! If you would have told me this a year ago, I wouldn't have believed you. But I actually did it, and am now traveling around the world for a year on flights that cost less than a month of groceries. I hope you too will be inspired to take the trip you've always wanted, and to do it on the cheap. If you have any questions, please leave a comment below, or contact us via twitter or email. Happy travel hacking!
Travel Hacking Resources
I've learned everything I know about travel hacking from the sites and books below. I highly recommend them if you are interested in traveling for cheap.
Free
If you are motivated enough to keep up with the new deals, promos and tactics, you can get all the information you need from these free resources:
Premium
If you're just learning about how to use frequent flyer miles and points, or are overwhelmed by the amount of information from the free resources above, there are some great premium resources that can teach you the ins-and-outs of travel hacking from the beginning. (These are affiliate links. If you buy an item using the links, we get a small commission.)
(A special thank you to Steve for his inspiration, and help via email, or we might not be on this wonderful trip.)