The Roomorama search box asks you the one question every traveler dreams about: "Where are you going?" 
I quickly forget my actual travel plans to Cambodia and start dreaming…What if I went to Morocco, or New Zealand? I start thinking of the amazing pool I could find in Thailand…and then I see a photo for the apartment in Buenos Aires and imagine city living…only until my eyes come across this villa in Zanzibar that costs more than I spend in a month, but I imagine is 100% worth the price (I will be in Africa in June.) A girl can dream…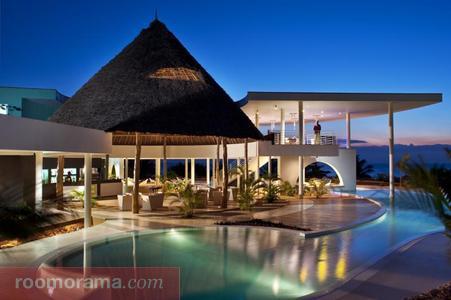 Searching through rooms you expect to find apartments or houses to rent. Long-term travel can quickly tire you of hotels and make you long for the comforts of a cozier atmosphere. The temptations on Roomorama are overwhelming, luxury accommodations, tree houses, boat homes – if you can imagine living in it, it could be on there.
Trying to stay within our budget we used their site to set our requests: price range, fast wi-fi, breakfast and air-con. The great thing about the site is that while there are incredible apartments available if you are able to spend a bit more, there are also budget accommodations that still offer us everything we need.
Small perks can sometimes become coveted luxuries depending on your travel agenda. While some are looking for amenities such as a pool, air-conditioning and included breakfast (all which we had!), when the small print reads: Free bicycles to borrow – the deal is done. Coming to Siem Reap, Cambodia we knew we wanted to visit Angkor Wat and had read great things about bicycling to and around the temples. So the search began.
If you read about our Chiang Mai and Luang Prabang adventures, you can tell we tend to prefer DIY travel so we can go at our own pace. The free bikes offered were a big deciding factor for us to book the Lotus Lodge in Siem Reap. Although the lodge was not an apartment which is what we would typically think of for a site like Roomorama, it was remote enough to get our work done and close enough to the city to go out and find some good food to eat. The free bikes allowed us to come and go from the lodge whenever we pleased and we even used them to do a 13 hour tour of Angkor Wat (next time I might splurge for the mountain bike over the basket bike).
As much as I long for the comforts of home, a quiet escape from a hotel and my own kitchen, there is something about a fresh juice cocktail and cold towel welcoming you at check-in, your room being cleaned daily and breakfast waiting for you in the morning for the luxurious price of $21/night that makes me miss home just a little less. 🙂
After a long bus trip (which was overbooked, overheated and with broken A/C) we were greeted by Mitch, the co-owner, and shown to our room with cold towels. For the next 4 days we took full advantage of their morning breakfast, the A/C to save us from the unbearable heat and the bicycles to pedal around the city at our own speed. Our main event was Angkor Wat and the remaining days were spent writing, reading, relaxing and preparing for our month in Vietnam.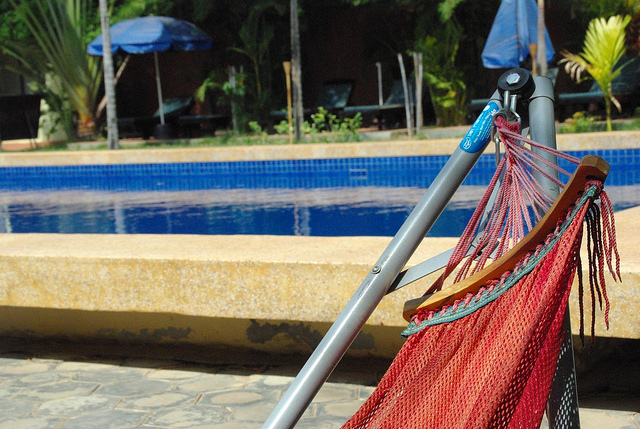 I don't have any exciting/humourous/terrifying stories to tell you, but at the end of our stay we were a bit spoiled, well rested and ready to take on Vietnam. We couldn't ask for anything more! We had a great first impression booking through Roomorama and are already in search of apartments in our future destinations. The lodge was exactly what we needed for this short stay. For our lengthier stays, I would opt for an apartment that we can settle into a bit more. We will be seeing Roomorama again soon, stay tuned!
A Quick Guide to Successfully Booking with Roomorama:
Start looking early, it sometimes takes longer than expected to hear back from the host.
Read carefully about the cancellation options, security deposits and fees
Check the location on the map and make sure it is close or far enough away from where you want to be.
After you book your room, email the host and confirm the check in/out procedures and any other specifics you need to know.
Leave honest reviews to help the next person.
Disclosure: We were sponsored guests of Roomorama. As always, the opinions expressed here are our own.