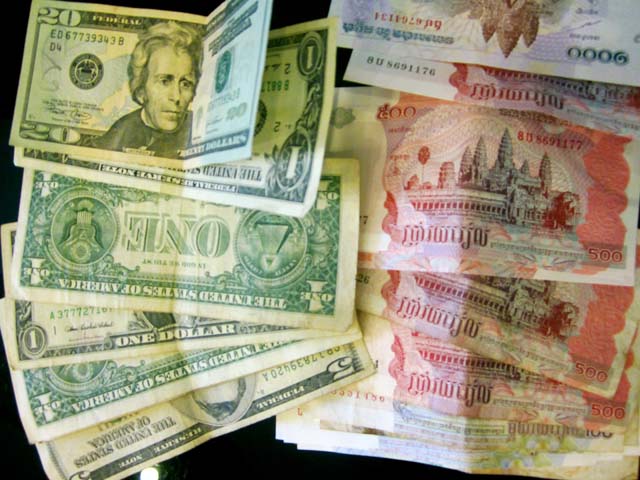 We only stayed 9 days in Cambodia and budgeted $52 per day for two people. We were spot on with an average of $53.51 per day. Our trip took us on the normal tourist track with a few days in Phnom Penh and Siem Reap. A trip with more in-country transportation would definitely have an increased average.
Exchange rate: 4,088 Riel = $1 USD (April 2012)
Cambodia does have their own currency, the riel, but the main currency used is US dollars. ATMs give out USD or riel and in transactions you'll pay with USD and get back USD and riel in place of coins.
Below, you can see a breakdown of our time in Cambodia by category:
| CATEGORY | USD ($) |
| --- | --- |
| Lodging | $121.00 |
| Food | $214.61 |
| Misc. | $21.00 |
| Transportation | $71.00 |
| Activities | $54.00 |
| Visa On Arrival x 2 (plus bribes) | $52.00 |
| Total Spending | $481.61 |
Budget Notes:
(All numbers are only daily spending for two people, items like visas, fees, activities and food can be split in half to get a per person amount. The numbers don't include airfare or other transportation to the country.)
We stayed in the infamous guesthouse (Possibly) in the red light district while in Phnom Penh, and in a nice lodge we booked through Roomorama in Siem Reap. This kept our accommodation relatively cheap.
Food was much more expensive than Thailand or Laos, but I would attribute that to us not leaving the tourist trail. I'm sure we could have found local food stands for much cheaper if we had more time.
Transportation included the bus to Siem Reap and the bus to Saigon, along with a tuk-tuk we hired for the day to drive us around Phnom Penh.
We went to the genocide museum and "killing fields" in Phnom Penh and paid for a one day ticket to Angkor Wat in Siem Reap.
We did the basic tourist trip through Cambodia, so if you are looking to see the same sights, this is a pretty fair estimate of your budget. We found that the use of the US dollar made things more expensive in general, if only slightly. The only real costs are food and entrance fees to the tourist attractions.
Budget Travel Tips for Cambodia
You can ride your bike to and through Angkor Wat instead of paying for a tuk-tuk. Our lodge had free basket bikes to borrow, so it was free, however it's not for the feint of heart. It's very hot, and Angkor Wat is about 6-11km from Siem Reap depending on where you stay. The temples can be pretty far apart too, so just keep that in mind if you plan to cycle around.