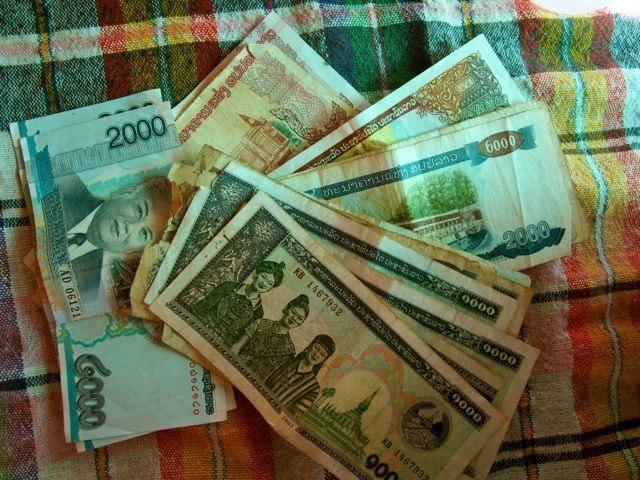 We stayed 17 days in Laos and budgeted $40 per day for two people, which we came close to – ending at $41.03 per day. However, we were stuck in Don Khon for 4 days without access to an ATM, which meant a few days of spending only $20, which brought our average down. In general, Laos is a country that's easy on your budget. A more realistic number would be somewhere between $45 – $50 for 2 people.
Exchange rate: 7945 LAK = $1 USD (April 2012)
After bragging about our wonderful Schwab card with no ATM fees in the Thailand update, karma intervened and we promptly lost the card. We shelled out for ridiculous fees through Cambodia and Vietnam until my parents could bring our new card to us in Thailand.
Below, you can see a breakdown of our 2 weeks in Laos by category:
| CATEGORY | USD ($) |
| --- | --- |
| Lodging | $239.53 |
| Food | $204.72 |
| Misc. | $31.69 |
| Transportation | $190.46 |
| Activities | $30.33 |
| Internet | $0.76 |
| Visa On Arrival x 2 (plus bribes) | $76.00 |
| Total Spending | $773.49 |
Budget Notes:
(All numbers are only daily spending for two people, items like visas, fees, activities and food can be split in half to get a per person amount. The numbers don't include airfare or other transportation to the country.)
For lodging, we stayed in guesthouses. Accommodation is very cheap. We were able to get aircon in nearly every place and never paid more than $23 per night. While we've haven't stayed in a dorm room yet (knock on wood) we did share a room with a fellow Chicagoan we met on an overnight bus. This can be a great way to save on accommodation.
Food was also cheap. Simple dishes like noodle soup can be had for as little as 10,000 kip, and we spent around $12 per day on food for the both of us.
Transportation included quite a few overnight buses, a two-day motorbike rental for the Bolaven Plateau and a few tuk-tuk rides.
Activities consisted of the Kuang Si waterfall, temple in Luang Prabang and bike rentals.
Laos is a beautiful and friendly country that's also easy on your budget. The best part is interacting with the friendly locals which doesn't cost a thing! There is plenty to do and experience and Laos is a country that should be on any budget traveler's list.
Budget Travel Tips for Laos
You can get cheaper bus tickets at the stations instead of through the tour agents on the street.
If you go to Laos during the New Year, prepare to spend a little bit more on accommodation, alcohol, water bottles and/or squirt guns and maybe some extra clothes you don't mind getting dirty!
Motorbike rentals are more expensive than surrounding countries–and most locals won't rent them out in Luang Prabang. Renting motorbikes was our favorite way to see some of the most beautiful scenery in Laos and highly recommended..
When in doubt, the noodle soup will never disappoint!