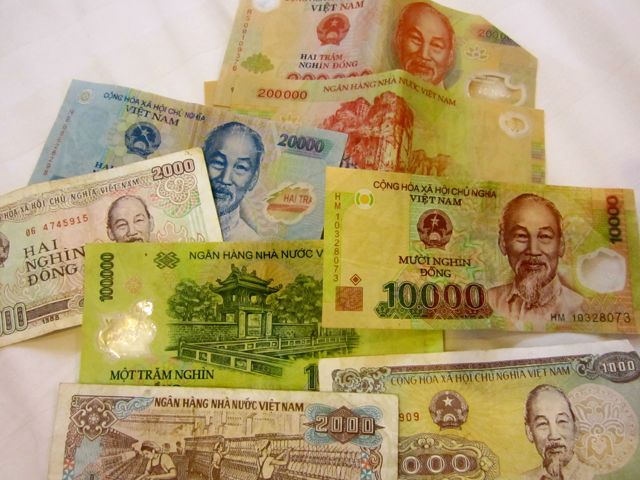 We stayed 23 days in Vietnam and budgeted $40 per day for two people, and thanks to a lazy final week in Hanoi we came in at $36 per day. This includes the additional ATM fees due to losing our Schwab card, but is only representative of our daily expenditures. We didn't include the tailored clothes we had made in Hoi An, our Halong Bay trip, or our Visa extension (grrrrr). A more realistic number would be somewhere between $45 – $50 for 2 people.
Exchange rate: 20,800 VND = $1 USD (May 2012)
Below, you can see a breakdown of our 3 weeks in Vietnam by category:
| CATEGORY | USD ($) |
| --- | --- |
| Lodging | $421.00 |
| Food | $262.79 |
| Misc. | $33.18 |
| Transportation | $99.04 |
| Activities | $11.54 |
| Internet | $0.00 |
| Visa (Prior to Arrival) | $137.10 |
| Total Daily Spending | $964.65 |
Budget Notes:
(All numbers are only daily spending for two people, items like visas, fees, activities and food can be split in half to get a per person amount. The numbers don't include airfare or other transportation to the country.)
Vietnam has fantastic cheap hotels and guesthouses. You can stay in a great place in a private room with breakfast, wi-fi, and a pool for about $20 per night! (We averaged $18 per night)
We ate a lot of Pho and spring rolls, mainly at tiny local restaurants and on the street. Food is pretty cheap and we averaged only $11 per day on food.
Activities consisted of the war museum in Saigon, renting bikes in Dalat and Hoi An, and visiting Crazy House in Dalat.
You probably need a visa in advance to visit Vietnam. We got ours at the embassy in Singapore a few months early. We didn't know our exact travel dates, which was a mistake. See our tips below.
| ADVENTURES & MISC | USD ($) |
| --- | --- |
| Halong Bay Trip | $146.29 |
| Tailored Clothing | $99.00 |
| Visa Extension | $50.00 |
| Total Adventure & Misc Spending | $295.29 |
Halong Bay could probably have been absorbed into our daily budget, as it ended up not being as expensive as we thought. In Hoi An, we had a dress and a romper made for Caroline and two dress shirts for Josh.
We also had to extend our Vietnam visa because when we applied for the visa we didn't realize the dates we put on the form were set in stone. Since we extended our time in Thailand and Laos, we showed up with only 2 weeks remaining on our visa, when we intended to spend 3 weeks in the country. It was a huge hassle since it meant staying in one place for at least 5 days and paying extra to get the visa extended just to stay one extra week.
BUDGET SUMMARY
USD ($)
Daily Spending
$964.65
Adventure & Misc Spending
$295.29
Total Spending
$1,259.94
Daily Average
$36
Daily Average (All Included)
$55
All in all, Vietnam is a very cheap country to travel in. Accommodation, transportation and food are all very inexpensive. The major costs of visiting Vietnam will be any tours you decide to take and the visa cost.
Vietnam Budget Travel Tips
Transportation is extremely organized and efficient in Vietnam. It's much easier than other Southeast Asian countries. We bought an open bus ticket from The Sinh Tourist in Saigon that took us from Saigon – Dalat – Nha Trang – Hoi An – Hue – Hanoi for just $45 a person.
Make sure you go only to the original Sinh Tourist (formerly Sinh cafe). There are hundreds of copy-cats all calling themselves the Sinh cafe and they will trick you into thinking you are buying from a reputable company. You can also buy online from their website: The Sinh Tourist
You can get tailored clothing made in Hoi An for very cheap, but it probably won't be an enjoyable experience. Shop around, inspect the work carefully and know exactly what you want. We had to go back 4 or 5 times until they got it right.
Make sure you know your exact travel dates for your visa, so you don't have to get an extension like we did. If you are already on the road you can get a Vietnam visa easily from the embassy in Phnom Penh.