The hardest part of the morning is finding a wet suit that fits.
If you have ever tried to fit a year of travel in a carry-on bag you can understand the strength and determination it takes to get a wetsuit on. Starting at the ankle, we precisely pulled the bottom portion of the wet suit above the knee. The legs are the hardest part, especially when you're putting on an already-wet-wetsuit. Once it gets above your waist the rest is pretty simple. Dressed and ready we jumped in.
We jumped into the 20°C water, it wasn't unbearably cold, but the chill was enough to send a quick shiver up your spine. The moment we were fully submerged in the water we heard someone yell turtle! We ducked our masks under and saw the shadow of a turtle float into the distance. This was the beginning of our weeklong cruise with Ecoventura where we got to snorkel almost every day and experience the undersea wildlife.
Within minutes of starting to swim a sea lion circled us with a playful spirit. It whizzed around us while we twisted and turned our bodies to keep up. One minute he would be swimming directly towards us, stopping only centimeters from our masks while the next he had redirected his body and whisked himself to the next snorkeler nearby. The sea lions in the Galapagos are the most curious animals I have ever met and fearless when it came to swimming with humans.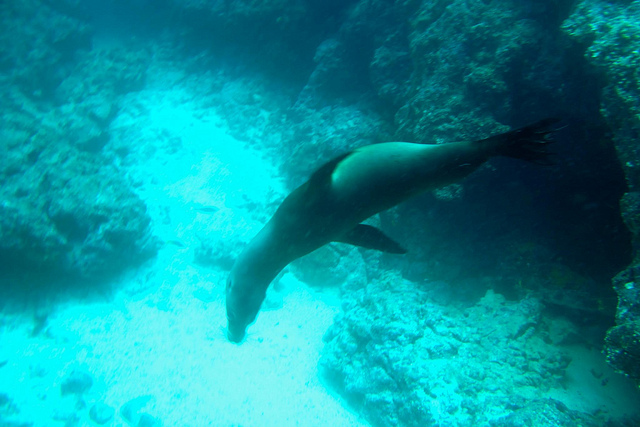 Our itinerary on the Letty gave us plenty of opportunities to snorkel, 2 times off the beach and 2 times for deep water snorkeling where we would enter from the Pangas (small motor boats we used for transportation to and from the yacht). Each snorkel was different and every time we got in the water it seemed to get better and better.
The sea lions would mostly follow us along. At times there would be 3 circling around, but almost always at least 1. Turtles were everywhere, mostly swimming or eating algae off the rocks. They will also swim very close so be careful that you don't let your body float to close to touch them! If we looked closely at the ocean floor we could see massive rays resting on the bottom. Suddenly the sandy bottom will start to move and we would get to watch these miraculous animals in motion.
I had high expectations jumping into the waters of the Galapagos to snorkel and my expectations were blown away. Huge parrotfish, Moorish Idols, groups of king angelfish, starfish and a variety of hundreds of types of fish I couldn't name. We did get a visit from a whitetip reef shark on our last deep water dive and watching the muscular fish carve its way through the water was fascinating.
Breathing slowly through the snorkel you get to explore and appreciate the vast marine life that the Galapagos Islands has worked so hard to protect. The fishing is controlled by the Galapagos Marine Reserve and the number of catches is monitored carefully as each specific season opens and closes. Sport fishing is restricted in the Galapagos, but as a tourist you are able to accompany a licensed fisherman on his boat to appreciate the art of fishing in the Galapagos.
Tips on Sustainable Snorkeling
Don't touch the fish or coral – You might think this sounds ridiculous but while I was snorkeling, despite being told this, I saw a couple snorkelers reach out and try to run their hands along the sea lion. Good thing they're so fast!
Use biodegradable soap to clean your mask – Hopefully your naturalist will provide this, but if you don't have special soap with you, spit works great to keep your mask fog free.
Don't take anything with you – Leave the pretty coral and shells on the beach and in the ocean where they belong.
Snorkel with a buddy – This is mainly to ensure your safety, always have an eye on your buddy. The current can pick up while you are entranced with the ocean below and you can easily get whisked out to sea.
 Where have you enjoyed snorkeling?
Disclosure: We were sponsored guests of Ecoventura. Any opinions or happiness expressed is our own.