You will know when you hear a hippo grunt.
It sounds like a grumpy old man bellowing at the top of his lungs.
I became very intrigued by hippos during our self drive through Africa. They are the third largest land mammal after the elephant and rhinoceros and one of the most aggressive animals in the world.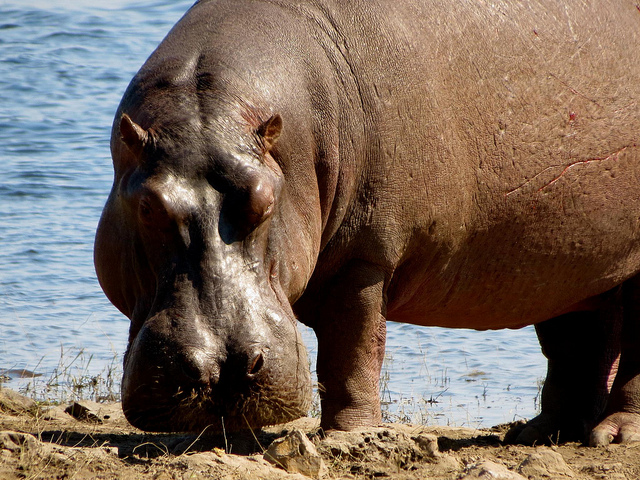 During the day you will see them mostly in the water, helping to keep their body temperature down. Almost all of the hippo's activities are in water except for eating which usually starts at dusk. They do need to come up for air every 3 – 5 minutes, but this is an involuntary act that happens when they are sleeping. To spot these massive animals when you are driving by, look for their eyes poking above the water.
At night they graze on grass for 5 – 6 hours and can eat up to 150 lbs of grass each night. Who says vegetarians don't eat enough food?
In the water is when they are most aggressive, specifically when the alpha male is defending his stretch of river. Typically they take out their aggression on the crocodiles that are in the same river as them, but there have been numerous counts of aggression towards humans whether in land or on boats, so when you are in close vicinity to these animals be aware!
Maybe that is what drew me to be so interested in hippos. Knowing they could run up to 30 mph and that they have 12 inch tusks that can snap a crocodile in half. Yet when I seem them laying on land as a huge lump of lard, I can't imagine how these gigantic animals can be harmful, or fast, or territorial.
When you see them open their mouth it is a signal the hippo feels threatened, hopefully you aren't what is threatening them! They aren't known to be social animals but we almost always saw them in groups huddled close together.
How do they mark their territory? Hippo spray. Poop that becomes projectile in order to humiliate their aggressors or simply to signify to others who wander in their area to keep away. Their tail vigorously swings to send it in all directions. This is another reason I will recommend you keep your distance and avoid making these animals angry!
What animals do you want to encounter on your own self drive safari?