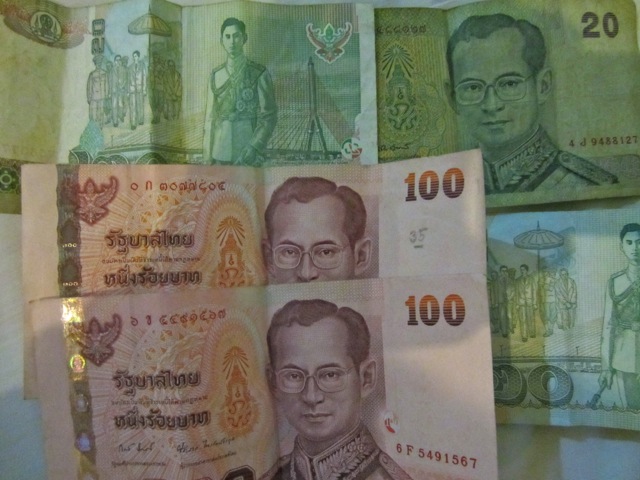 We stayed 20 days in Thailand our second time around, and this time we were with my parents! I knew we would be doing more activities than we normally do so we set a budget of $60 per day for two people, $15 higher than our original Thailand budget of $45. Our daily expenses ended up being $41 per day due to lower transportation expenditures, my parents enjoying the backpacker lifestyle and Caroline's excellent negotiation skills. When you include all our activities the total per day came to $56. While we did save a lot on our extra activities due to our blog and shrewd negotiation skills, this budget is a little more realistic if you're traveling to Thailand for the first time and want to make sure you hit all the major sights.
Exchange rate: 31.6 THB = $1 USD (June 2012)
Below, you can see a breakdown of our 20 days in Thailand by category:
| CATEGORY | USD ($) |
| --- | --- |
| Lodging | $319.75 |
| Food | $247.20 |
| Misc. | $61.41 |
| Transportation | $131.26 |
| Activities | $55.38 |
| Internet | $0.00 |
| Visa (not needed) | $0.00 |
| Total Daily Spending | $814.99 |
Budget Notes:
(All numbers are only daily spending for two people, items like visas, fees, activities and food can be split in half to get a per person amount. The numbers don't include airfare or other transportation to the country.)
We stayed at a hostel and a guesthouse, and did receive some discounts on our lodging due to our blog.
The food costs work out to about $6 per person per day! This is 3 meals plus snacks (mango sticky rice, thai coffee, etc.) all on the street or in food courts.
Transportation includes round-trip train (2nd class sleeper) from Bangkok to Chiang Mai, a couple rides on the BTS Skytrain, river boats, and a few Songthaew and taxi rides.
Activities includes entrance to temples, Thai massage and motorbike rental.
Miscellaneous includes clothing, laundry, toiletries, and sunglasses.
| ADVENTURES & MISC | USD ($) |
| --- | --- |
| Elephant Nature Park | $158.23 |
| Add Passport Pages | $82.00 |
| Dentist Visit | $63.18 |
| Chiang Rai Temple Tour* | $0 |
| Cooking Class* | $0 |
| Total Adventure & Misc Spending | $303.41 |
While a dentist visit hardly counts as an adventure, it is an expense we incurred that we didn't include in our daily spending. Also the passport pages isn't a normal expenditure for Thailand, but I've included these as examples of the types of expenses you may not consider when budgeting for your trip.
BUDGET SUMMARY
USD ($)
Daily Spending
$814.99
Adventure & Misc Spending
$307.95
Total Spending
$1,122.94
Daily Average
$41
Daily Average (All Included)
$56
Even when you take the tourist route, Thailand is still a very inexpensive place to visit. We still miss so many things about Thailand, especially how far our dollar could take us. Can't wait to return!
Thailand Budget Travel Tips
Don't listen to anything a Tuk-tuk driver tells you. Especially if you're headed to a tourist attraction. You'll hear that it's closed, or it's a holiday, all types of excuses for the driver to take you somewhere that will benefit him. Just keep walking by.
Eat on the street, or in mall food courts (take my word for it, they're way nicer than anything in the U.S.)
Renting a motorbike for the day can sometimes be more cost-effective to get somewhere than round-trip taxi or tuk-tuk fare.
*We were sponsored by Silom Thai Cooking School ($30/person) and Blue Elephant Tours ($47/person) for these items.