We saw a 35 foot whale fully breach less than 20 feet from the boat and land in a massive splash sending crazy waves to our boat, National Geographic style!
We stood there collectively screaming "OH MY GOODNESS" with our jaws dropped to the floor of the boat. What seconds ago was just a catamaran trip to the NaPali coast with an occasional spout from a whale was suddenly a clip from National Geographic's undersea edition.
The morning started early with Holo Holo Charters, breakfast and much needed coffee at 6 am. It was chilly on the water as we awaited the rising sun to start warming us up.
Finally, after visiting Kauai for the 3rd time I made it on a catamaran to see the NaPali Coast! In past trips I get caught up in Kauai's beauty, hikes, food, and ok lets admit it – I am obsessed with the Grand Hyatt Kauai's pool.
Determined to experience the cliffs of NaPali, I joined Holo Holo Charters on their NaPali Super Tour. This 16 mile coastline is only accessible through an 11 mile hike starting at Ke'e Beach, a 15 mile kayak along the coast (only during summer months) or hiring a boat or helicopter to catch these stunning views.
As much as we love sightseeing we equally love getting in the water to see what's underneath.
The Super Tour took us past the NaPali Coast and snorkeling in one of the many popular spots for marine life. While visiting Maui in 2009, we had one of our most memorable snorkeling experiences off the coast of Molokini. We were snorkeling at Turtle Island and were more than surprised to find huge turtles swimming alongside us. While we knew we couldn't get near them, they didn't know that. The curious creatures swam right up to us and ever since then I never pass up an opportunity to explore under Hawaii's waters!
Our boat was scheduled to stop by the island of Niihau but with the huge swells in the water our captain opted for a safer snorkeling destination along Kauai's coast. Did I mention the swells were 10 – 15 feet?! It definitely made for an exciting trip!
I had my camera pointed and ready to catch each whale as they poked above the surface. It became a game.  The second I put my camera down one would jump out of the water while I struggled to refocus my lens, mostly ending in failed attempts at the perfect whale shot. During the entire 7 hour tour we had whales and dolphins swimming and jumping around the boat with never a dull moment!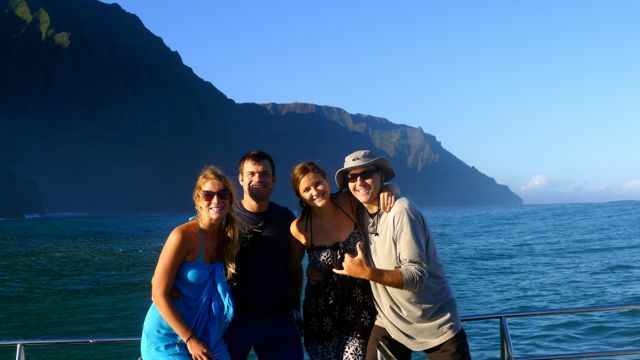 The NaPali Coast in Kauai is definitely worth spending the day exploring, I would suggest making it a priority while on the island. Since we were on the morning cruise, the sun was coming up over the cliffs at NaPali. We had the whole day on the ocean to snorkel, enjoy lunch and sightsee along the coast. While I loved our tour, next time I want to join a sunset cruise, because with the angle of the sun I can imagine really amazing photos with the light hitting the cliffs bringing out the vibrant colors.
Tips for a Catamaran along the NaPali Coast
Bring something warm for the early mornings and late afternoons. Once the sun goes down you will need long sleeves!
Don't worry about food. Holo Holo Charters fully fed us for breakfast and lunch. They left out some of the extra breakfast foods for us to snack on if we got hungry before lunch. Read the details of your tour, they usually outline what is included and what isn't, but we were happily full after each meal.
Keep your eyes alert. There were so many times that we missed a whale jumping around the boat because we took our eyes off the ocean. Whales and dolphins are all around the island and easily spotted if you're looking!
Check out more of our photos from our NaPali and Niihau Super Tour.
Thanks to Holo Holo Charters for inviting us on their tour.